ERP analysis is an investigation into websites that made it to the very top of Google search results. You use it to get easy access to the structure of contents published by your competitors and then adjust your own materials accordingly. But that's cutting a long story awfully short. The topic deserves a closer look, so let's start from the SERPs themselves.
What is a SERP?
SERP stands for a search engine results page. It is the page that shows up in response to your query entered in the search engine. Search engines are plenty and Google does not rule the whole world (the Chinese have Baidu, for instance). But in most countries, it does hold nearly 100 percent of the market.
Let's assume that as we speak of a search engine results page – a SERP – we refer to the content displayed by Google after we've typed a query in the search box and clicked Enter.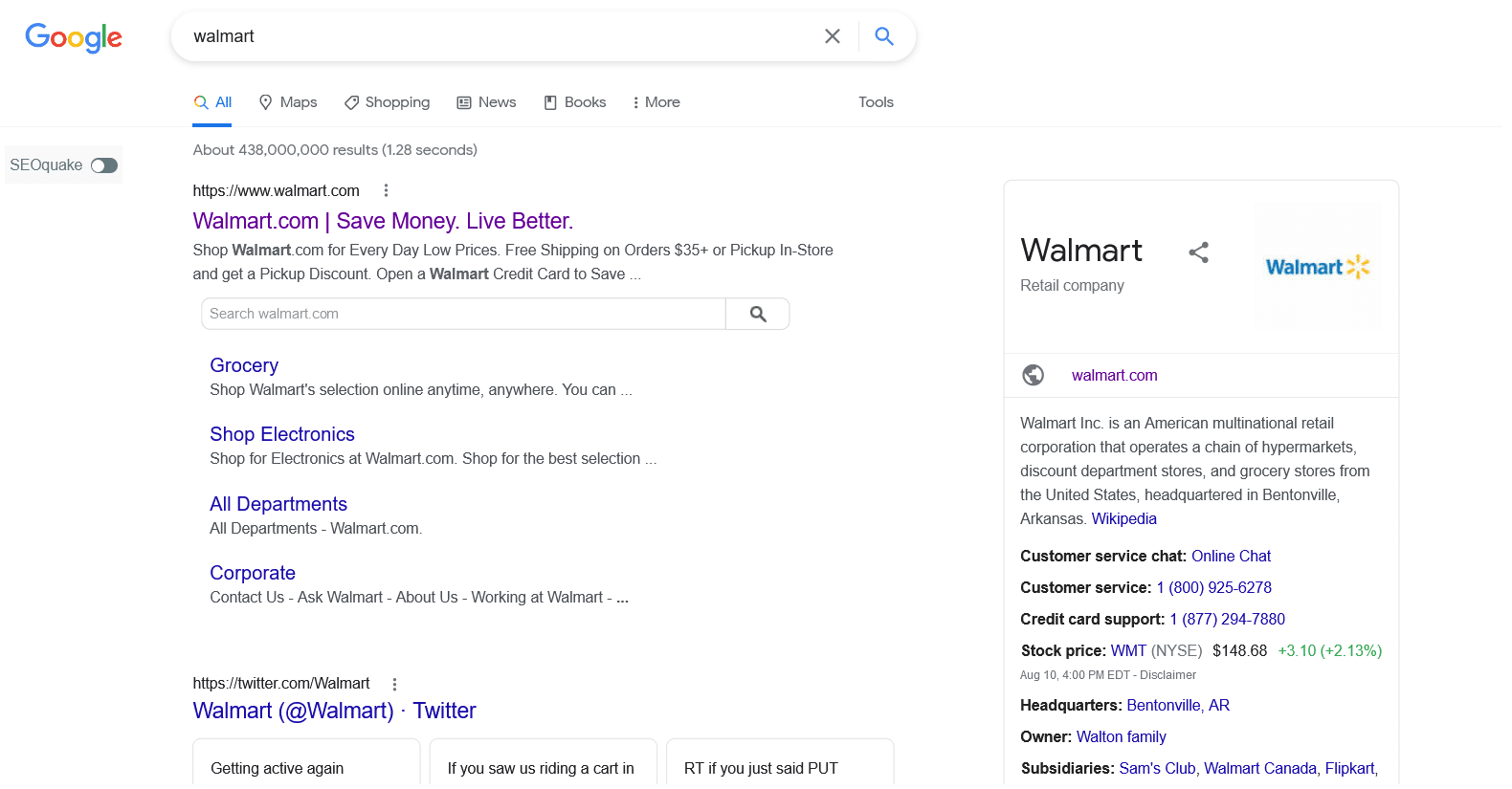 Obviously, there are more SERPs than one. A single page contains only 10 search results – and there are way more websites than that. If none of the listings hits the spot, you may click through to the second search engine results page (SERP) – Page Two.
Rumour has it that Page 10 is the realm of listings presented by the Illuminati, the Reptilians, and Humpty Dumpty. But nobody really knows. Few users make it to Page Two, and getting to Page Ten is a mystifying proposition. Read on to see why all that actually matters.
Why is Page One so important?
We ran a study Organic CTR in 2020, which showed flat out how Google rank affects web traffic. CTR stands for click-through rate, that is the clickability coefficient. To calculate the CTR of your listing, divide the number of views by the number of clicks. If 100 users see your listing and 20 choose to click, your CTR equals 20%. Easy-peasy.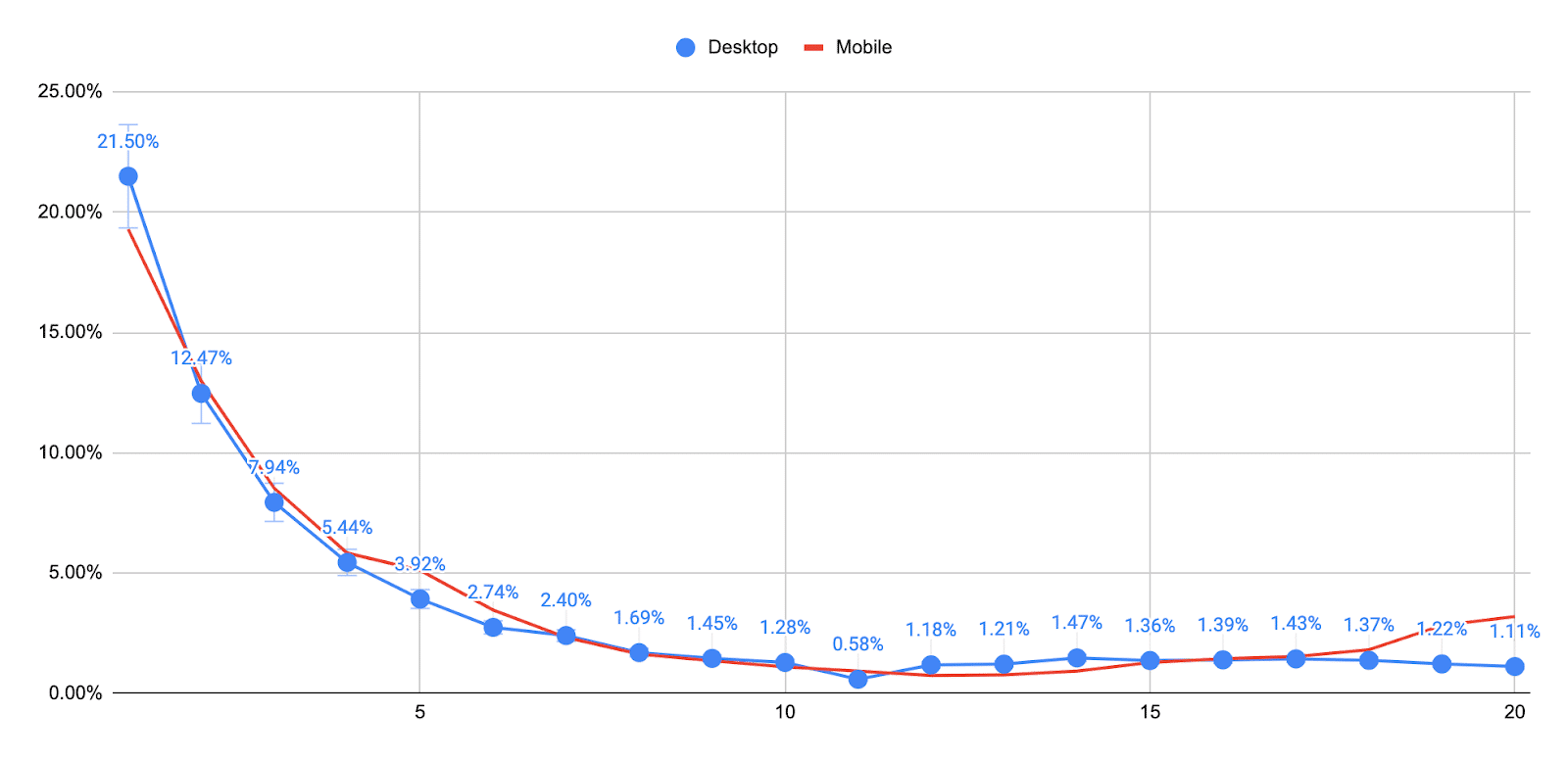 Look at the chart above. For the top listing on the first SERP, the CTR is 21.5%. For the fifth listing – 3.92% (and we're still on Page One!), while the bottom listings and Page Two results have the CTR at the level of 1%. That means that even if somebody makes it to Page Two, the clickability of listings there is next to zero.
The main takeaway here is that when you need to drive organic traffic (from Google) to your website, Page One is virtually all that counts. That's where you want your website to show up for your target keyword. If you have zero keywords in the TOP 10, you will get nothing or next to nothing in terms of Google traffic.
Naturally, you will ask how to get to the top search results for my target keywords. That question would get a long and winding answer.
So let's take an alternative approach and ask a different question:
How did others get to TOP 10?
Search engine optimization (SEO) is a multi-part process. One of its key parts is content optimization. Let's say a published a post on the company blog – why does that particular article show up as the first or the third listing in the search results, on Page One? Why has another article containing similar information tanked in a far lower position?
Other than page load speed (technical aspects) or the number and quality of backlinks (links leading back to the article), a major factor in play is content organization and structure.
The content of both articles may be similar – but Google algorithms care for the form, too. Search engines follow a set of rules. All the copywriters, content marketers, and even journalists working online must take these rules to heart if they are aiming for better Google ranks of their pieces.
If you're wondering what exactly matters in terms of article structure, here are a few points:
Keywords – how many times does the keyword appear in the content, and in what form?
Title – does it contain the keyword?
Headers – are you using H2 and H3 headers (lower- and higher-level headers) and in what numbers?
This information will give you valuable insight into the modus operandi of your direct rivals – that is the companies visible for your target keywords in the top search results.
All these data are available in SERP Analysis, a new module available in the Senuto app. How does it work? Enter your target keyword – for instance, "first birthday cake" is a strong business keyword if you're running a cake shop – to get a report which covers the TOP 20 search results from Google, that is the first two SERPs (they index 10 listings each).
However, the heart of the report is not in the listings and their ranks, but in their statistics. Let's start from the top:

We can see:
average monthly searches – how many times the "first birthday cake" is entered in Google,
cost per click (CPC) if we wanted to invest in paid ads for that keyword,
number of competitors. Let's see the hallmarks of texts published by these competitors.
SERP analysis shows the anatomy of content created by your rivals in the race for high Google ranks. Maybe you run a large e-commerce business, own a cake shop, or make your first steps in blogging, trying to find your niche. In every case, SERP analysis will tell you a lot about the players you're up against as you elbow your way through the SERPs to achieve your goals.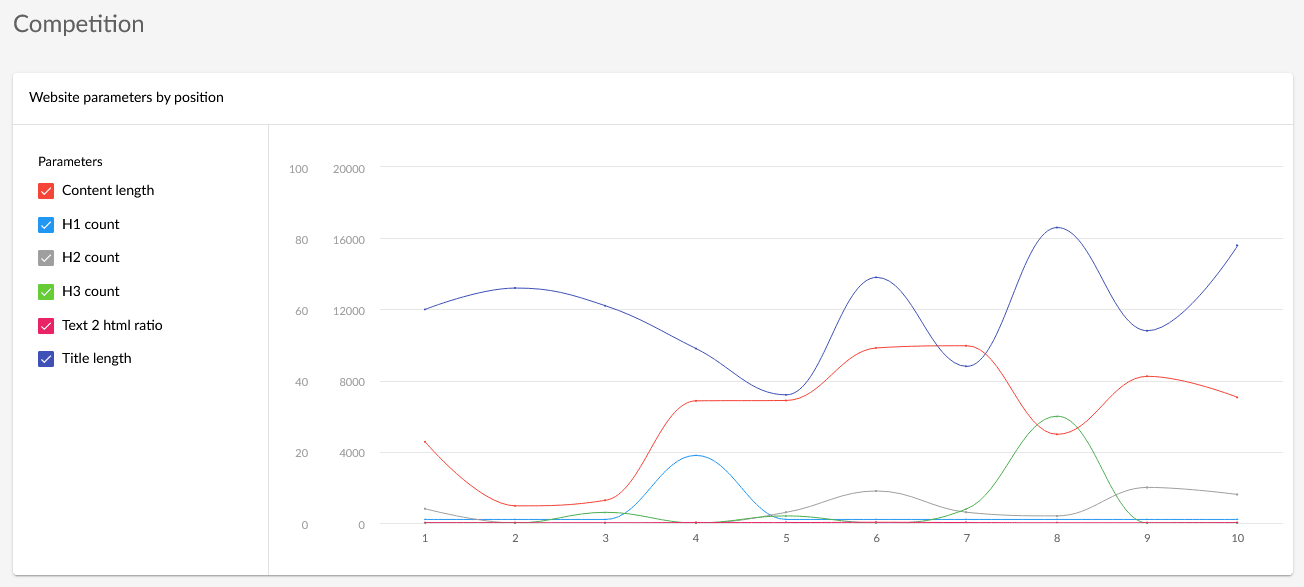 I've already said that in search engine optimization of your content, titles and headers are of the essence. On top of that, the Senuto report provides data such as the ratio of text to HTML code, content length, and title length.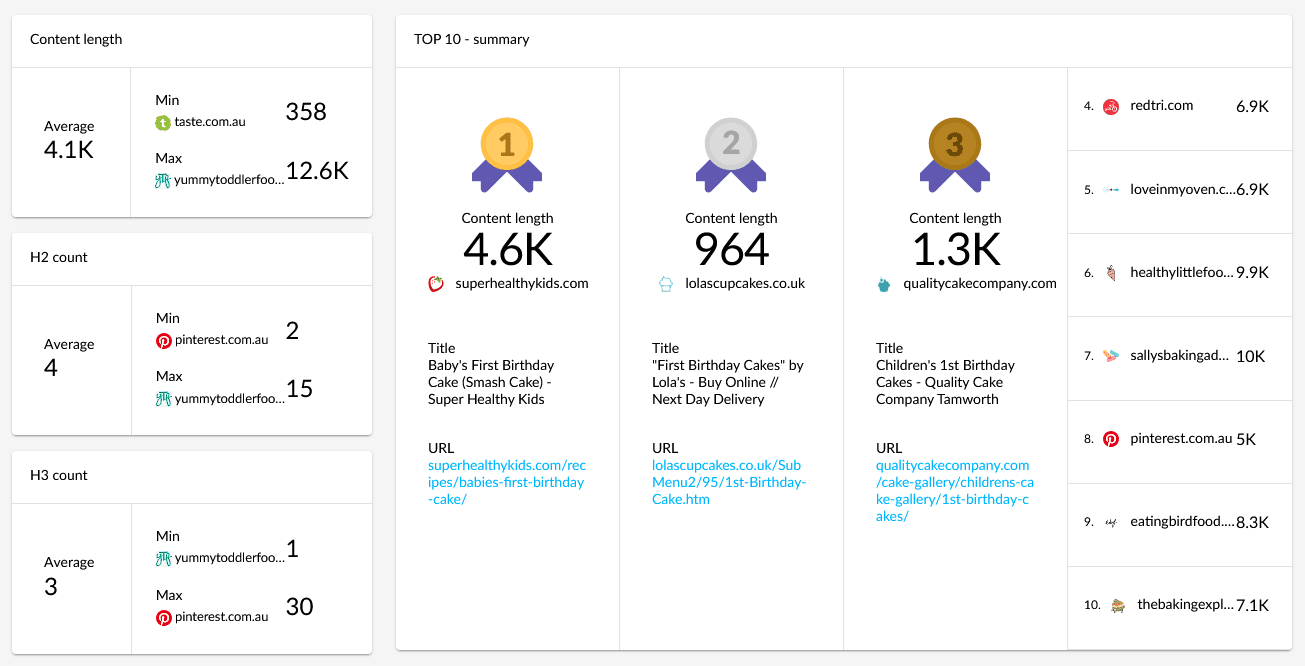 Look below to see the performance of SERP leaders for the "first birthday cake" keyword – average text length, number of headers, and so on.

Below the podium is a detailed ranking. The screenshot above shows only the top three, but the SERP Analysis examines the first 50 results in total. You can see them all and review their statistics.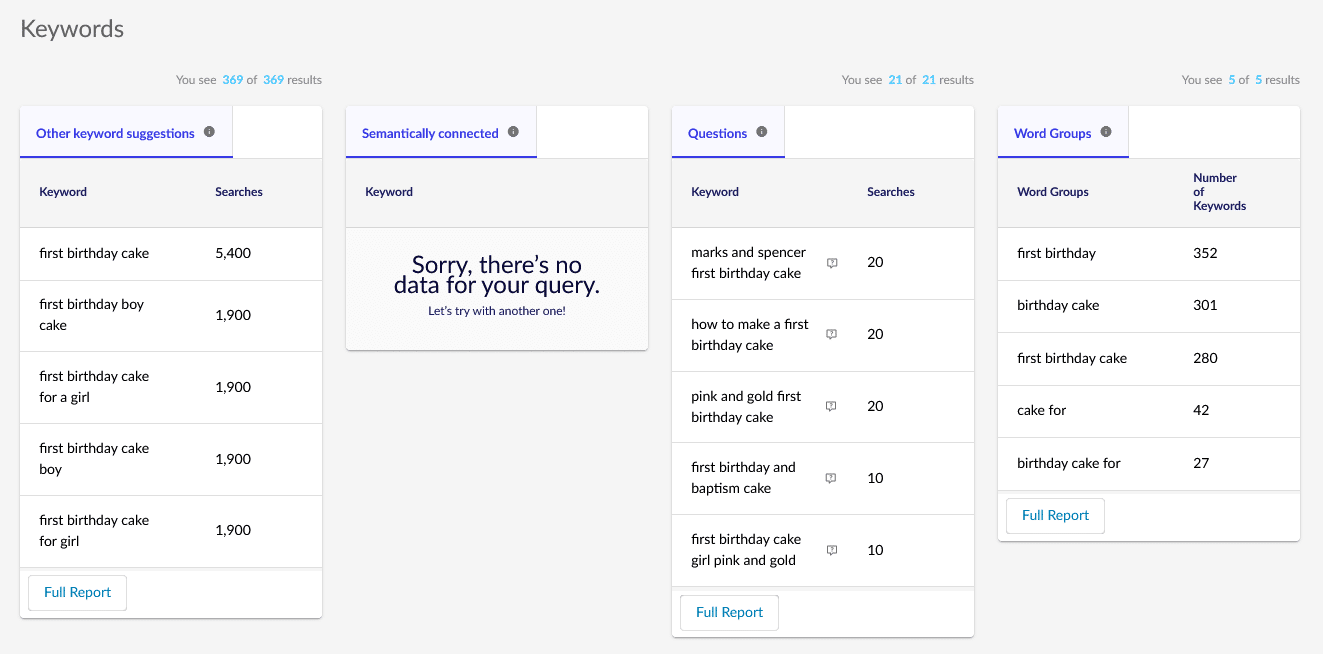 At the bottom of the report, in the Keywords section, you'll find a list of:
other keyword suggestions
semantically connected keywords,
user question entered in Google,
keyword groups.
Combine that with other statistics to gain a convenient and highly practical review of important information to use for the search engine optimization of your texts.
If TOP 10 articles have four H2 headers on average, go for 4 headers. If the top article in Google has 1200 words, and your new post has 800 words, maybe you can consider adding a few paragraphs. If you observe some regularities in the structure of titles that get high Google ranks, try to follow suit. In other words: follow the example of those who got to the top.
Bolster that strategy with keyword expertise to understand how much you stand to win by thoroughly analyzing the SERPs.
What SERP Analysis is for – a recap
In brief, if you are a copywriter or a content marketer and SEO copywriting constitutes a staple of your job, SERP Analysis may make your life a great deal easier. Use it:
to do a quick check of the content and structure of the articles published by your competitors. It will help you realize what contributed to their success in the search results;
to discover correlations between website ranks in the SERPs and metrics such as the number of headers, text length, the text-code ratio, the content of titles and meta-titles;
eventually, to use all that information to develop your own article structure and optimize it for the search engine.
At the end of the day, what matters is to maximize the probability of getting a high Google rank. As I already mentioned, getting to the top search results depends on a combination of multiple factors. But if you're serious about your content writing, add SERP Analysis to your SEO toolkit.