Links are now one of the most powerful factors in Google when it comes to influencing rankings. To effectively acquire external links and use the power of link building, you should know the basics of this craft. With these, you will be able to make your own decisions about your linking and, more importantly, effectively seek out more information in this area.
If I were to point out one area of knowledge in SEO that will benefit you the most after learning it, it would indeed be link building. Since there is no official Google guide on how to acquire good links, the web is flooded with tutorials describing hundreds of techniques of acquiring links. Very often, however, the important aspects that determine whether the acquired link will be worth the effort, are omitted. These aspects are one of the topics that will be discussed in the following text.
The basics of link building
What exactly is link building?
A backlink (also called an inbound link) is a link that comes from another site and points to ours. Visually, we can notice it by highlighting it in the text (anchor), in an image or as a button.
Google and other search engines treat links from other sites as "votes." These votes help them determine which site concerning a given topic (out of thousands of similar ones) deserves to be placed at the top of the search results. The more the votes from domains trusted by Google, the greater the impact on our domain.
What is Google's view on actual linking
Is all linking a manipulation and violation of Google's guidelines?
It turns out that the answer is 'no'. This was confirmed, for example, a year ago on Twitter by John Mueller:
"There are lots of ways to work on getting links that are fine, and useful for both the site and the rest of the web. To say all link building is bad would be wrong."
John Mueller, Google 2020
John, however, slows down the enthusiasm of beginning link builders by answering a question: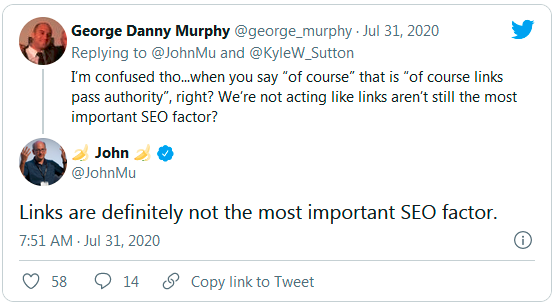 So what is the right direction in SEO according to John?
"You should create a website, watch the server logs, learn how searching works, understand your users – create a better website," he replies.
Sounds simple, doesn't it?
Now that we know Google's latest take on the issue, it's time to form our own opinion, as we can safely assume that the truth will be laying somewhere in the middle.
Why does link building matter so greatly
Although there are 200 known Google ranking factors, backlinks are one of the most important for Google's search engine.
Link building remains one of the most reliable search engine optimization (SEO) strategies dedicated to attracting organic traffic to our site.
Based on advanced algorithms, Google is perfectly capable of assessing which domains have its trust, and in consequence – more "power". Linking from such domains to your domain transfers some of this power and thus your domain becomes more trusted by Google. This translates directly into the possibility of achieving high positions in search results.
On the other hand, Google is equally adept at identifying domains of very low quality – and it does not grant its trust to those. Linking from such domains, in an optimistic scenario, does not transfer any power to your domain, and in extreme cases can harm it when the links are particularly toxic.
Google tries to degrade sites that lack E-A-T (expertise, authoritativeness, trustworthiness). Given that a large portion of domains with E-A-T receive links from credible sites, there is a struggle among link builders to acquire links precisely from sites with the best index of expertise, authoritativeness and trustworthiness.
Watch out for unnatural linking patterns
Linking is important, but one must be careful not to shift the entire burden of SEO efforts onto link building.
Today's search engines are much more sophisticated and catch unnatural linking patterns with much more precision. With this in mind, the process of linking a site should be just one of the SEO activities around the site. If we don't take care of it, we increase our chances of being penalized by Google's algorithms in the long run.
Before we begin actively acquiring links to a site, I would first check the site for quality issues and improve its content. It's a simpler and cheaper investment in being proactive, and one that Google won't devalue.
Why should you keep on acquiring links?
For a very simple reason: your competitors are certainly doing it. Leaving your site without a steady flow of good links will systematically lower its ranking.
Therefore, if you want to boost your SEO performance, you need to make sure that you are consistently acquiring quality backlinks to your site – better and faster than your competitors.
Are links the solution to all SEO site's problems?
Definitely not. Links are not the answer to everything. What's more, by applying SEO to a site skillfully, we are able to get a lot of traffic for some queries completely without links.
How to acquire external links? Link building techniques
There are a lot of link acquisition techniques and they can be limited only by our creativity, time and budget.
In addition, you need to have some solid knowledge on how to efficiently acquire links of only good quality.
Many years of experience of those involved in link building indicates that if you do not have much experience in linking, it is recommended to seek help from an SEO expert, who will help you avoid many slip-ups and ultimately a penalty from Google.
Without having experience in gaining good links we increase the probability to:
burn through your SEO budget on ineffective links
lower the value of the site by attaching low-quality links
use your budget improperly
Main linking techniques
Asking for links
As the name suggests, this method involves reaching out to the owner of the site from which you want a link and convincing him to link you on his site.
This can include offers of barter or monetary gratification.
This is potentially a very effective method. You will find many very good studies on it.
Here are some link building tactics and strategies that fall into this category. The techniques are given in English – so you can easily find tons of materials describing them in detail:
Guest blogging
Skyscraper technique
Link inserts
Ego bait
Testimonials & case studies
Link exchanges
Resource page link building
Broken link building
Image link building
Unlinked mentions
HARO link building
Buying links
This is a set of techniques concerning finding and buying a link in a particular location:
– Sponsored articles in thematical sites
– PBN – private blog network
– Comments on blogs / forums
Getting links – without asking
These techniques involve getting other people to link to pages on your site without asking them to do so. This, obviously, doesn't happen on its own, unless you have something really special, so much so that other site owners would really like to mention it on their websites.
Techniques:
Creating very good quality content on your site with lots of graphics, data; so an ideal "place" is created, that other blogs in your industry can refer to
Creating case studies, infographics, contests with prizes on your site
Creating podcasts, interviews, meetings with experts
Promoting your content on social networks and industry groups
Other popular and often forgotten techniques
Finally, I am going to present a couple of popular techniques that can be successfully categorized in the sections above. They ended up in a separate group as those that are effective, but often overlooked by link builders (probably due to budget constraints).
Techniques:
Company mentions – we find mentions of our company in already existing articles. We write to the owner of the site asking to link us there.
Patronage / local events – we can successfully engage in media patronage of a local event, in exchange for a link in the Media Patrons / Sponsors section.
Relinking – we use information about our direct competitors and link from the same places as they do.
Establishing relationships with people in the industry – having a wide network of contacts with owners of sites in a similar industry increases the likelihood that we will get our desired link from the
An important note about link acquisition
It may seem obvious, but it is nevertheless worth highlighting: in order to gain backlinks, you need to create good content. Above all, they should provide value to readers. It is extremely important not to neglect this step, because SEO success for a site depends precisely on its content.
Even with the best linking, when a user finally gets to the site and sees an ugly design with poor content there, they will leave right away, increasing the bounce rate. This will be a signal to Google to lower the domain's ranking.
How to assess link value and acquire quality links
Nobody knows exactly how Google measures the value of each link. However, there are some general concepts of domain and link evaluation that SEO experts believe to be true.
Authority – sites that have: good quality links, a lot of organic traffic and appear under many phrases in Google. It's best if they are as closely linked as possible to sites that possibly have a lot of trust from Google (such as government or local government sites).
Topical match – linking sites have similar or the same topicality to our site. Ideally the overlap is full. In a slightly worse outcome the subject matter should at least fall through within a particular content cluster.
Height of link placement in the content
Anchor text of the link
Follow links
Tons of studies can be written on this topic alone. The scale of what we are actually facing was described almost 10 years ago by Bill Slavsky on his well-known blog:
"In 2005, Google published a patent application that describes a wide range of temporal-based factors related to links, such as the appearance and disappearance of links, the increase and decrease of back links to documents, weights to links based upon freshness, weights to links based upon authoritativeness of the documents linked from, age of links, spikes in link growth, relatedness of anchor text to page being pointed to over time."
12 Google Link Analysis Methods That Might Have Changed – Bill Slawski, SEO By The Sea.
Since Google's patents were published as long as 16 years ago, we can only guess how much that technology was developed over that time.
What should we take into additional consideration when evaluating a site to leave a link there?
If the domain has passed the initial selection screen of authority evaluation and thematic fit, we can proceed to more advanced techniques that will allow us to see if the site is suitable for leaving a link on it.
Here are the most important steps we should take:
Analyze the site's visibility on Google: Here comes the invaluable Senuto with help. The rule is simple: the higher the visibility, the better.
How high is your website placed in Google?
Link profile analysis – the power and similarity of the subject matter in linking domains
Analysis of internal linking on the site and distancing the sub-page from the site's main page
Number of outbound links on the site – the fewer, the better
Analysis of metrics mimicking Page Rank in measurement tools such as Majestic, Ahrefs, SEMrush
The strategy and means of linking our direct competitors on Google
To summarize the whole process and to boil it down to a few "golden rules":
Avoid low-quality links
Look for high quality links that match your domain profile thematically as much as possible
If you don't have advanced knowledge on link building avoid buying links on portals like Fiverr
Avoid generating links with tools created for this purpose, e.g. XRumer / GSA
and last (but not least, by any means):
Take care of your domain first: its quality, speed and internal linking
Unfortunately, the art of correctly evaluating a link at an advanced level cannot be learned by reading about it. It takes years of practice, testing and recording observations to check our knowledge with reality. Only then do we gain confidence in evaluating linking sites and can confidently judge whether a particular link will be useful or, on the contrary, useless for our portal.
Summary
We have managed to only touch on a catalogue of a few of the most important chapters of link building.
As you can guess correctly, this knowledge goes much deeper, meandering along intricate paths.
It is not an easy path of education and is changing all the time. However, to the persistent, it offers the opportunity to gain a lot of power from other domains and top positions in Google.
See you on link building paths!