Your store at the top spot on Google. Sounds good?
Senuto is a must-have SEO tool for any e-commerce manager or owner. Use it to monitor the situation of your store on Google and analyze the actions of your competition. Discover keywords entered by your customers and write product descriptions that support your SEO. Do all that and see customers flocking to your website and generating greater sales.
Start your free 14-day trial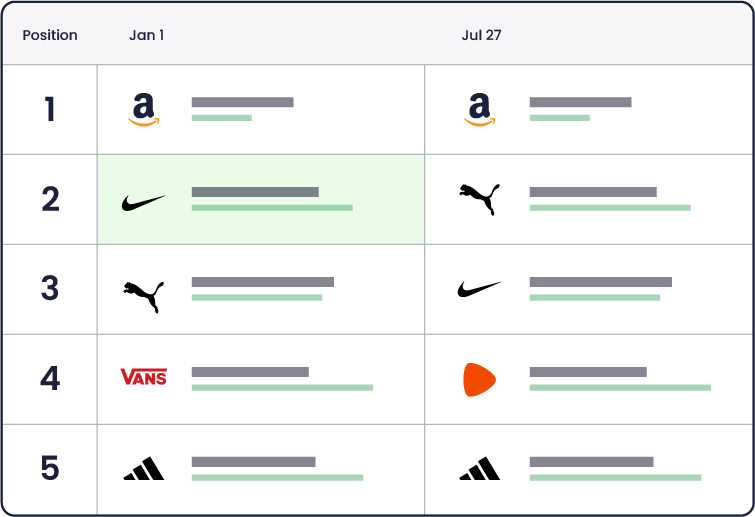 Tools and data you'll use every step of the way to increase your store's positions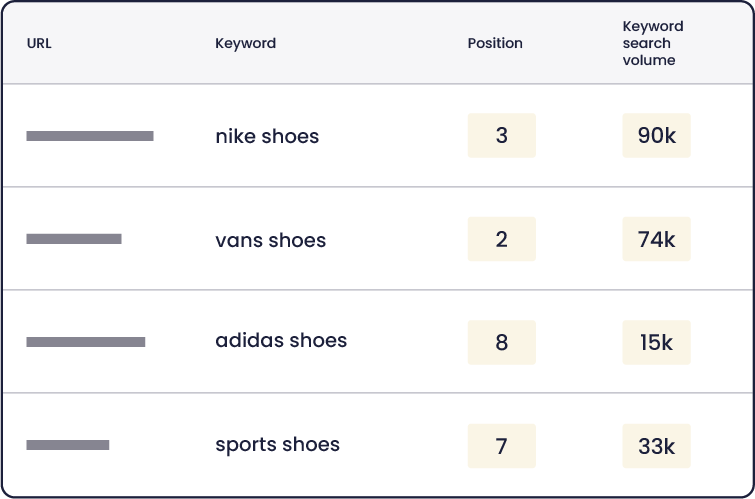 Monitor how your store is doing on Google
What are the keywords for which your business shows up in the search results? Senuto will provide you with data explaining how Google evaluates your website content. [Visibility Analysis]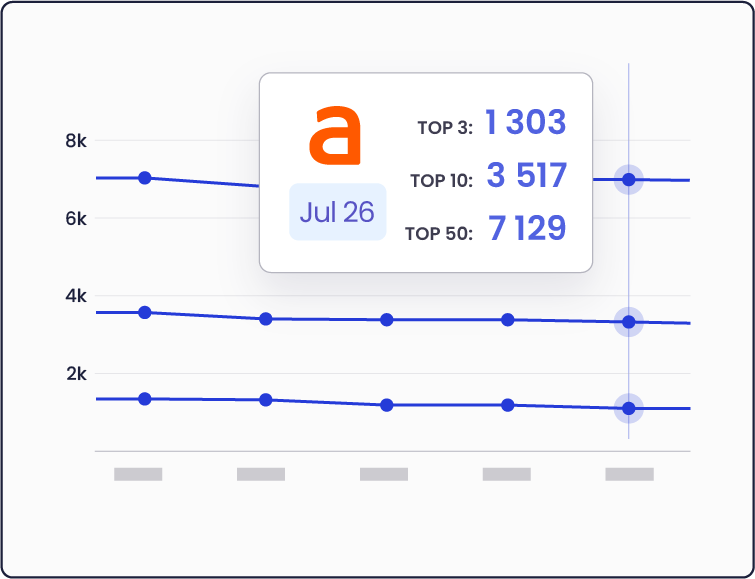 Review the effectiveness of your advertising campaigns
Visibility Chart and the Increases/Decreases table of your tracked keywords are a big help in measuring the effectiveness of your SEO campaigns – no matter if you run them in-house or use an agency. [Visibility Analysis, Rank Tracker]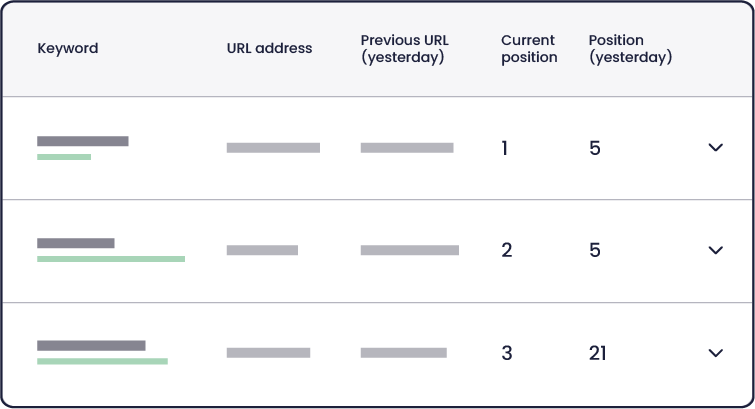 Eliminate cannibalization
In the world of e-commerce, keyword cannibalization is a plague. Check which URLs in your store compete for the same keywords and eliminate the problem to bolster your SEO. [Visibility Analysis]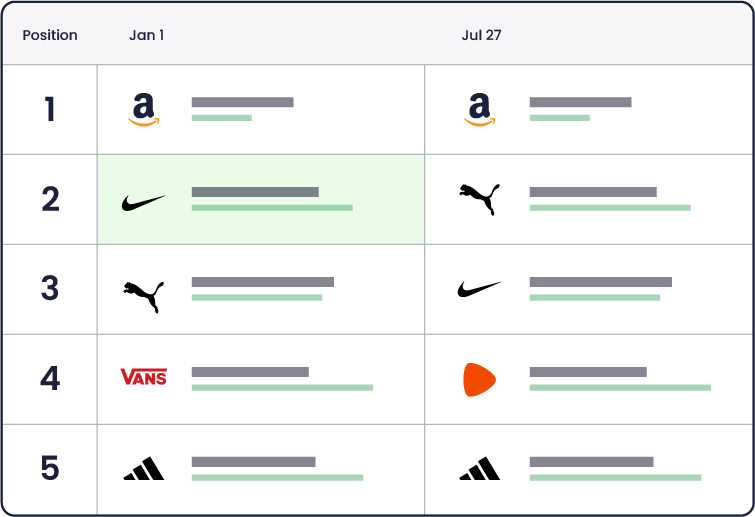 Discover top stores in your category
Check out the ranking of e-commerce businesses divided by thematic category and learn more about the top players in your field. See what technologies they're using, their overall visibility, and the number of their ranking keywords in the TOP 10. [Visibility Analysis]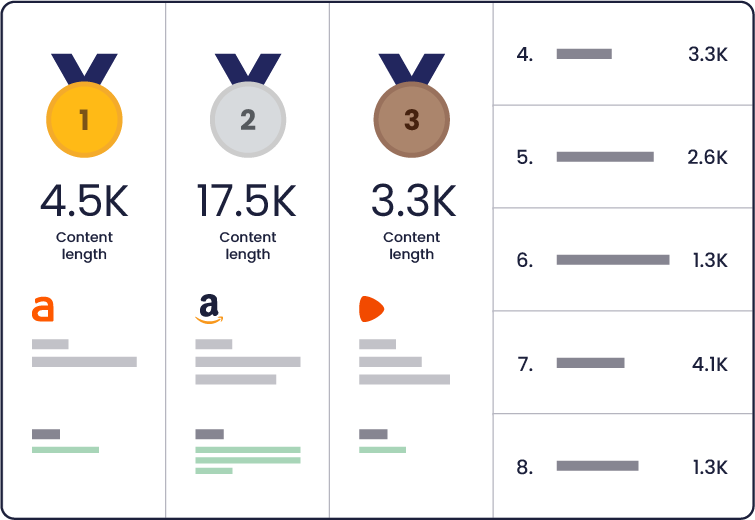 Screen the content of top-ranking websites
Senuto lets you check parameters such as the title, content length, and the number of headings of the top pages listed on Google for selected keywords. Analyze the content of your rivals to order articles and descriptions that will bring your optimization to the next level. [SERP Analysis]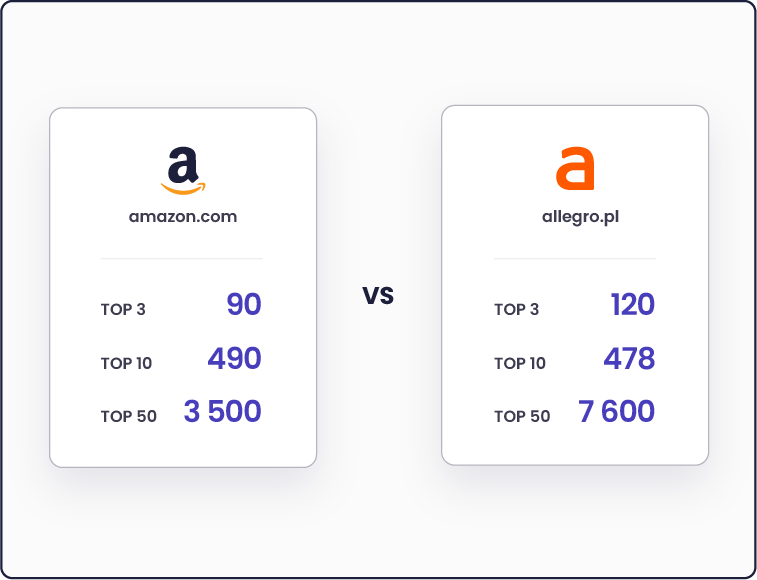 Outperform your competition
Identify keywords for which your competitors are ranking on Google and you aren't (yet!). If these keywords are related to the products you're selling – you'll receive a ready-to-use list of keywords to target on Google. [Visibility Analysis, Rank Tracker]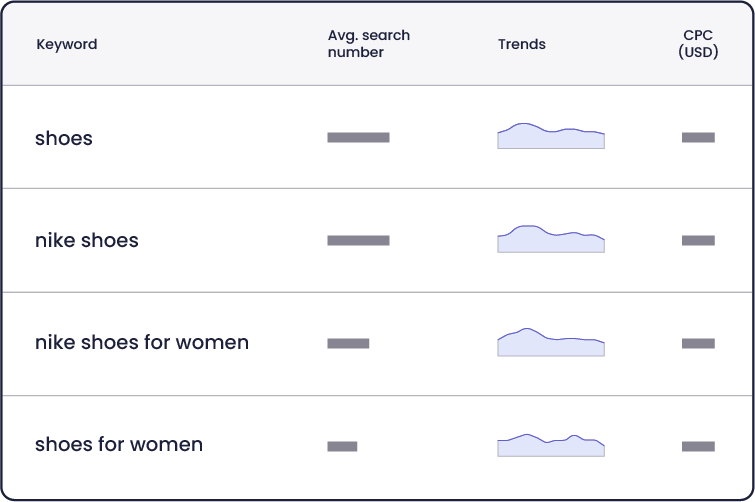 Learn what your customers are looking for on Google
Get a list of keywords centered around the product categories in your store. Enter toys or dietary supplements to see what your customers are looking for – you'll get a list of related search queries and information on their popularity. [Keyword Explorer]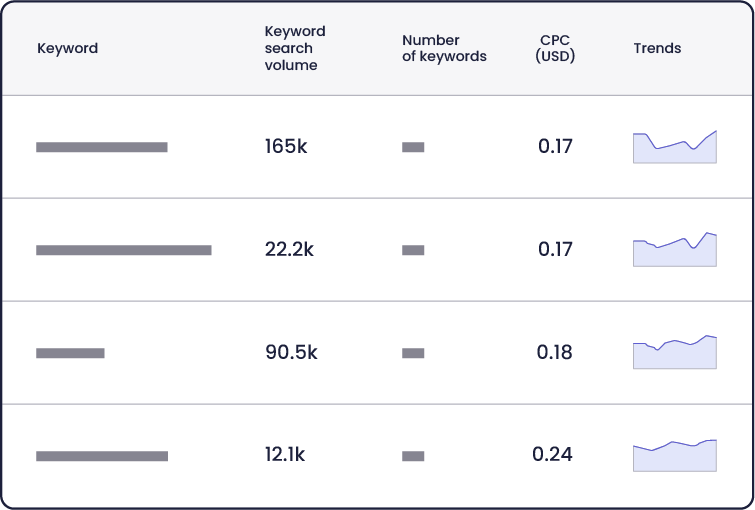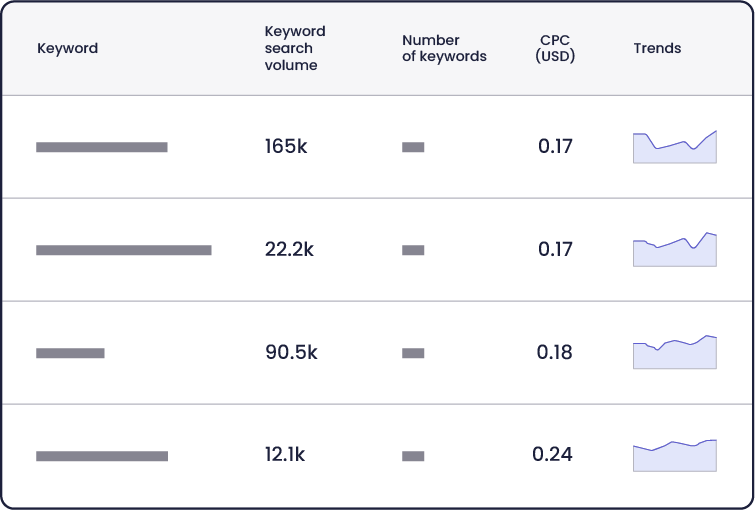 Tailor content to the customer
Extensive research in Keyword Explorer will help you align your content with particular stages of a customer journey. The better your response to user needs, the greater your conversion rates. [Keyword Explorer]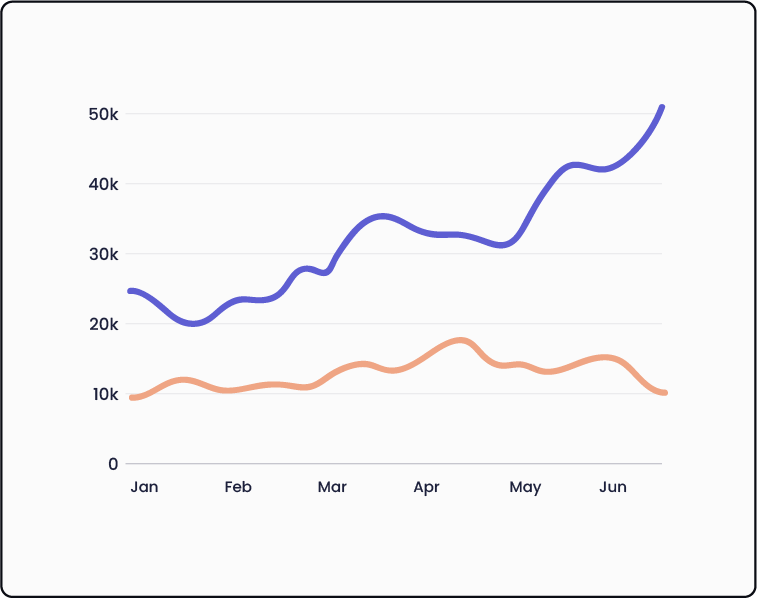 Grow your company blog
Keyword Explorer offers more than just keywords – it reveals complex questions and doubts entered by your customers on Google. These phrases are ready-to-use topics for your company blog. See for yourself how they boost your sales.
Try Senuto Suite for 14 days for free
2 months free with the annual package
We do not require a payment card
Meet Senuto in 1-hour online training. Free.
Favorites in the toolset of E-commerce Managers
Visibility Chart
A simple chart illustrating how Google visibility of any website has changed over time. If it's going up, more and more clients get to see your business in the search engine.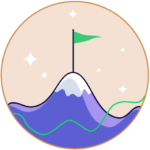 Keyword Seasonality
Check how many searches your keywords are getting in particular months. If you're looking at product keywords, search volume is tantamount to consumer interest in the product at a given time of year.
Competition Analysis
Get access to the ranking keywords of your competing websites. Identify keywords for which your competitors are ranking on Google while you still aren't.
Sections
Get rapid and simple access to statistics on each separate segment of the store.
URL Analysis
Get a close-up on particular URLs such as product pages or category pages. Check out which keywords they're ranking for.
Summary
Enter a keyword, URL, or domain to receive a full list of keywords on a chosen topic – complete with statistics. Filter and group them as you see fit.
Keyword Details
All the information about a particular keyword in one place. Check out the search volume, number of competitors, CPC, related keywords, and much more.
Questions
Review search queries entered in Google to create more comprehensive content and acquire customers at every stage of their path to purchase.
Related Keywords
Senuto finds connections between keywords and suggests semantically related phrases. Use these suggestions to optimize your content – including product and category descriptions – for Google.
Positions
Add your current target keywords to Rank Tracker and check how your rankings are changing day by day.
Competition
Get steady access to your competitors' rankings for your target keywords – and monitor their ups and downs.
Use data to plan, verify and optimize your actions
1
Senuto Suite is a collection of fresh and accurate data & tools essential for successful SEO
2
Gain access to 5 modules and over a dozen tools designed to enhance your SEO workflow
Tools
Visibility Analysis
Check visibility and organic traffic from Google for any website
Keywords Explorer
Discover what your customers are looking for on Google and let them find it on your website
Rank Tracker
Check the rankings of your target keywords on Google and avoid losing customers to competitors
SERP Analysis
Learn how your competitors got to the TOP 10 and take their place
Content Planner
Create content plans that work, in just a few minutes
Integrations
Google Search Console & Google Analytics
One chart that will tell you how your Google visibility affects traffic and conversions
Google Data Studio
Save the time you spend on preparing SEO reports by automating the whole procedure
Google Sheets
Combine multiple reports from Visibility Analysis and Monitoring into one clear document
Slack
Notifications on changes in your SEO projects will go straight to your chosen channel on Slack
Integrate Senuto's API with your corporate infrastructure
Get the freedom to send SEO data to your own tools
Fast, efficient and seamless
Data on domain visibility, positions, keyword statistics in your company CRM
Full support
Gain access to 5 modules and over a dozen tools designed to enhance your SEO workflow
Top benefits for e-commerce managers
User-friendly charts and reports outlining the situation of your store
Data which makes you more than ready for talks with SEO Specialists
Better control over the effectiveness of external agencies and freelancers
A supplement to your data from Google Analytics and Google Search Console
Senuto mobile app – continuous monitoring of your store's situation on Google
Try Senuto Suite for 14 days for free
Meet Senuto in 1-hour online training. Free.