✍️ Writer with keywords from AI and improved interface
The Writer module now offers a wider selection of keywords. Thanks to the AI feature upgrade, the phrases are even better tailored than before. This means that by using them as recommended, you have a better chance of ranking higher in Google. We now divide keyword phrases in Writer into 4 types:
> Senuto – they come from our database of words and appear among competitors,
> Competition – they come from our database of words and appear among competitors,
> AI – artificial intelligence suggests words to use based on several variables,
> Custom – you can add them yourself.
In the "Customize" option, Senuto, AI and Competition phrases can be freely activated or deactivated – individually or all at once.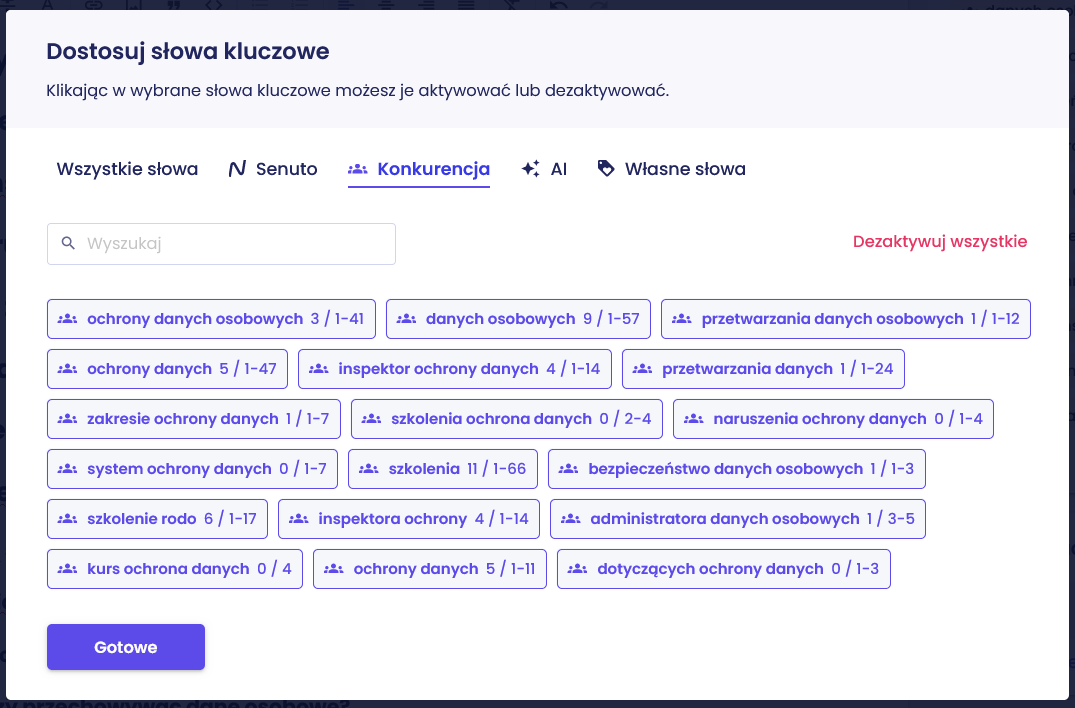 New UI
The above-described changes to the module entail numerous new features and improvements to the interface.
> Meta tags have been moved from the place under the editor to the right side (under Recommendations).
> Also, the content structure parameters have been moved to the right, just below Content Score.
> The editor now has no closing at the bottom. It is as long as the text is long. As a result, there are two scrollers – one for the text, the other for the elements on the right.
> Reduced left and right padding in the editor, that is, the content is visually wider.
> The phrases in the "Customize" menu have their own label – depending on whether they are Senuto, Competition, AI or Custom words.
> When you hover over a keyword, a familiar window with usage examples opens. What's new is information about the source of the word (so again: Senuto, AI, etc.).