Use SEO in your marketing strategy and generate more traffic
You don't need an SEO Specialist to know how your website is doing on Google. Use Senuto to single-handedly verify the visibility of your website in search results, compare it against the competition, and review the effectiveness of campaigns outsourced to your agency. As a bonus, you'll discover keywords and guidelines perfect for SEO copywriting, and easily prepare a simple SEO strategy for your website.
Start your free 14-day trial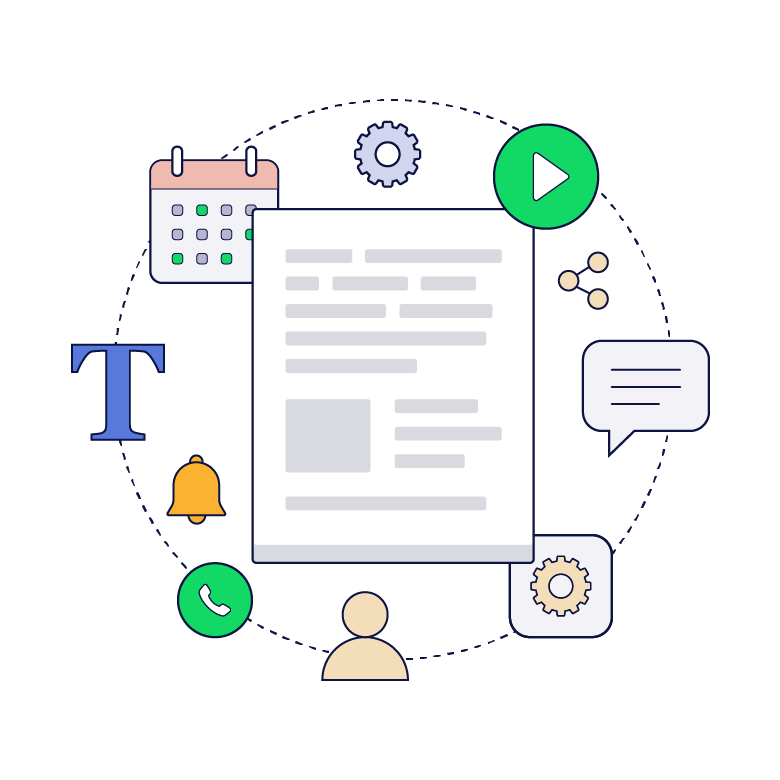 SEO tools and data dedicated to marketers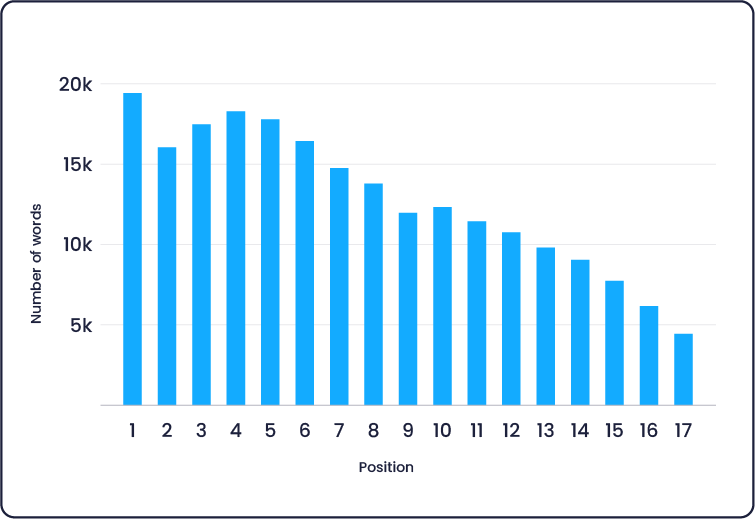 All keywords for which your website is ranking in the search results
A list of your ranking keywords in organic search results
Exact positions of your website for different keywords
A simple chart illustrating the shifts in your organic visibility over time
Sections which are doing best in the SERPs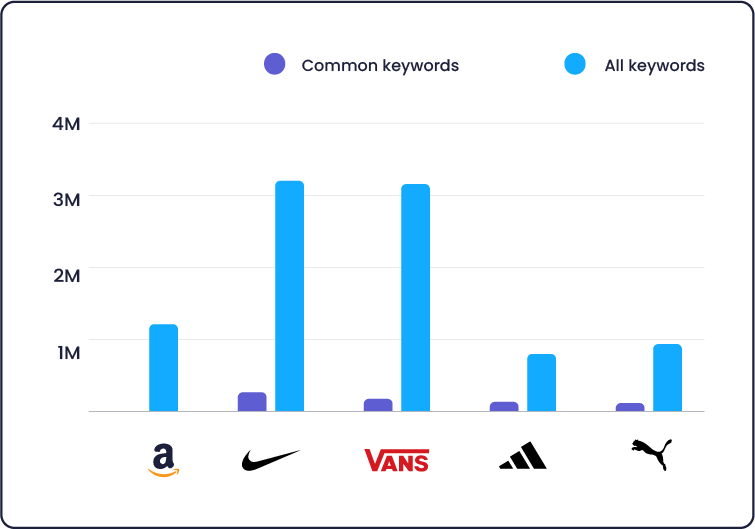 Examine your competition's activity on Google
Discover your biggest competitors in the fight for traffic from Google
Effortlessly compare your SEO results against the competition (in chart or table form)
Pinpoint your competitors' ranking keywords missing from your website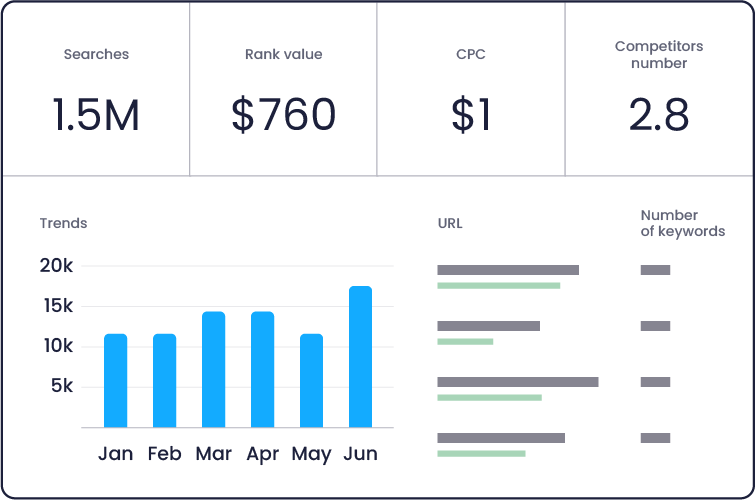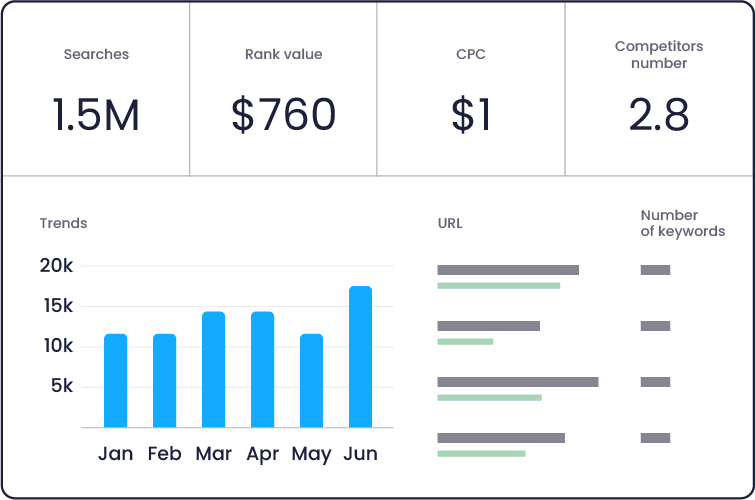 More information on keywords
Once you know the seasonal trends of your keyword, you can plan your SEO and content marketing activity way ahead
Learn more about the characteristics of your keywords – their type, difficulty, average volume of monthly searches, or CPC
Check for which keywords a website shows up in the Direct Answer Box. The box is "position zero" on Google and provides an instant answer to a user's search query.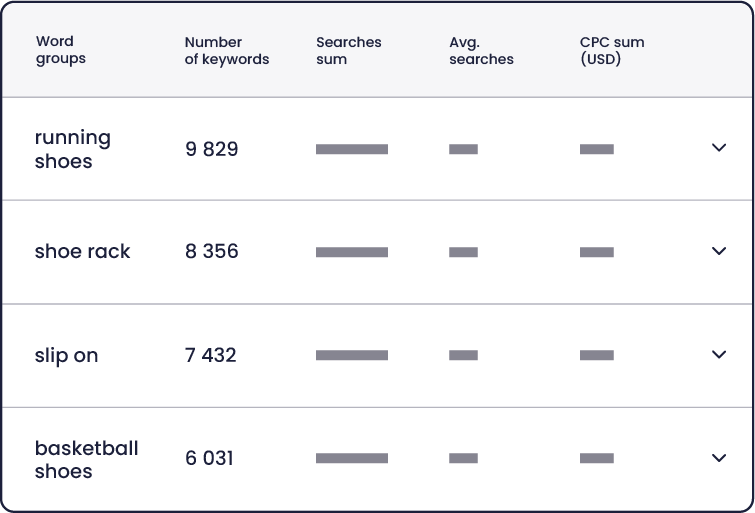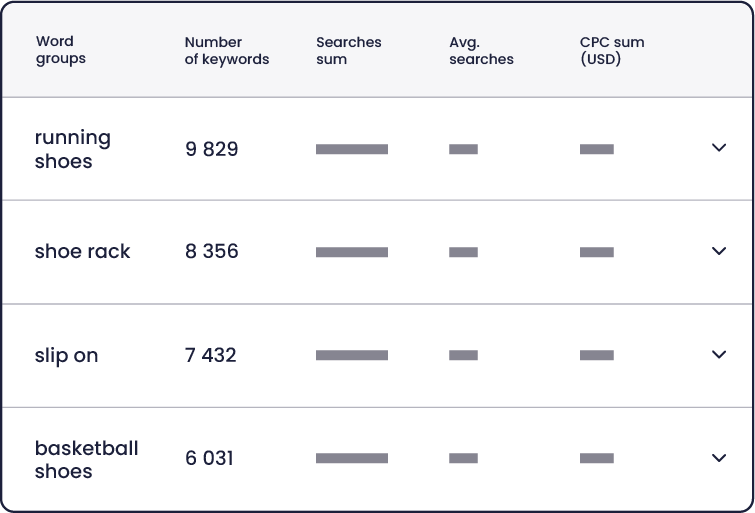 Use the right keywords 
Get access to the largest keyword database on the market, one that keeps growing with every new query
Use intuitive filters and metrics to identify keywords that are the best match for your business
See for which keywords your competitors are ranking on Google while you still aren't (content gap)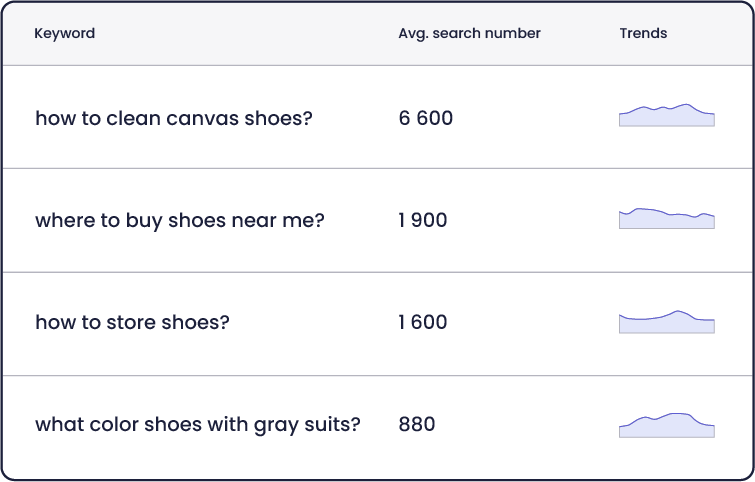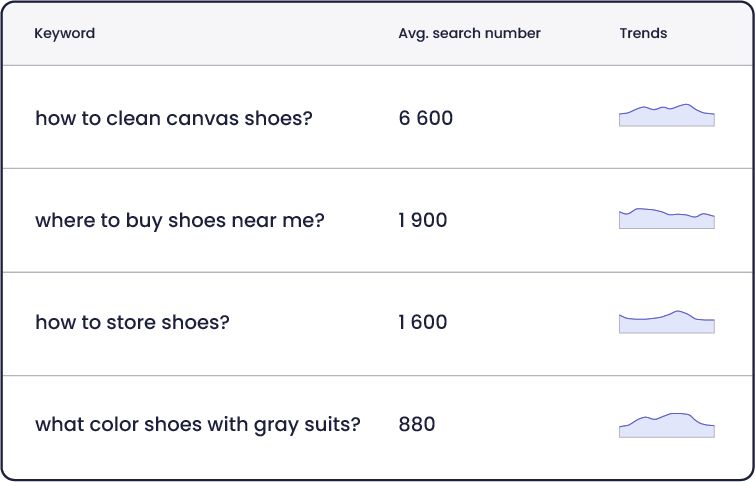 Attune content to the user
See the queries entered by your prospective customers on Google
Find keywords encapsulating brilliant ideas for content that targets customers on a particular stage of their path to purchase
Learn user intent behind every search query to better adapt the type of content posted on the website [SERP Analysis]
Take a look at URLs ranked in the TOP 10 and identify their characteristics – content length, title, and the number of headings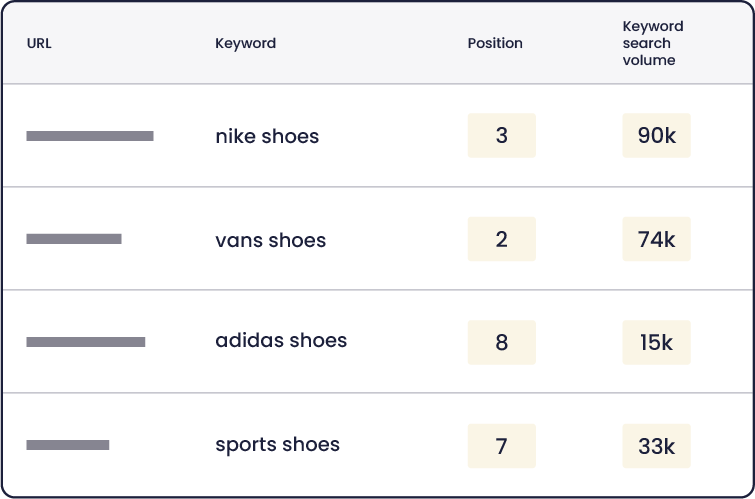 Find your quick wins – small changes, big results 
Check your ranking keywords in positions 11–20 – a quick fix is often all it takes to enter the TOP 10
Learn the distinctive features of pages in the TOP 10 and adjust your website according to our guidelines [SERP Analysis]
Identify keyword cannibalization issues and eliminate them in no time by matching every page with different keywords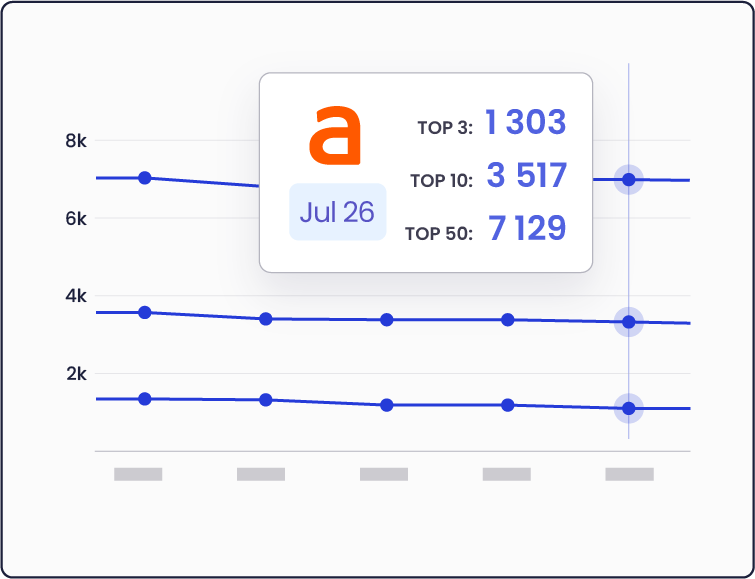 Check the shifts in your overall visibility on Google
A simple chart showing the fluctuations of your visibility on Google – is it rising, stagnating, or dropping?
Compare the shifts in the visibility of your website and your competition at a glance
Check the number of keywords for which your website is ranking in the TOP 3, TOP 10, and TOP 50 of the search results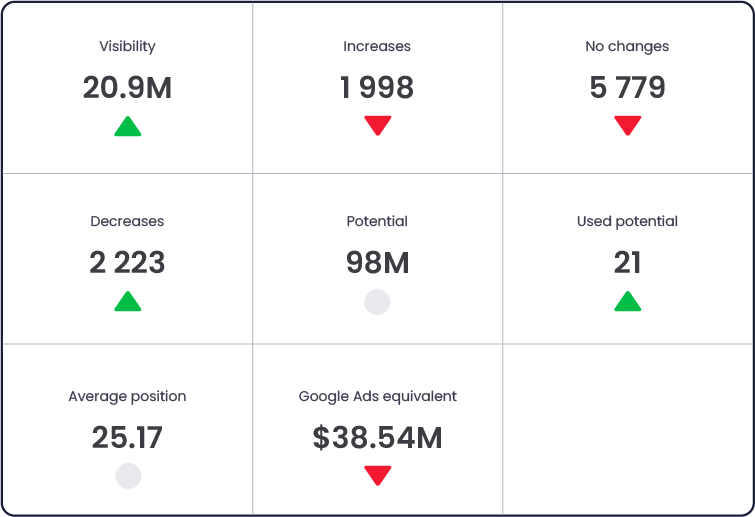 Monitor the effects of your SEO campaigns
Monitor your positions for every keyword included in your optimization plan
Receive the latest updates on your positions every day
Observe increases and decreases in your visibility on a simple chart and in table form [Rank Tracker]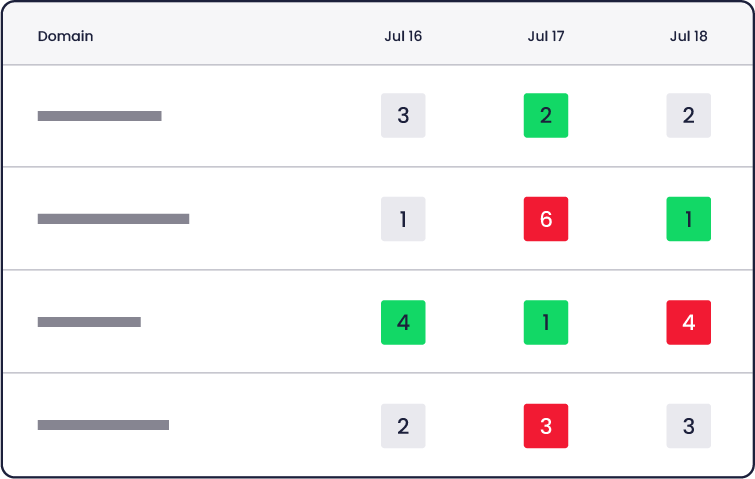 Verify the work of your SEO experts
Check how your rankings have been growing since the start of cooperation
Monitor the positions for the keywords targeted by your hired SEO specialists
Use integrations with Google Analytics and Google Search Console to see how the agency's efforts translate to real traffic on the website
Try Senuto Suite for 14 days for free
2 months free with the annual package
We do not require a payment card
Meet Senuto in 1-hour online training. Free.
Favorites in the toolset of Marketing Managers
Visibility Chart
A simple chart illustrating how Google visibility of any website has changed over time. If it's going up, your marketing campaigns are reaching a growing number of users.
Positions
Check all the ranking keywords and positions secured by your website (or your competitors!) on Google.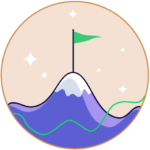 Keyword Seasonality
Check how many searches your keywords are getting in particular months. Now you know what traffic to expect at all times of year and how to arrange the schedule of your marketing activities.
URL Analysis
Analyze the statistics (visibility and keywords) of particular pages of your website: posts on your company blog, selected sections, or landing pages.
Competition Analysis
Identify the content gap – learn for which of your target keywords your competitors are ranking on Google while you still aren't.
Cannibalization
Detect issues with keyword cannibalization within minutes – and get down to content optimization. Great results at a low cost!
Summary
Enter a keyword, URL, or domain to receive a full list of keywords on a chosen topic – complete with statistics. Filter and group them as you see fit.
Keyword Details
All the information about a particular keyword in one place. Check out the search volume, number of competitors, CPC, related keywords, and much more.
Questions
Review search queries entered in Google to create more comprehensive content and acquire customers at every stage of their path to purchase.
Trends
Check which keywords have been recently trending on Google. Discover the strength (intensity) of the trend and its starting date as determined by the search engine.
Positions
Get a full list of your ranking keywords complete with the information on their current positions in the search results.
Competition
Gain steady access to your competitors' rankings for your target keywords at a glance.
Your competitors on Google
Analyze the character count, headings, and titles of the articles of your rivals that managed to secure top positions on Google. Some solutions may work wonders also for your content.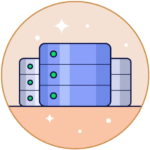 TOP 100 Crawler
Check the domains and URLs in Google's TOP 100 for selected keywords. It's a ready-to-use list of your competitors and their most powerful pieces of content.
Use data to plan, verify and optimize your actions
1
Senuto Suite is a collection of fresh and accurate data & tools essential for successful SEO
2
Gain access to 5 modules and over a dozen tools designed to enhance your SEO workflow
Tools
Visibility Analysis
Check visibility and organic traffic from Google for any website
Keywords Explorer
Discover what your customers are looking for on Google and let them find it on your website
Rank Tracker
Check the rankings of your target keywords on Google and avoid losing customers to competitors
SERP Analysis
Learn how your competitors got to the TOP 10 and take their place
Content Planner
Create content plans that work, in just a few minutes
Integrations
Google Search Console & Google Analytics
One chart that will tell you how your Google visibility affects traffic and conversions
Google Data Studio
Save the time you spend on preparing SEO reports by automating the whole procedure
Google Sheets
Combine multiple reports from Visibility Analysis and Monitoring into one clear document
Slack
Notifications on changes in your SEO projects will go straight to your chosen channel on Slack
Integrate Senuto's API with your corporate infrastructure
Get the freedom to send SEO data to your own tools
Fast, efficient and seamless
Data on domain visibility, positions, keyword statistics in your company CRM
Full support
Access your data even when you are on the move, with the Senuto mobile app
Top benefits for Marketing Managers
An understanding how marketing campaigns affect the visibility of your website
The ability to perform some SEO of your website on your own
Instant guidelines for SEO copywriters
A better grasp of your competition on Google
Data for your own marketing reports and whitepapers
Try Senuto Suite for 14 days for free
Meet Senuto in 1-hour online training. Free.