Next to SEO, PPC is the main way of getting traffic from Google. But what is PPC, when should you opt for this type of advertising, and how should you conduct your campaigns? This article will equip you with all you need to know on this topic.
What is PPC?
PPC stands for pay per click. Each time someone clicks on a PPC ad, the advertiser is charged a specified amount.
In other words, you pay not for the ad being shown, but for it being clicked on. The cost per click itself depends on the competitiveness of the given industry, the popularity of selected keywords, or the quality of the page to which the ad is directed.
There are numerous platforms that use this model. The most popular of them is the Google Ads network (previously Google AdWords), but it is also possible to post PPC ads on Facebook and LinkedIn. However, in this article I will focus on Google Ads specifically.
What's special about a PPC campaign
In Google Ads, advertisers can bid on keywords that are searched for on Google. The ads themselves appear as tagged sponsored search results.
Every time a user enters a query into Google, an instant auction is carried out. It determines which ads will appear for a given query. The ones that get the best rating appear before the organic search results.
Further items are displayed under the organic results (they used to appear next to them):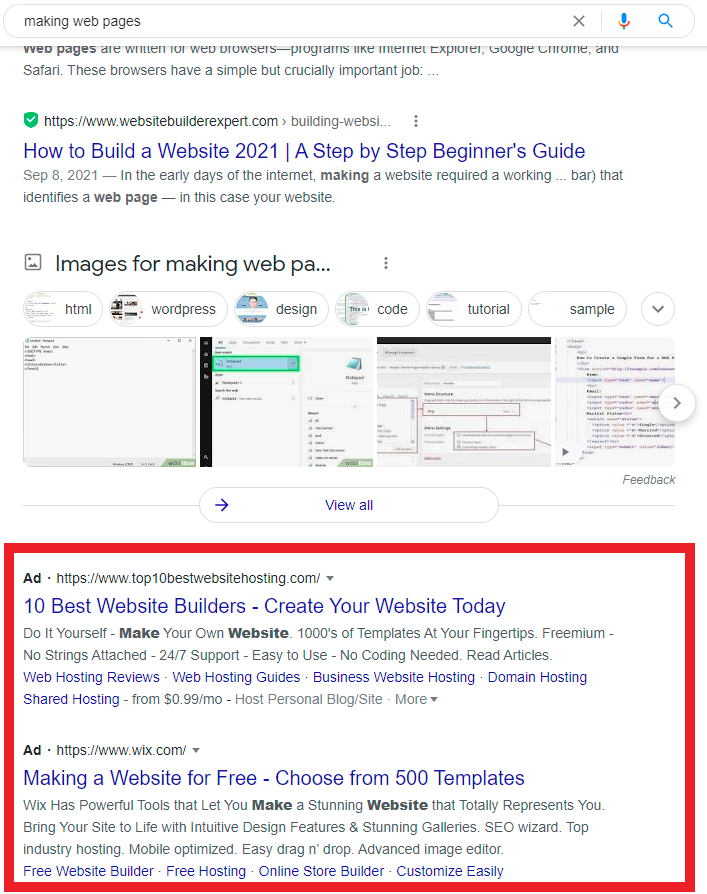 The auction result itself is determined by the following factors:
CPC
The amount an advertiser pays for each click on their ad. It is your bid at the auction. Obviously, the higher the offer, the better the ad placement.
However, the final amount to be paid is determined by the following formula:
(Competitor's Ad Rank / Your Quality Score) + 0.01 = Final CPC amount
Ad Rank
The value of this factor determines the position of the ad in the search results. Ad Rank is in turn determined by this formula:
Max bid per click x Quality Score
Quality Score
This is a result that Google determines based on your ad's clickthrough rate (CTR), measured in relation to the average CTR of other ads in that position. Additional factors, such as the association of your keywords with the entered query, the quality of your website, and its previous results in the SERP are also taken into account.
Further reading: What do we know about CTR from SEO? A study of 8,452,951 phrases
When launching a campaign, you commit to its budget. Once it runs out, your ads will stop running.
Advertisers can manage the pricing options (cost per click) in numerous ways:
Manual CPC bidding
The default setting, where you have full control over your ad bids.
Automatic bidding
With this setting, Ads has some control over specific bids and adjusts your daily budget to get as many clicks as possible for you.
Enhanced CPC (ECPC)
The main purpose of this setting is to get conversions. For this reason, the system will adjust the bids favoring ads that generate most conversions.
Where do PPC ads appear and what types are there?
There is a number of places where your ads can appear:
Google Search Network
The most popular place to display PPC ads is the Google Search Network. Advertisements posted there appear on Google and on partner websites, such as YouTube, amazon.com, The Washington Post, Interia, or Onet.
Partner websites are other websites that work with Google to run Google Ads material. Usually, these are websites with a lot of content/products, which makes it practical to use an internal search engine. The Programmable Search Engine is what they use. Google, however, does not publish a list of all of its partners.
Becoming a search partner requires submitting an application to Google. A manual analysis of the page is then performed to determine if it is appropriate. Anyone can submit an application, but not everyone is accepted. Sites which are accepted don't display any special icon or other symbol. They can simply start running ads on behalf of Google.
How does the Search Network work? It is based primarily on keywords – Google users enter queries for which the corresponding ads are displayed.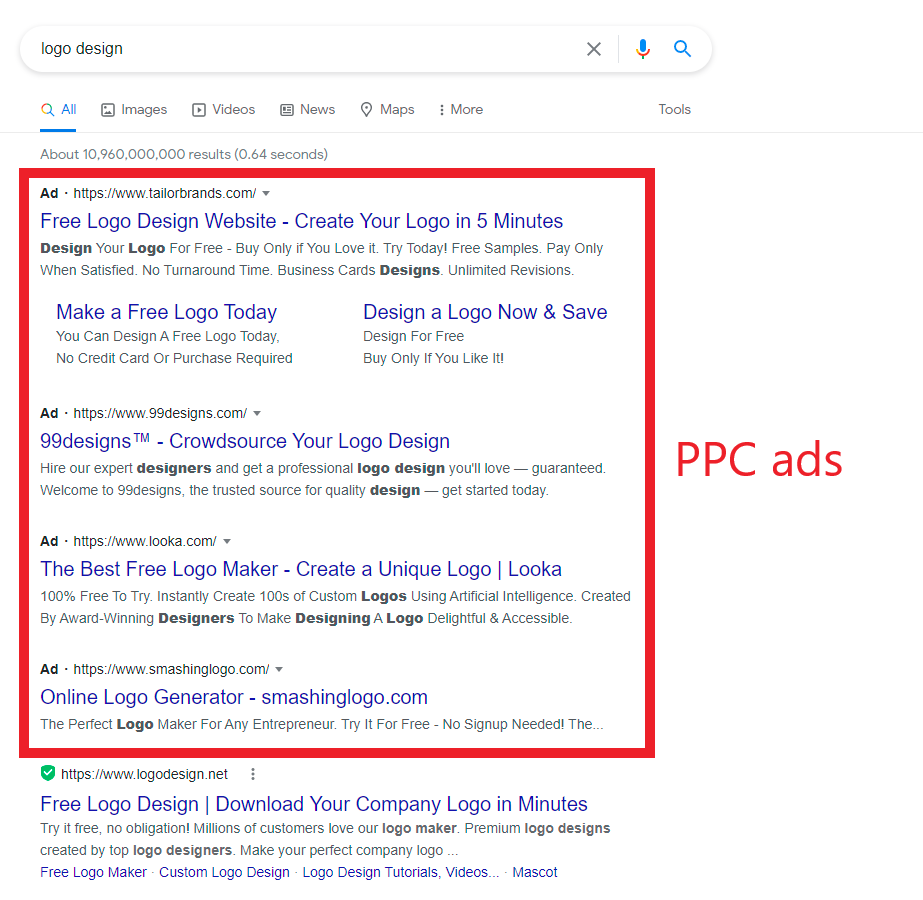 Display advertising network
What is an ad network? Such a network consists of a multitude of pages that agree to display text, image, and video ads in the content of the site. Their targeting is not based on keywords, but on the behavior, interests, and demographics of the target audience. For example, when a user reads content related to football, the algorithm recognizes their interests and shows an advertisement for a new biography of a famous football player within the display network.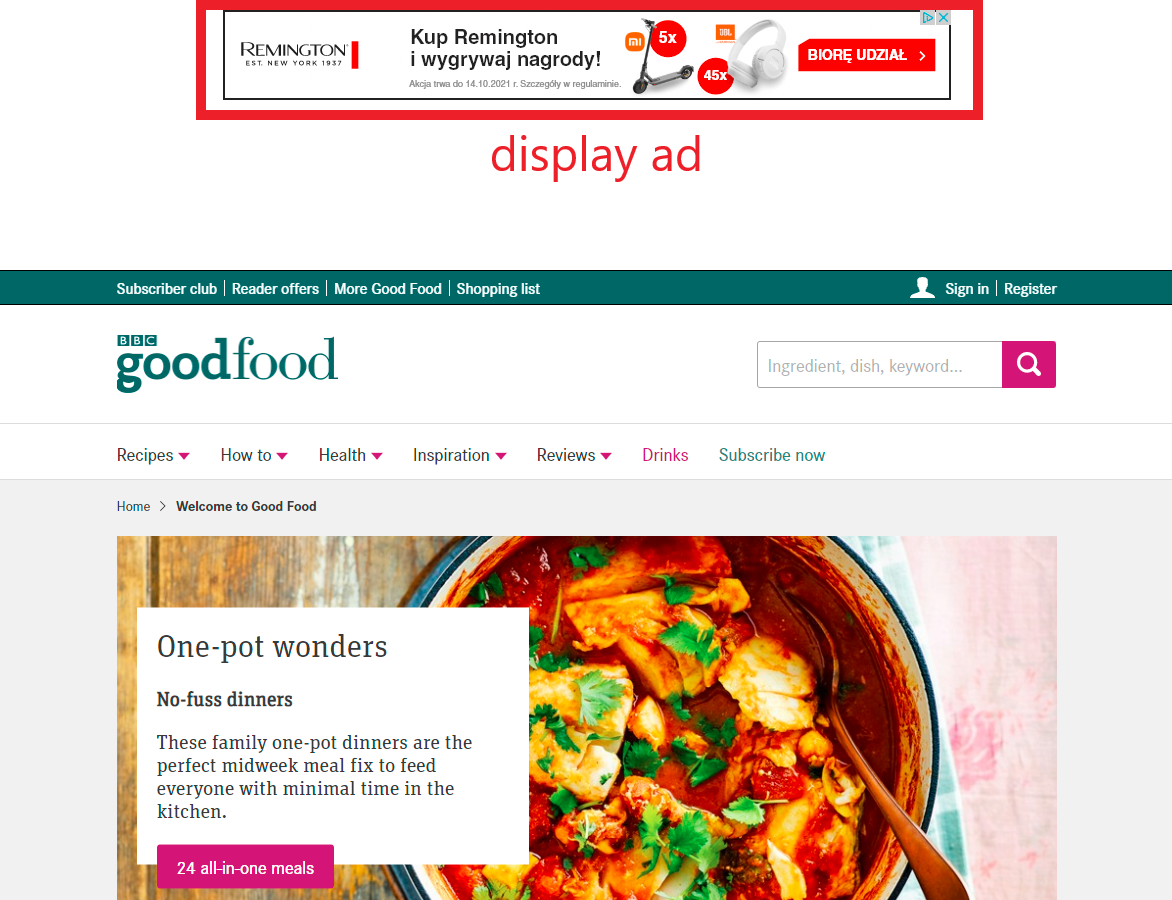 Product Listing Ads (PLA)
This is an alternative solution to traditional text advertising, intended for products from online stores. Product ads are displayed above or to the right of the search results.
In the case of product listings, you do not choose the keywords for which your products should be displayed. The algorithm itself matches them to user queries. You also don't set the cost per click for each product separately, but for selected groups or the entire range. Your offer is worth organizing properly to control the individual categories of ads.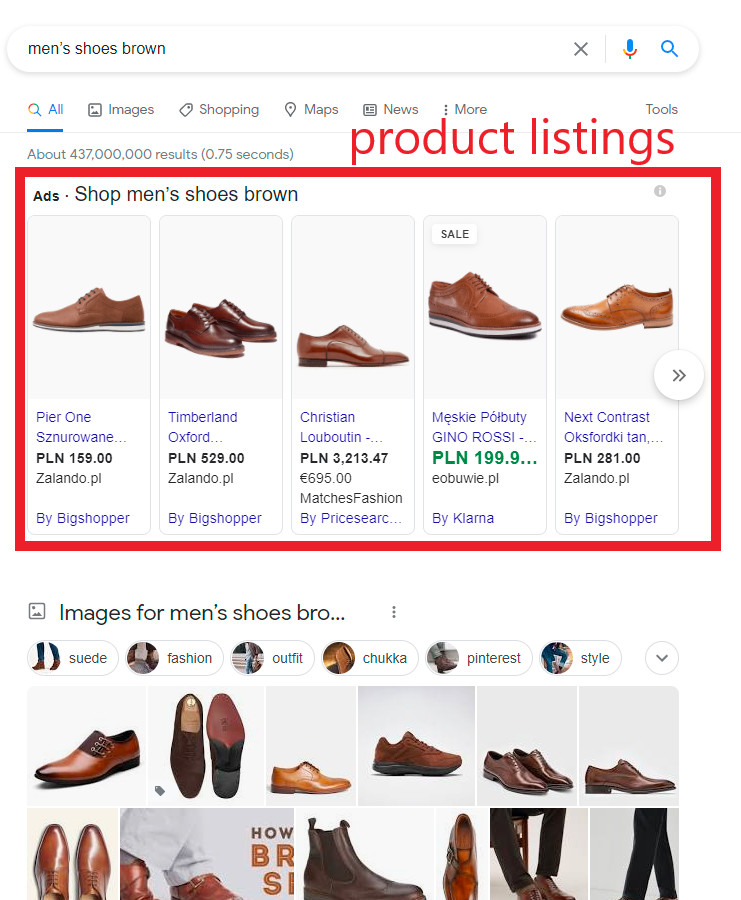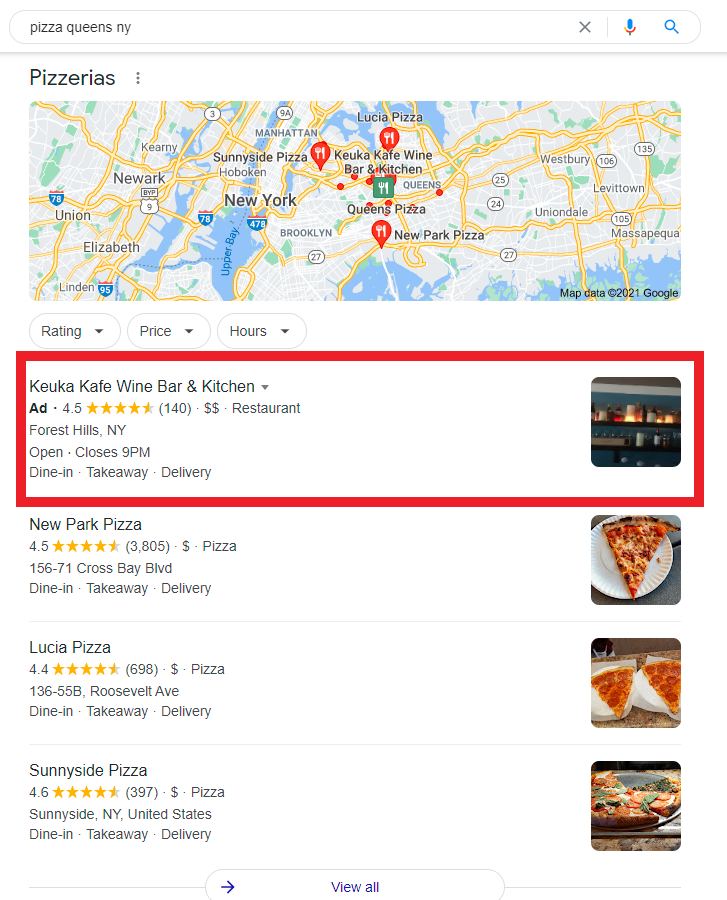 Call-only ads
This kind of ad will appear in Google on those devices that can make phone calls. There's an option to show your ad only during set business hours.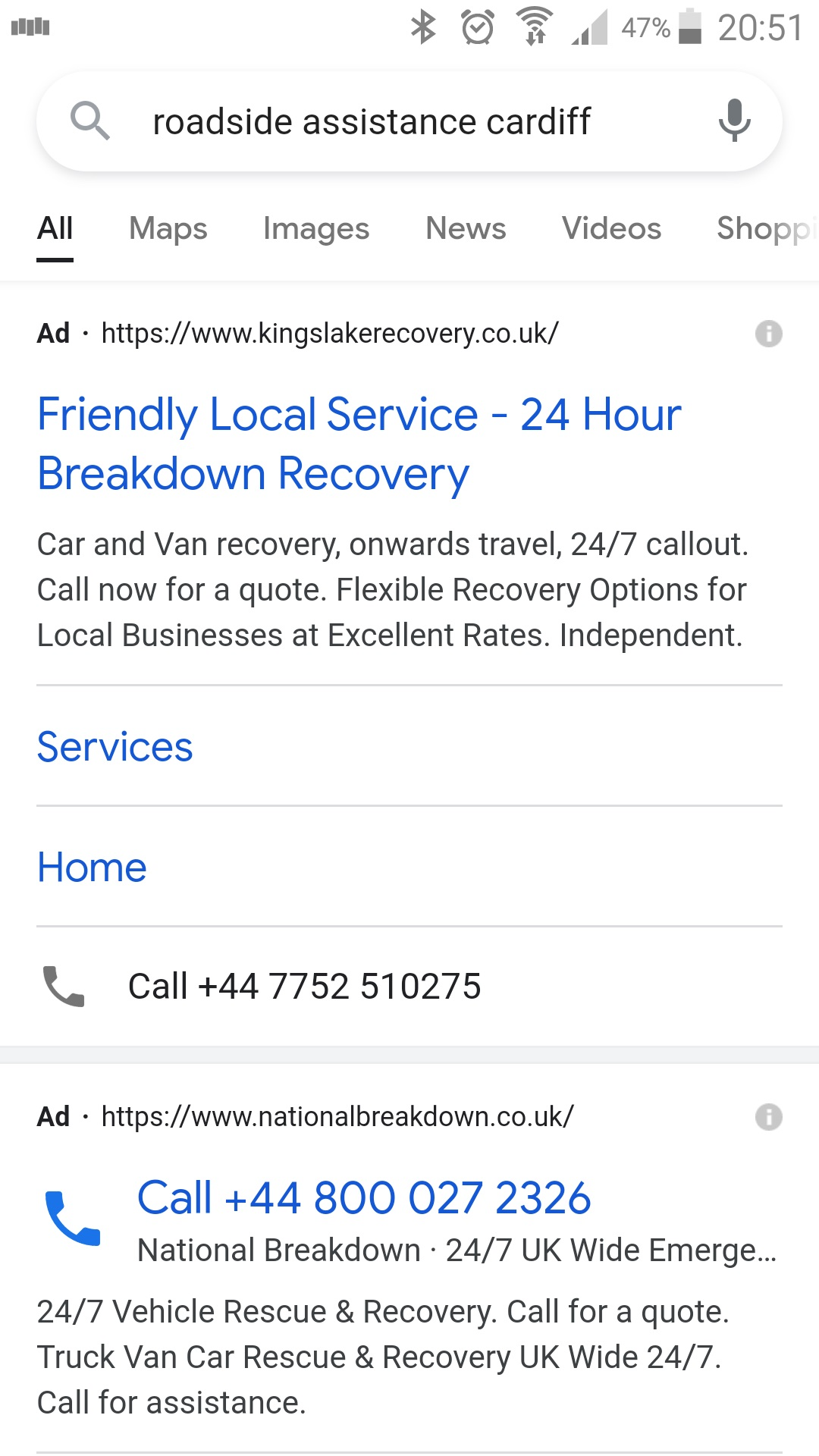 Advantages of PPC advertising
PPC ads are widely used in many industries. Here are their most important benefits:
1. Immediate outcomes
Content marketing and its partner SEO boil down to publishing valuable content that will attract the attention of potential customers. This is a very solid strategy, but you do have to wait a bit to see the results.
On the other hand, if you launch an effective PPC advertising campaign, you can see the results of your actions very quickly. Such ads are usually accepted by Google within 24 hours (maximum 72). Their effectiveness is not affected by things like the number of links or your site's reputation, so it doesn't take much time to start competing on an equal footing with others.
2. Budget control
By using paid advertising, you know at a glance how much you spend and what benefits you get in return. You can stop the campaign at any time if you are not satisfied with the results and make the appropriate corrections.
3. Flexibility
PPC ads allow you to reach as wide or narrow an audience as you want. If you don't already have a clear picture of your ideal customer, you can customize your ads to reach a large target audience.
However, if you have a niche product or service and well-defined target customers, your ads can be targeted and tuned very precisely. How precisely is that? There is an option to display ads during certain hours of the day. Your ads can also be location-based and will only show to users in a specific area.
4. PPC ads are not affected by changes in Google's algorithm
The effectiveness of PPC campaigns does not depend on changes in Google's algorithm, which can mess with organic search results (the domain of SEO). In the case of PPC, there is no way for your visibility to rapidly shrink due to a change in the algorithm. The only "algorithm" that affects PPC results is the Quality Score, whose rules you can see here.
In other words, it will be much easier for you to "play by the rules" with PPC than with SEO. That's why it's a good idea to allocate part of your advertising budget to PPC campaigns, as this will be your lifeline in the event of large drops in organic results.
5. Effective brand promotion
You can use PPC to show up for keywords related to your industry. After some time, Internet users will begin to identify you, for example, as a clothing brand. While generic keywords won't generate more sales, they indirectly help increase brand awareness and establish your business as a serious player on the market.
Disadvantages of PPC advertising
When using PPC ads, you obviously need to be aware of their drawbacks:
1. Relatively high cost in the long haul
If you run a small business on a budget, the cost of a PPC campaign will start adding up. Unlike in the case of SEO, your rankings for specific keywords in Google will not improve over time and with subsequent expenses or optimization.
You could be running a campaign for 3 years or more by optimizing keywords, the landing page, the advertising content, etc. But for ads to appear, you still need to pay.
What's worse, you could be drawn into a kind of bidding war with the competition. That's when two or more advertisers are fighting to get the best rank for their favorite keywords. Over time, ads aimed at those keywords may become counterproductive as a result of inflated rates.
2. Once the campaign is over, so are the results
Let's say you conduct a sweeping content campaign comprising many high-quality articles. You proceed to publish them on your company blog or thematic websites related to your niche. Such pieces will keep working for years.
But if you stop running a perfectly targeted, tuned, and tested PPC campaign, its effects, i.e. traffic and sales, will disappear immediately.
3. People usually ignore sponsored ads
Although PPC ads appear before organic results, they are usually ignored. Tests have shown that this happens 94% of the time! Users automatically scroll down to see organic results. They inspire more trust than paid advertising.
4. Visibility does not immediately translate into conversions
Some advertisers can get very excited when they first put their stuff on Google Ads. However, they can quickly get discouraged when it turns out that they are not generating traffic.
In order for a PPC campaign to be effective, each element must work perfectly. You need to choose the right keywords. The ads themselves have to be continuously optimized to attract attention. The quality of the landing page is also important.
5. The risk of unfair play by the competition
Click fraud happens when someone knowingly and maliciously clicks on your sponsored ads to undermine your advertising budget. Of course, Google has implemented appropriate algorithms that can recognize such actions. Nevertheless, they do not function perfectly. According to 2017 data, almost 20% of all clicks on paid ads can be classified as click fraud.
Specialized companies have even appeared, offering protection against such activities.
The most expensive phrases and the most difficult industries in PPC advertising
You need to know your customers – if Google searches aren't part of their customer journey, don't waste your money on PPC.
Of course, there are also niches where PPC ads work so well that advertisers are willing to shell out big money for every click.
WordStream has analyzed the average click price in Google Ads for each industry: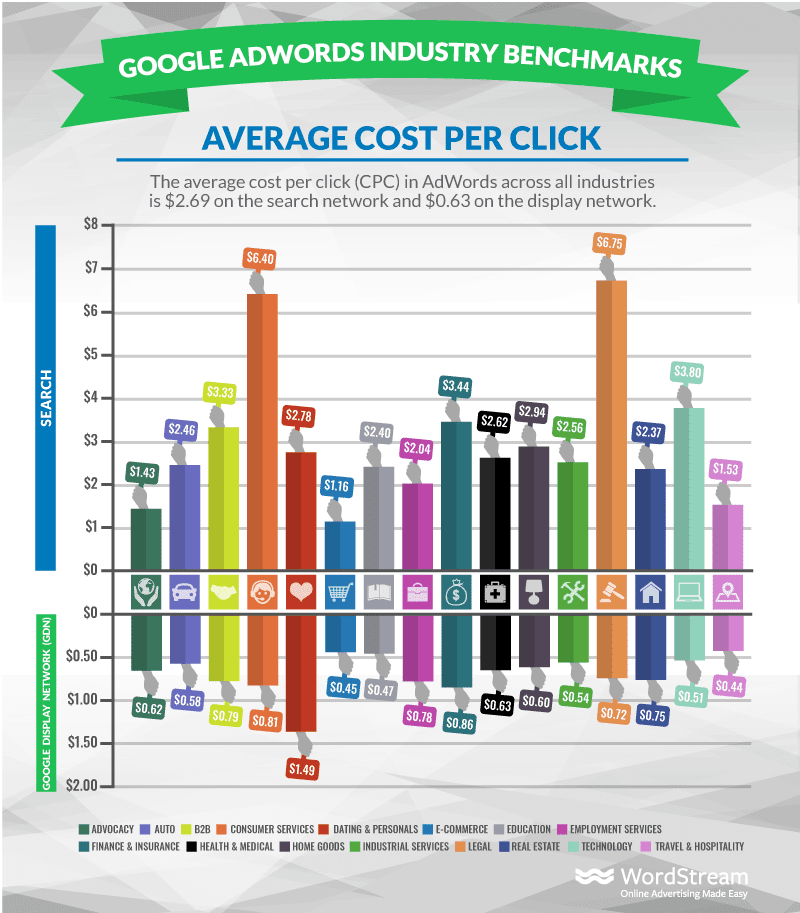 Which industries turn out to be most difficult?
Examples of highly desirable keywords are given in parentheses. Examples of other keywords along with bids are taken from the Keyword Planner. The given amounts per click are the so-called top page bids. They represent the maximum amount advertisers in the past were willing to pay to show their ad above (rather than below) organic results.
Finance (payday loans, loans) – customers come back for more loans, and the amounts borrowed are usually substantial.
Legal (legal advice, divorce attorney in Warsaw) – issues related to civil law, financial law, etc. are usually sensitive topics where clients are ready to pay a lot.
B2B (offices for rent, tent rental, data security) – companies whose clients are other companies usually generate large profits per order.
Insurance (liability insurance) – when it comes to insurance and compensation, there's a lot of money at stake. In such cases, lawyers additionally settle accounts with clients, obtaining a percentage of the compensation won. They are therefore more motivated to pay for advertising.
Internet and technology (hosting, search engine optimization) – these are to some extent issues related to the B2B sector and marketing. We noted that B2B deals with larger amounts. Marketing is also an investment and companies are ready to spend a lot on it.
Is it possible to find the most expensive keyword? The analysis presented in this article shows that the most expensive keyword in the analyzed period was best mesothelioma lawyer. Advertisers were willing to pay $935.71 for one click.
Where does this price come from?
Mesothelioma is an aggressive type of cancer. It often occurs from exposure to asbestos. Hence, cases of this illness give rise to expensive lawsuits for enormous damages.
What we see is a direct proportionality – the larger the amounts that are traded in a given industry, and the higher the lifetime value of the customer, the higher the rates per click.
The great battle – PPC or SEO?
Should you only focus on SEO and ignore the paid ads? Or maybe the other way around? Let's take a closer look at this dilemma.
SEO is about optimizing your website to attract as much traffic as possible from organic search results. On the other hand, with PPC advertising you pay for each individual visit a user makes to your website from Google.
Both strategies involve the use of keywords. SEO needs content built around those keywords, while PPC includes ads and landing pages that target the relevant keywords.
Check: SEO Strategy – How To Devise and Execute It?
SEO and PPC have certain things in common, and each has its strengths and weaknesses. We discussed the advantages and disadvantages of PPC earlier. Let's see what it looks like in the case of SEO.
Advantages and disadvantages of SEO:
great for creating brand awareness and building your online reputation,

helps build trust with your target audience,

great ROI in the long run,

it takes a lot of time and effort to see the effects,

it's possible to lose one's rank on Google if the algorithm changes,

no full control over the results you get.
Many companies running SEO campaigns achieve great and long-term results in acquiring customers. However, this does not mean that you should give up investing in PPC advertising in such a situation.
In Senuto, you can check how much you would have to pay for the traffic generated using SEO if you were to acquire it through Google Ads.
Use this data to check whether SEO/SEM could work better for specific keywords related to your business.
A properly constructed PPC campaign will bring great results. PPC ads related to keywords with a purchasing intention (like buy cleats) get 65% of all clicks!
However, your starting point should really rather be SEO. If your site is poorly optimized, you will have to rely on PPC advertising forever, which will not be good value for your money. But with a skillful combination of both methods, you have a chance to downright dominate the search results.
Outsource PPC campaigns or do them yourself?
Handling a PPC campaign requires expert knowledge. Internet marketing companies often put their employees through special training to become certified Google Partners. This status guarantees that the person responsible for your PPC ads will do a proper job.
However, there are also other training programs like Google Skillshop. This course is free and constantly updated. Some experts go through it regularly to keep up-to-date with the latest features.
You could run PPC campaigns yourself, but it requires appropriate knowledge and familiarity with the Google Ads system. If you choose to do so, your tasks will include:
Creating a campaign tailored to the appropriate target group.

Numerous tests.

Preparation of a converting landing page.

Removing unnecessary keywords, adding those with greater potential and optimizing the budget you spend on them.
Remember that you can only be pro-level at a limited number of skills. As an entrepreneur, you probably already have many responsibilities on your mind – running a PPC campaign will be another heavy task.
By handling PPC ads yourself, you will save the money you'd have spent on an agency, but it may turn out that in the long run it won't pay off. The first experiments will cost you and are unlikely to produce very good results. So think how much you value your time and effort and whether there are better uses for them in other areas of your business.
Consider whether it makes sense for you to learn the advertising tools and whether it pays off in the long run. Maybe you only offer a few services in an industry where not much changes. Additionally, you want to understand the nuances of internet marketing yourself. In that case, learning and handling advertisements on your own may be a good solution.
However, if you own a large store and want to advertise a wide range of products in a competitive market, this task may be too much for you. Then it would be better to outsource it to another company.
How much do PPC ads cost?
To get an idea of the amount you will potentially spend on PPC, it is good to set your goals:
Do you want to achieve specific sales results, acquire potential customers, or just increase brand awareness?

What types of PPC ads do you want to use, and where do you want them to appear?
Apart from the advertising costs themselves, there will also be fees for the agency or freelancer if you choose to use such services.
Most contracts follow one of these models:
a percentage charged on the client's monthly advertising expenses (some companies charge a minimum commission for campaign management);

a fixed fee depending on the selected package;

individually adjusted price.
The final valuation will be influenced by many factors. Assuming that you outsource the PPC campaign, the total cost will start from around $150 per month.
Check the Google Ads Equivalents for keywords and see which SEO activities are worth doing. Try Senuto for 14 days for free!
PPC – Everything You Need to Know to Get Started! In conclusion
PPC ads are a popular marketing tool mainly due to the fact that their results are almost immediate and their targeting is very precise. Depending on your type of business and offer, you can also choose the most appropriate place to display your ads. The best way to go, however, is to combine PPC with SEO in your campaigns on Google – this synergy will allow you to increase the visibility of your business in the search results.