If you're running a local business and selling services or products in a particular region, continued local customer acquisition is a key driver of growth. You can give it a solid boost by ranking higher on Google Maps. Check how to use Google Maps for the promotion of your company.
Rank higher on Google Maps – don't underestimate the power of local SEO! ⭐
Google Maps SEO may be just the thing for any local business which aims to effectively reach local clients with their services or products.
Why should you include a profile on Google My Business in your SEO strategy? Well, where should I start…? For one, let's see what business opportunities you stand to gain through Google Maps SEO.
A business profile on Google Maps will massively improve your website's visibility in the search results. Particularly those related to the user's location. With greater visibility, your website will generate more organic traffic from Google Maps, which gives you far better chances for conversions (selling your products or services).
Simultaneously, optimizing your Business Profile will raise your brand recognition. If you're running a local store or a service outlet, brand recognition on your local market may be a true blessing. Who doesn't start their search for a mechanic, hairdresser, or plumber on Google Maps? If your website is adequately optimized, it will surely catch the eye of your prospective customers.
An optimized Business Profile on Google Maps will also provide them with more detailed information about your activity. You'll not only facilitate the business-customer communication but also inspire trust and encourage prospective customers to get in touch.
On the other hand, if users fail to find what they're looking for on your website, they'll most likely close the tab and move on to your competition. With that in mind, try to provide them with as much information about your activity as possible.
Finally, a profile on Google My Business can help you expand your service area. An optimized business profile is the first step towards reaching customers from outside your local market.
Why should you use Google My Business and Google Maps for SEO?
Any new business should skillfully attract customers to outperform the competition. Many beginner businessmen and company owners are unaware how essential Google Maps can be for your success online. If you want to max out your business promotion potential, set up a profile on Google My Business. Nowadays, it's fully integrated with Google Search.
To see the ways of using Google Maps to your advantage, start with learning how maps help promote local businesses. Try a simple trick which will show you the combined potential of Google Maps and your Business Profile in the search engine. All you need to do is enter a phrase in the search engine (for instance: coffe shops London). You'll see a map with coffe shops across Manchester.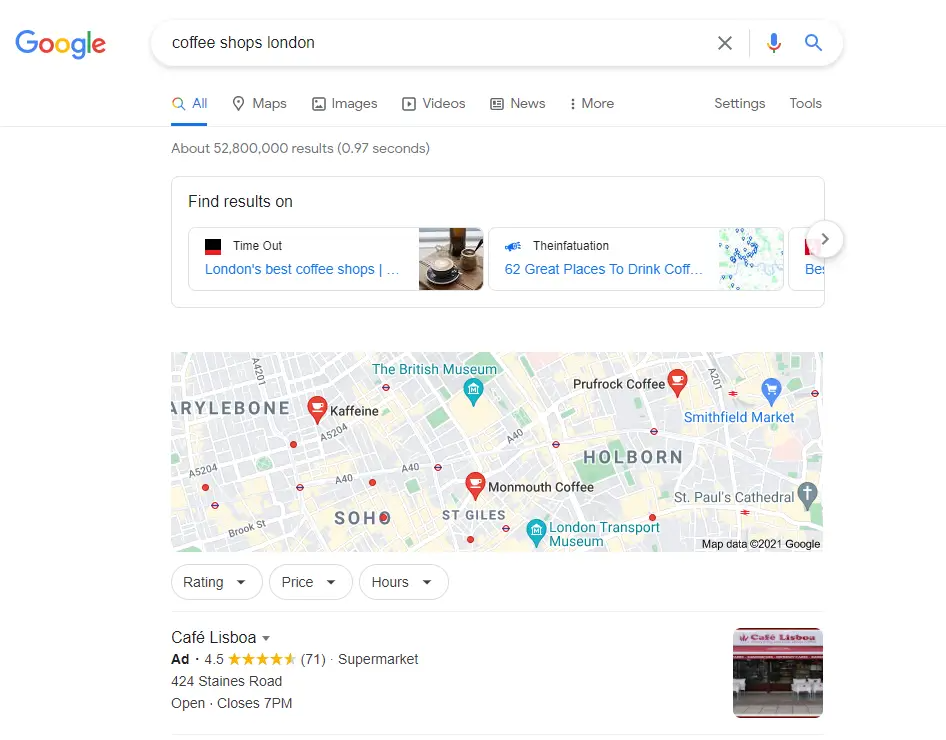 Search results in Google
An optimized Business Profile on Google raises your chances for further promotion of your business among your local clientele. You can use it to good effect regardless of the type of services or products you provide.
As you can see, ads and a map of local businesses take up a better part of the screen, which catches the user's eye and encourages them to click through.
Optimizing your Business Profile on Google – myths and traps⭐
Google Maps SEO is the topic of all sorts of myths which make many fall in the same traps during their local SEO campaigns. Many shady businesses exploit the ignorance of business owners and trick them into paying for their profiles on Google Maps. Scams of this type are a regular affair.
You should remember that creating and keeping a Google profile is and will remain free of charge. You should only pay for optimization or positioning. That being said, keep in mind that for many businesses, local SEO may prove to be the cheapest way of doing SEO and reaching the target group.
To avoid a series of mistakes in positioning your Business Profile on Google Maps, approach local SEO with an awareness of what you're doing and consistency. One of the most common blunders made by people who optimize and position their own Business Profiles is the inconsistency between the data provided on the website and the profile itself. A wrong number, address, or non-updated opening hours lead your customers astray. Misdirected, they'll develop a distrust towards your company and go to your competitors.
Another grave mistake is to forget that optimizing your Business Profile on Google is a continuous process. Filling out the profile only to forget all about it won't do the trick. You should regularly update your company information, add posts and photos, or answer user reviews. These are the ways to "feed" the Google algorithm, which will push your Business Profile to higher ranks in the search results.
The keys to successful Google Maps SEO are regularity and consistency. For this reason, instead of publishing posts or photos on and off, when the time allows, you're better off developing a local SEO strategy. With this approach, you will normalize your efforts at optimization and ensure a steady flow of information to your Google Business Profile.
What information about your company shows up on Google My Business?
Creating a Google My Business profile requires you to provide basic information about your company. Keep in mind that your chances of reaching prospective clients in your local area via Google are increasing with the amount of data you decide to share. Trying to rank higher on Google Maps? Give it your best!
1. Business name
The name of your business will be displayed in the header of your profile.
2. Business location
Make sure that the address details are accurate, particularly as they're used for Google Maps navigation. The customers will follow the directions to reach your office.
3. Phone number
If your company has multiple departments, list their separate numbers on Google My Business. This way, all users who wish to learn more about your offer or solve a particular problem will be pointed to the right place.
4. Opening hours
Google will continuously update the business hours on your profile, so the users know exactly when you're open. As a result, you'll avoid a situation where your customer arrives at your office only to knock on closed doors because they had insufficient information.
5. Address of your website or online store
The link you post on your business profile will point the user directly to your website.
Registration of your Business Profile on Google My Business
1. Account registration
In order to create a Google My Business account, go to the registration page (https://google.com/business) and log in to your account.
To create a Business Profile on Google My Business, you need an active Google account.
2. Business name and category
Upon logging in, provide the name of your business. In this step, you also need to indicate the category of your activity. To choose right, you can turn to the profiles of your competition and see what they selected.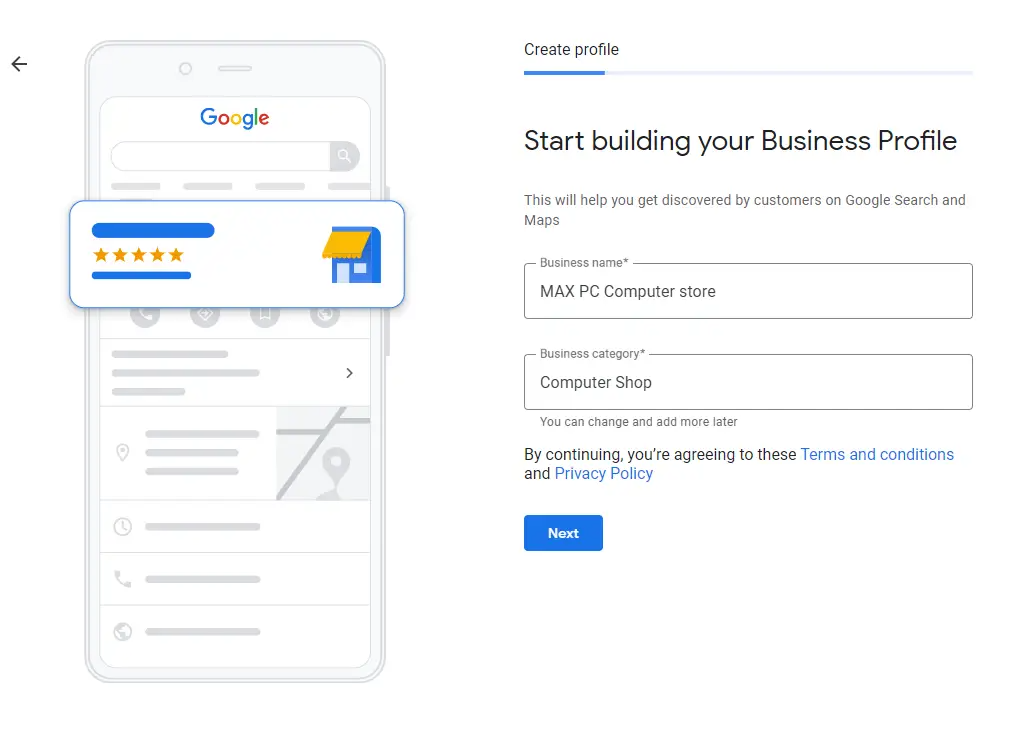 3. Service area
In the third step, Google will inquire about the seat of your company. If you're providing services only in the city of Bristol, Bristolians should see your Business Profile more often than people from Leeds. This sort of optimization will help you prevent phone calls from customers based outside your region.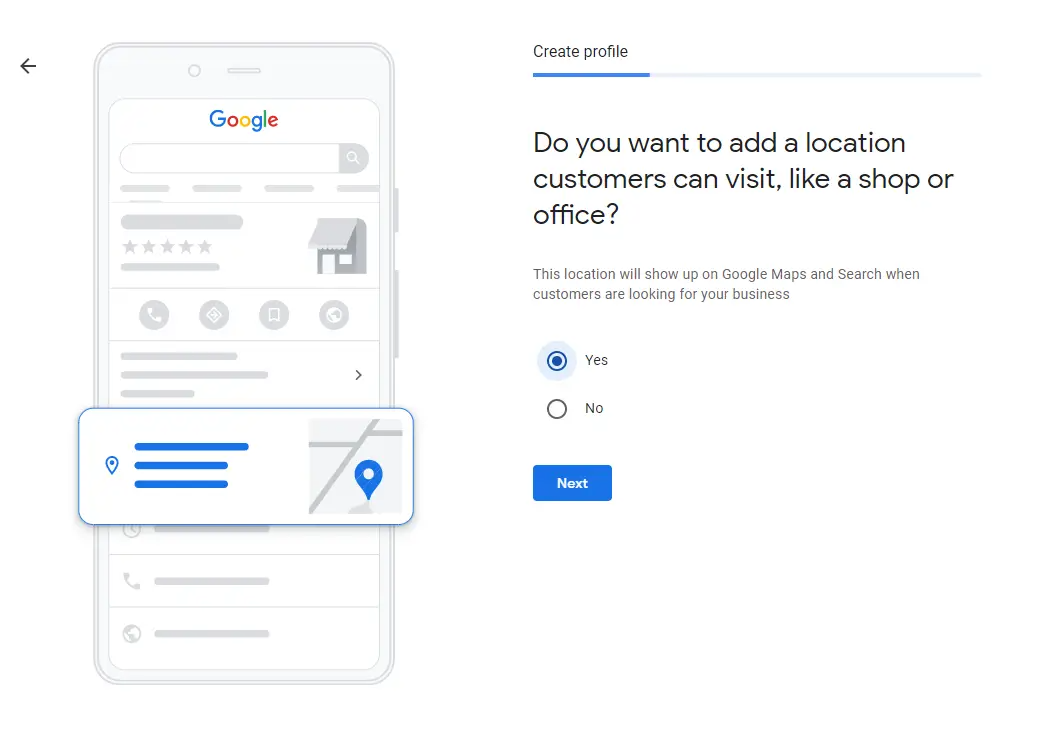 Does your business provide services at a specific address?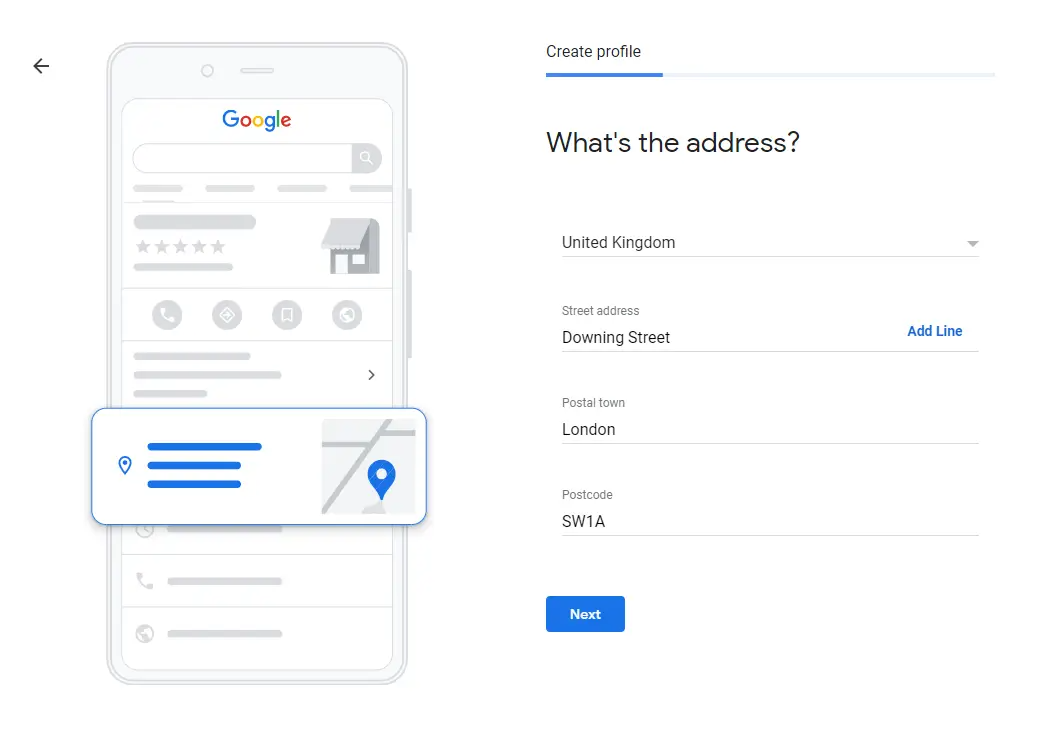 The location of your main office
If your business operates from a place that hasn't existed before (a new street, building, and so on), you can add the tag to the map yourself by positioning it at the selected location. Remember that the tag will require extra verification by other Google Maps users (such as local guides).
If you're providing services directly at your client's place, remember to provide that information in the form.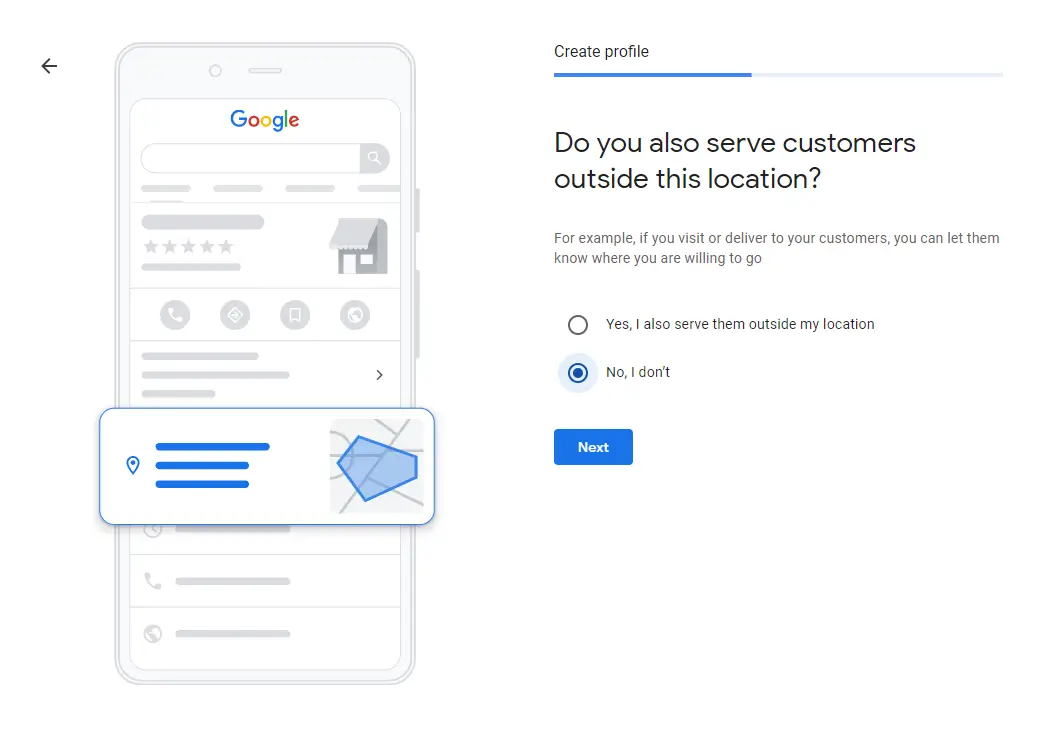 4. Contact details
In the fourth step, enter your current phone number and the address of your website. If you don't have one, you can quickly create it with Google Sites. Your homepage will be based on the information provided on the profile (business name, description, services, photos, and so on).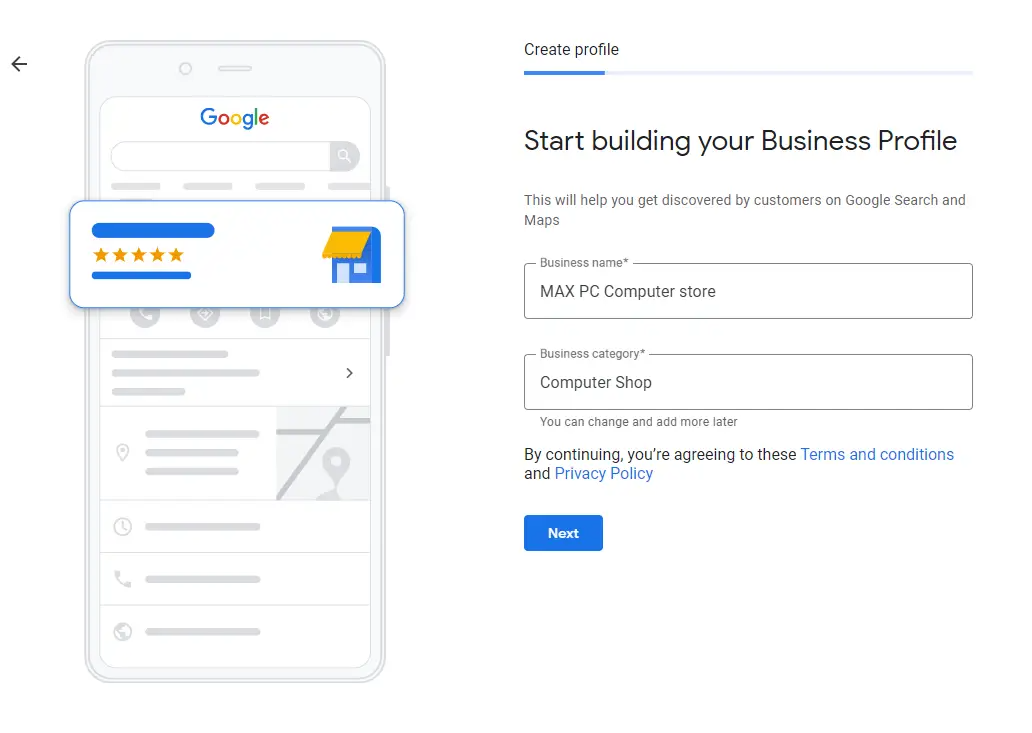 What contact details should be presented to the users of Google My Business?
6. Business verification
In the sixth and last step, Google wizard will ask you to choose a method of business verification.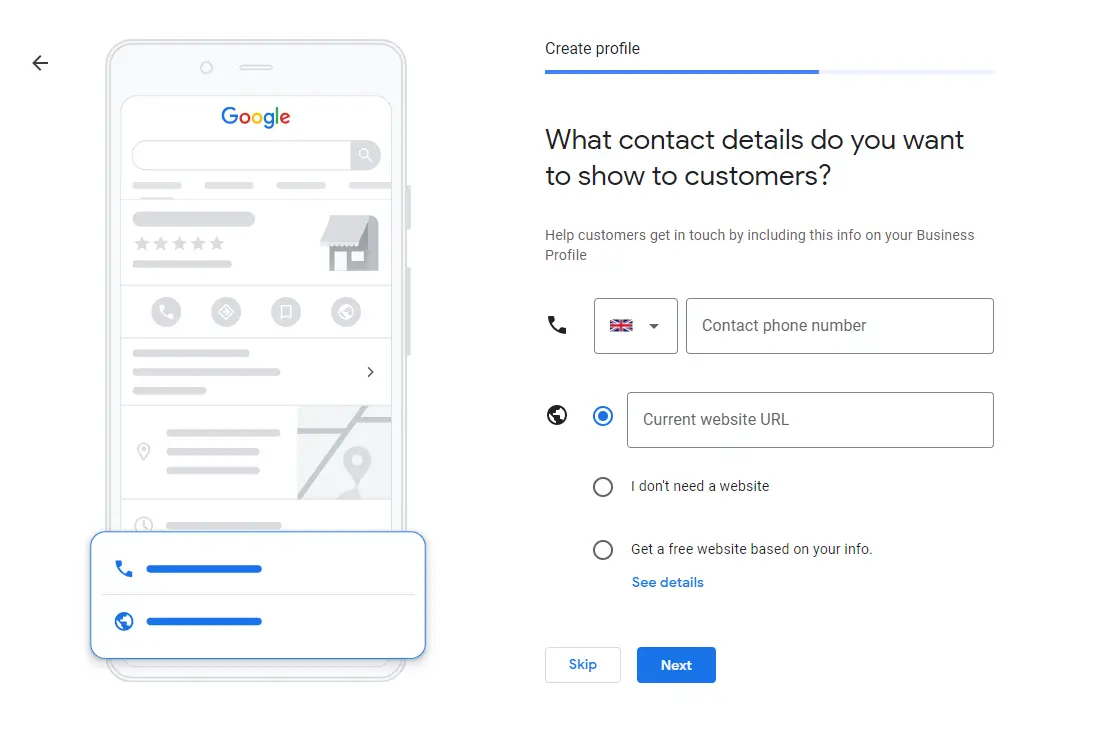 The last step towards the registration of your Google My Business profile
Google can send you the verification code in a text message. If you prefer not to use that option, ask to have your verification code delivered via traditional mail. The letter should reach you within 14 days.
Upon receiving the verification code, you'll be able to activate your profile on a dedicated webpage (the address will be provided in the text message or the letter).
How completing your profile information affects your ranks on Google Maps
Once activated, your profile needs data that will affect the ranking of your Business Profile on Google Maps. Go to the "Info" tab to provide further important information.
1. Categories of activity
You can expand your profile to include additional categories relevant to your company. Adding a few extra categories that describe your business will make your profile show up to a greater number of Google Search users.
2. Service area
In order to increase the visibility of your profile in a particular region, expand your service area, add business hours, a website address, and phone numbers to all your branches.
3. Services
When editing your profile, have a look at the "Services" tab. You can use it to simply list all your services and provide prices. Service names will affect the rankings of your profile on Google Maps.
Remember to list everything you have to offer. A more detailed account of your services will fit well in the business description.
4. Business description
Another crucial factor in Google Maps SEO is your business description. All the keywords entered will be indexed to the search engine, which will drive up the views generated by your profile. Provide a broad account of your activity and the services rendered.
5. Photos
You should complete your profile with photos presenting your activity and staff. Photos are also vital for SEO. They raise your odds of showing up in the search results because the algorithm favours profiles with an image. What's more, photos increase your CTR (click-through rate).
Further reading:Organic CTR in 2020 – a study of 8 452 951 keywords
If you have a 360-degree video promoting your business, upload it to your profile on Google My Business. Publish as much content as possible – it significantly affects your rankings on Google Maps.
Statistics of your profile on Google My Business
Once you prepare your profile, wait for 7–14 days (depending on the popularity of companies from your sector in Google Search) for analytical data. Skilful inspection of the statistics will help you optimize your profile and target the most popular queries entered in the search engine.
The statistics panel will provide you with information on the ranking keywords of your Google My Business profile (the keywords for which your profile appears in the search results).
Pay special attention to the charts on user behavior in relation to your profile.
1. How do customers find your Business Profile?
The chart indicates whether users found your business when searching for its name, address, a particular service or a category of activity.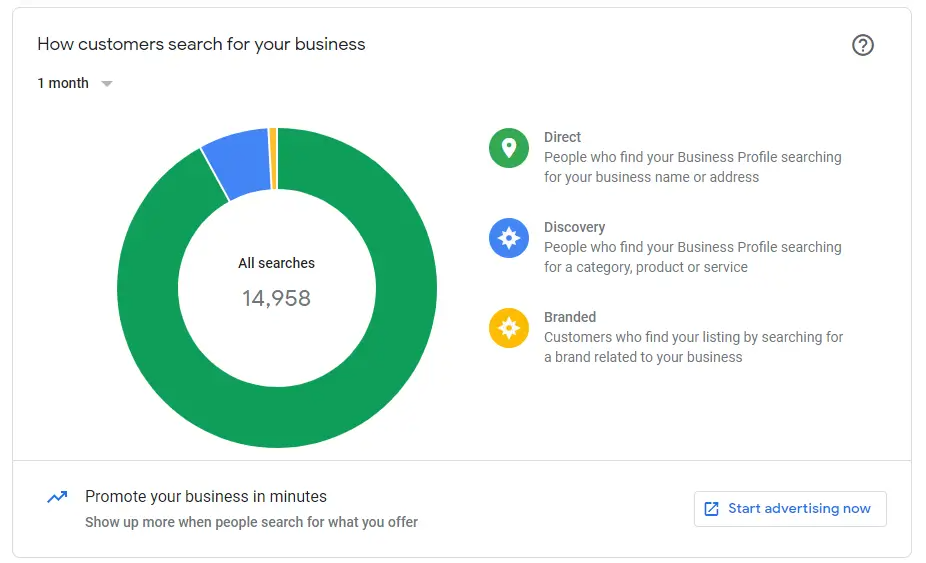 2. Where do customers find you on Google?
The chart shows how many users found your profile directly in the search engine and how many came across it when browsing the maps.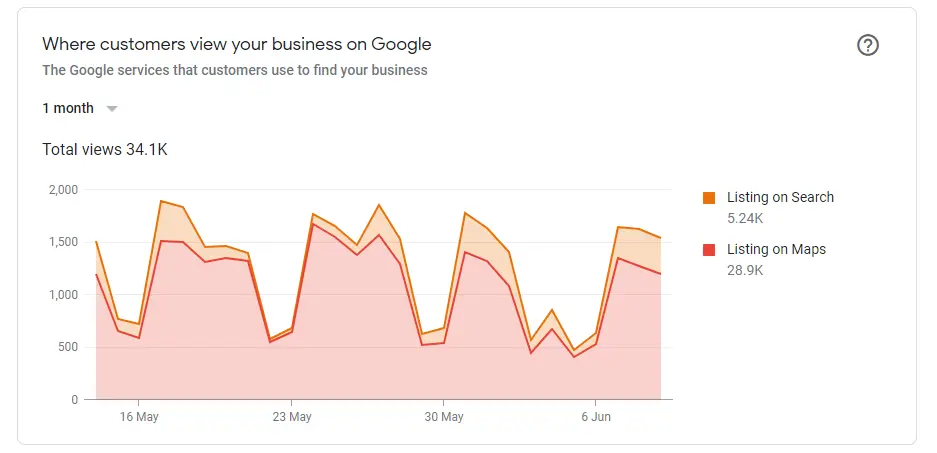 3. Customer actions
The chart illustrates the number of actions taken by customers in relation to your Business Profile.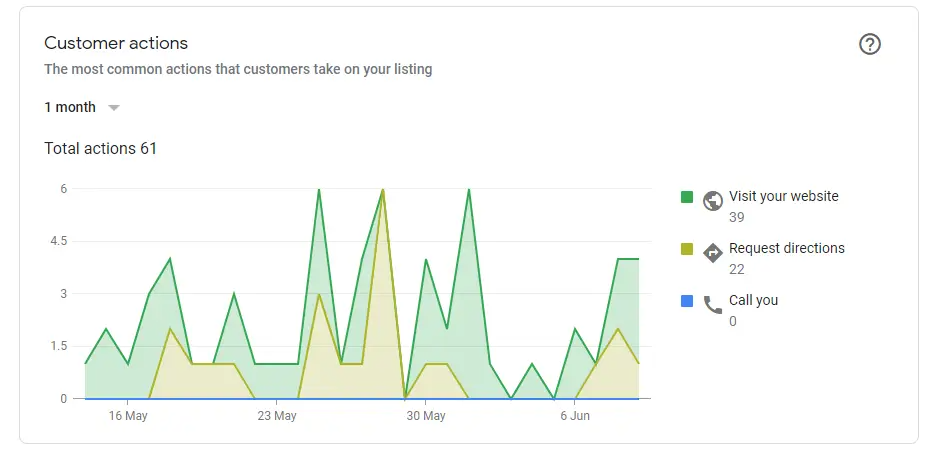 4. Direction requests
This section will show you the locations / residence areas of the users who inquire about directions to your company.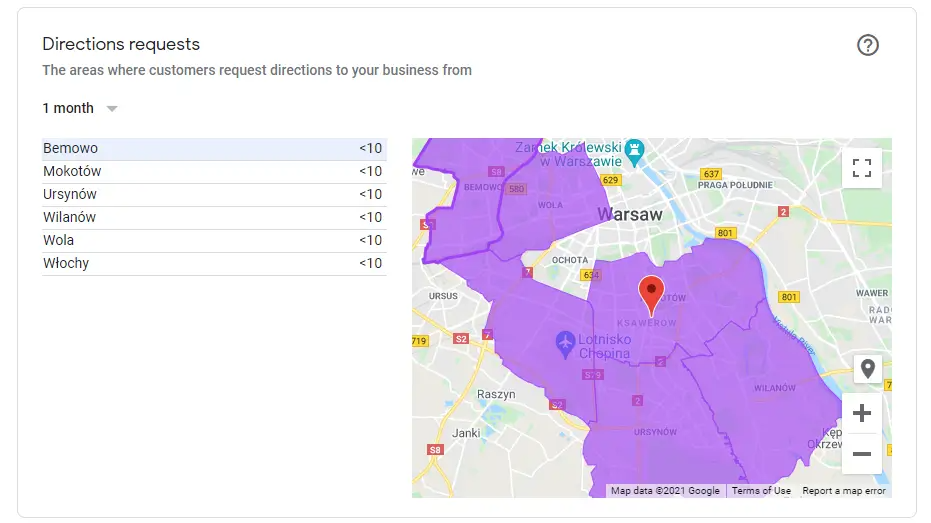 5. Phone calls
This chart presents the information concerning the number of your incoming phone calls together with the relevant dates.
6. Photo views
You'll find out here the number of views recorded by the photos published on your Business Profile.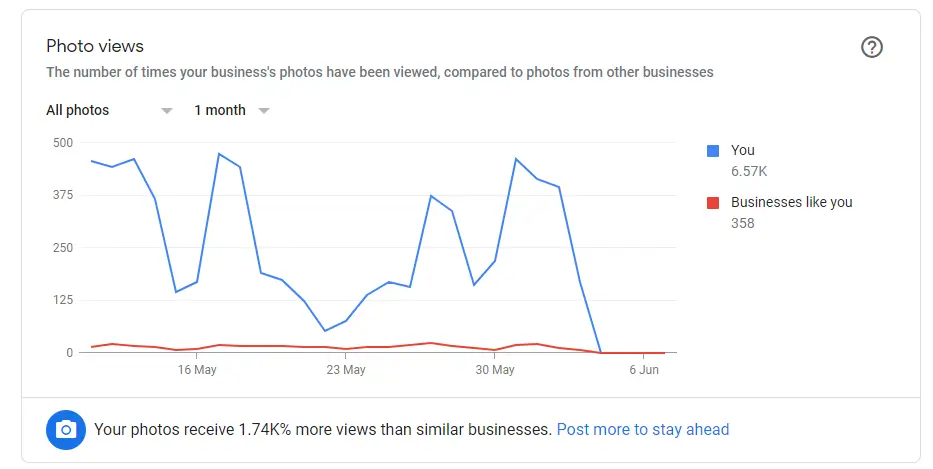 What to keep in mind as a profile owner on Google My Business?
1. Update company information
Remember that your Business Profile should be regularly updated and monitored. The content should match the information presented on your website, Facebook profile, and in all your online marketing campaigns.
2. Collect reviews and respond to comments
Get a review from every customer, both past and present. Business Profiles with lots of favourable reviews show up more frequently in Google Search.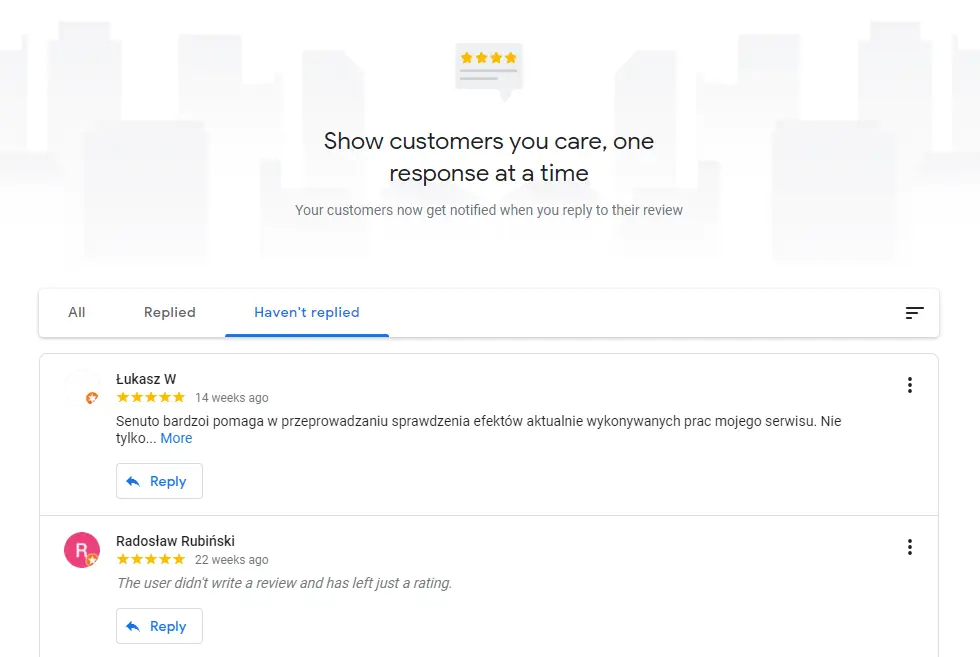 Bear in mind to answer both positive and negative comments wherever you can. When reacting to the latter, attempt to discover the cause of a less favourable assessment. Apologize for all the errors and mistakes made during your cooperation.
Try to show your readiness and good will in tackling your customers' problems.
Remember that before making their decision to purchase, customers verify the company by checking its reputation and the reviews of its products or services.
My Business on Google Maps in a nutshell ⭐
To sum up, we can agree on a few facts. First, Google Maps SEO is a way to get amazing results in a relatively short time frame – provided that you do it wisely and follow a predefined strategy. Second, Business Profile optimization is a time-consuming process that requires regularity and persistence in updating all the key data about your company. Still, these efforts are sure to pay off!
As we noticed the extreme popularity of this blog post, we decided to supercharge it with additional information. All the fragments prepared by the Senuto team are marked with stars.