Starting a completely new ecommerce store is a big challenge for the entrepreneurs – especially if they work in a competitive industry. Creating a shop engine and a website with an eye-catching, user-friendly design is just the beginning of the path to have a chance to be visible on the web.
And thus generate satisfactory revenues. In the article, I will discuss several areas that are worth remembering at the initial stages of work on the store and will help you prepare it for generating converting traffic and sales.
Technical SEO. A shop friendly to search engine robots
Proper preparation of the online store for search engines is an absolutely essential element that should be taken care of even before the launch of the e-commerce.
By eliminating potential technical errors and improving some functionalities from the SEO point of view, you will be able to launch a store that is friendly not only to users but also to search engine robots. And this is of great importance for the site's visibility in search results.
What exactly is technical SEO and how does it matter for ecommerce?
One could say that this is a set of good practices related to technical aspects of the website, aimed at facilitating crawling (scanning) and understanding its content by search engine robots. This is my general definition, but I think it reflects the essence of technical SEO quite well. For an online store, implementing these good practices can be crucial if we want to build organic traffic that will convert into sales.
Ignoring technical errors in the code of the site can be devastating and, more specifically, can block reaching top positions in search results, and thus deprive the website of the opportunity to exploit organic traffic. Let's get down to the specifics and think about the challenges that technical SEO poses to an online store.
Most of all, focus on the following:
Friendly URLs – a user-friendly URL, easy to "read" for search engine robots should be considered already when the website is created, i.e. at the stage of establishing the address structure.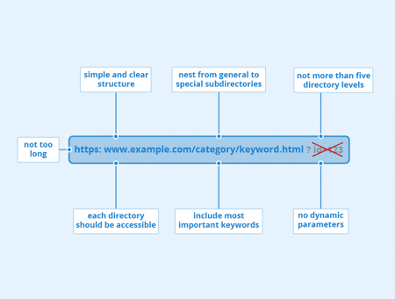 Website structure – building a website structure that is correct in terms of SEO is another challenge faced by ecommerce. Before you start creating a category tree in your store, it is worth considering it in terms of popularity of key phrases, as well as establishing the hierarchy of addresses in the menu.
Page loading speed – this aspect is extremely important from the SEO point of view, because it affects the Google search engine ranking. Too long loading times of the store is a problem that causes not only poor visibility in organic results, but also generates a large number of bounces from other traffic sources. Ensuring a high page loading speed using, for example, Google Page Speed ​​recommendations is an element that should be implemented before the launch of the ecommerce website.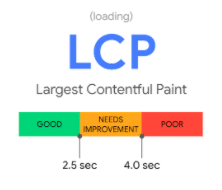 SSL certificate – the correct implementation of an SSL certificate in the case of ecommerce is really important for its position in search results. However, implementing SSL alone is not everything. We should check the correctness of the redirection of the version from http: // to https: // throughout the entire site, and thus also in canonical links or image files.
Mobile-First Index – is a website optimization for mobile devices, which is currently one of the most important aspects of the online store evaluation by Google. An online store tailored to recipients using mobile search gives a chance for higher positions and thus more organic traffic. The implementation of mobile-first index should be one of the most important points on your list for implementation before launching the store.
Of course, there are many more technical elements of SEO that should be considered at the stage of creating and implementing an ecommerce store. It is worth cooperating with an SEO specialist in this field who will help diagnose potential technical problems and recommend the best solution to eliminate them.
Content on ecommerce
The content presented in the online store is another element that is worth considering and thinking through at the stage of creating the online store. It should be preceded by a detailed keyword analysis, based on which the content of individual subpages will be created.
Content that is properly optimized for key phrases will ensure the store is unique, which will be appreciated by search engine robots.
This is particularly important for stores that have a structure commonly used by most e-commerce users in a given category and stores importing products from wholesalers, therefore their descriptions are also automatically taken from the manufacturer and are the same as for all other partners using this solution.
The biggest challenges that the ecommerce owner must face are as follows:
Product descriptions – creating hundreds or even thousands of unique descriptions in an online store seems impossible or very difficult to accomplish in a short time. However, it is worth trying to make the content in product cards in our store the most visible. You can for example add extra descriptions, editing and optimizing product names and metadata. Or allow users to add product reviews that will increase the volume of a unique content.
Category descriptions – another element of content that can significantly add to better visibility of the store in search results are category descriptions. For both the user and the search engine robot, they will be a kind of signpost for what kind of products can be found in a given section. Category descriptions should be optimized for key phrases closely related to a given category and, at the same time, bring useful value to potential customers by informing, for example, about available models, sizes, product models, etc.
Guide section / blog – it is worth considering, at the stage of creating the store, designing a blog where you will publish content related to our offering. Such content will allow you to systematically increase the visibility of the store in search results by publishing articles optimized for key phrases referring to both products and current trends. Already at the design stage of the guide content section, it is worth considering the implementation of sales elements, for example modules that allow the automatic import of products from a selected category or with selected features, or placing CTA buttons in the content.
The two guiding principles that should guide us when planning content in an online store are:
Uniqueness – regardless of whether they are product descriptions, categories, metadata or blog articles, avoiding duplication of content both within the store and in relation to external sources should be a habit mastered to perfection,
Optimization for key phrases – thanks to which we can constantly increase visibility in search results, reaching a growing number of recipients potentially interested in our offering.
Importance of the Off-site SEO
Your store is already fully prepared for search engines – you have eliminated technical errors that may disrupt the interpretation of its content by robots, and the content within the site is unique and optimized for phrases. However, that's just the first step so that your e-commerce can bring you measurable benefits in the form of organic visits.
Especially new stores that are just starting up on the web have to face the competition that has often been present on the market for several years and have managed to build their recognition and visibility over that time. So what can you do to help yourself? You might want to consider implementing an off-site SEO strategy that may include the following:
Business directories – adding a description with a link to your store to online catalogues of websites or classifieds websites.
Acquiring links to the store through pages thematically related to your ecommerce, i.e. Link Building. It can take a variety of forms, for example, publishing guest articles containing links to products or categories in your store, taking part in creating industry reports that mention your store with a link, sending PR notes with interesting content and a footer containing a link to your store etc.
Cooperation with bloggers – organizing competitions with bloggers, in which the prizes are products in your store, and the content of the competition itself will contain links to your product range.
Each of these steps should be well thought out, and the acquisition of links to your site should be done carefully.
Let's not fall for a great bargain for, for example, 50 links from good sites, which are offered on various types of advertising websites. Mass "injection of links" coming from uncertain sources of questionable quality, instead of helping us, can only interfere in achieving satisfactory results.
Any off-site SEO activity should be consulted with a specialist who will advise on how to conduct such a link building campaign so that it brings the best results at any given time.
Ecommerce Analytics
It is difficult to imagine the functioning of ecommerce without measuring the effects of promotional activities. Analytics in an online store is much more than information on the number of sales and their value, which is usually available in every commercial ecommerce engine. If you want to have full knowledge about the users and customers of your store, their behavior at individual stages of the sales path depending on the source of their visits, it is necessary to implement a tracking system.
The most popular tool for web analytics is Google Analytics, offering a wide spectrum of functions available in the free version. For the purposes of ecommerce analytics, it's worth measuring the following statistics:
Website traffic channels – Google Analytics allows you to measure traffic coming from different channels:

free search results, direct access to the website after entering the store address in the browser
inputs from other pages where the link to your store is placed
visits from social media channels.
Visitors – using Google Analytics you can also get a lot of information about users visiting your store, such as demographic data (age, gender), geographical data (language, location), type of browser and system they use or their behavior during Store visits on mobile devices.
Inquiries – this is an extremely valuable source of knowledge about visits, because it shows you which users' queries in search engines resulted in entering your website.
Landing pages – thanks to the knowledge of landing pages that customers visit, we can quickly see what traffic is generated by specific categories or product pages.
The above information is served by Google Analytics by default, they only require the basic implementation of the tracking code and connection to the Google Search Console tool. On the other hand, in the case of e-commerce, analytics should be much more advanced, including primarily tracking conversions or events in the store, so we get data that allows you to analyze the quality of our activities and decisions, as well as optimize our customers' shopping carts.
The correct configuration of conversions and events in Google Analytics, in combination with the statistics we receive as part of the basic implementation of the GA code, may turn out to be a real treasury of knowledge about your users, their purchasing decisions, as well as your sales strategy.
This information can then significantly contribute to your future business decisions regarding the presentation of the product range in the store, as well as investments in individual promotional activities.
Give your ecommerce a good start
There are many more challenges to face when starting ecommerce, yet I hope that the guide I shared can help you give it a good start. Remember that all steps have to be well thought out and based on insights and analysis of the target group, products and how they are searched online.
Content and SEO strategies that contribute to ecommerce success are built on that – and you have access to specialists and tools to make it grow – fully and organically.