Senuto Keyword Explorer offers a plethora of possibilities when it comes to keyword selection. Until recently, Keyword Explorer allowed for generating a report for up to 5 keywords at a single time. We're perfectly aware that sometimes you might need something extra; that's why we've introduced two new tools to help you analyze as many as 10 thousand keywords of your choice at a single occasion! Ladies and gentlemen, here come Keyword Grouping and Keyword Statistics.

The first tool helps to group selected keywords by word associations. You can choose from two grouping methods: linguistic and semantic.
Using the linguistic grouping method, keywords are grouped according to word clusters they're built of. For instance, a linguistic group would include such phrases as 'cakes Boston', 'lava cakes' and 'how much does a cake cost'.
The semantic grouping method allows to group keywords based on a semantic or contextual relationship between them. For example, a semantic group would feature such keywords as 'diet for diabetics' and 'what can a diabetic eat'.
Either method can be further tailored to your specific needs: you may group narrowly or widely, and when you group linguistically you can define your own filters.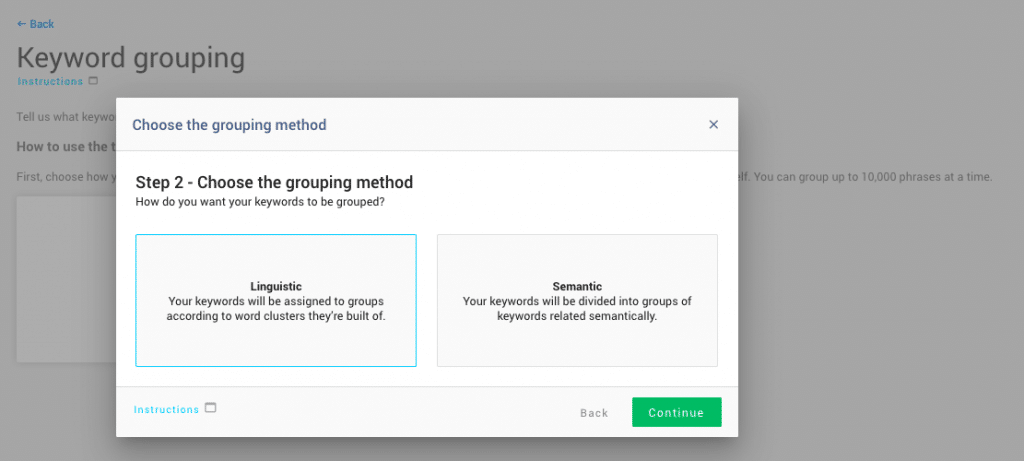 The latter – Keyword Statistics – gives you a quick overview of the essential statistics for selected keywords, including the following:
Average monthly search number
Number of words in a keyword
CPC
Trend chart
You don't need to generate several reports for individual keywords anymore. Now you're just a few clicks away from a single report for your keywords!
And why should you give these new tools a go?
They're our answer to users' needs and expectations. Trust us, they'll make your work easier more than once.
Keyword Grouping is particularly useful in content planning. Once you establish the most relevant keywords and identify related keywords, you may wonder how to best distribute them across individual articles. Keyword Grouping will help you with that in no time. Below is a quick analysis of keywords for a confectionery business; the system generated as many as 18 groups out of a total of 130 keywords!
Keyword Statistics might prove helpful while analyzing keywords. At the outset of your collaboration with a client, you'll get a list of keywords that are most important to that client business-wise. This tool will help you run a preliminary analysis of such keywords. Forget about checking keywords one by one manually – this new addition to Keyword Explorer will save your precious time and do it for you.