Not a fan of writing SEO reports? You're not the only one! That's why we decided to give you all a hand. How? By integrating data from Senuto with other tools. The goal: to help you get on with your monthlies and automate the whole process. Let your reports write themselves! Okay, maybe with the help of a few clicks ????.
In this article, I'll give you a brief overview of Senuto integrations and suggest how to use them to your advantage. I've also asked experts from various companies how they benefit from integrations in their work. Expect a huge set of instantly actionable hints and tips.
Senuto integration with Google Data Studio
One of our most important integrations is that with Google Data Studio.
It's a powerful tool which ensures fully automated reporting on your SEO efforts and more. Data Studio is useful especially for SEO agencies and specialists handling multiple projects. But you can also successfully apply the integration to a single project to see data from various sources at a glance. What for? To observe the connections and answer the question "what next?".
That's the wealth of possibilities offered by Google Data Studio – you can combine data from many sources in a single view and display them in a visually attractive form.
Upload datasets from all the sources with readymade connectors, choosing from over 200 available on the market. These include solutions from Google Analytics, Google Search Console, Google Ads, and Senuto.
Senuto Connector allows you to feed visibility data from Visibility Analysis and Rank Tracker into the report.
Of course, you can also use your own connectors.
Data Studio gives you the option of creating custom metrics and charts (new fields calculated according to your formulas). The shape of your report is entirely up to you. The same goes for branding.
"To prepare any SEO-related report, we need to assess website visibility. Keyword tracking fails to show the big picture of our efforts made for the sake of the domain. An honest evaluation of our website's condition, performance, or the efficiency of our efforts requires us to verify visibility in TOP 3, 10, and 50 of Google search results.
In SEO, the ability to use tools and build solutions is a valuable skill, much appreciated in any expert team. The experts like to spend time on pleasurable tasks, and let's face it – reporting is not one of them.
Every day, tools such as Google data studio and Senuto API save us a lot of time that we would spend on report preparation, result verification, or presentation of search engine changes to our clients.
I strongly recommend any SEO expert or team to use automation in their daily life."
Kamil Sroka, Head of SEO, DevaGroup
"We draft our activity reports in Google Data Studio. It offers an attractive form of presentation and automated integration of data from multiple sources. One of them is website visibility data from Senuto.
We try to implement automation where we can in a bid to maximize the time our experts spend on data analysis, not data collection. For this reason, we were overjoyed to hear about the integration of Senuto and GDS. We've been using it right from the start.
The integration has not only saved us time spent on report preparation but made them visually consistent and more appealing to the clients. Just as importantly, the integration has drastically reduced the risk of errors, which can never be 100% eliminated when drafting the reports 'manually'."
Wojtek Grądzki, SEO Specialist and Samoseo Co-founder
"Time – Automation – Transparency
These are the three words that first spring into my mind. And I'm much into giving in to first thoughts and impressions as they're the most intuitive and creative.
I use the Google Data Studio integration mainly for reporting on the internal projects of our organization. I get to my laptop and open a single panel that allows me to analyse both global visibility data from Senuto and traffic information from Google Analytics and Google Search Console. All that information brought together in charts and tables. Fellow SEO experts – what comfort that is.
In theory, it's no big deal. But if we speak of analyzing a few dozen projects, it saves an enormous amount of time. I wouldn't be myself if I didn't mention my favourite part – the option to automate and send weekly or monthly reports summarizing the data.
I don't mean to confabulate – the integration of Senuto with Google Data Studio has not drastically changed my work. However, it allows me to introduce some automation and – from time to time – to forget work even exists (until it's time for the mail report).
We draft reports for our clients with Senuto API, so everything is readily available in our systems. But to report on internal projects, I'd have to involve people from Reporting and IT. With the Senuto–GDS integration, I got the job done all by myself, in a matter of clicks.
I decided to use only the global visibility information because I needed nothing more. However, think about the possibilities of data blending in your reports as you're limited only by our mind and familiarity with the tool.
Obviously, you can get it all done with manpower. The question is whether you can spare their time, given the existence of an automated, user-friendly alternative. Some people have the time for SEO handicrafts – I don't, so I make a conscious effort to optimize. And when I have too much time on my hands, I spend it travelling."
Łukasz Kacprzak, Chief SEO Officer, CS Group
"We exploit the potential of the Senuto–Google Data Studio integration chiefly for reporting on client project performance. The tool makes our TOP 3 / TOP 10 visibility charts blend perfectly with the general style of our reports. Other than that, we often add current ranks for the keywords that were our recent point of focus and consider seasonal trends in the given sector."
Sebastian Heymann, Head of SEO at EACTIVE
"TENSE Group uses the Senuto–Google Data Studio integration to prepare reports for our Clients and present the fruits of our collaboration.
We zero in on keywords, their overall number, increases and decreases in the TOP 10 and TOP 50, and their presentation in reader-friendly charts understandable to the Client.
Additionally, our reports include a comparison between the Client's domain and their competition. We present visibility, the number of keywords in TOP 10 and TOP 50, and the changes in TOP 50 set against the rival companies.
The option to quickly integrate SENUTO with GDS is a considerable work improvement. It gives us easier access to various types of data that we can pull from the tool. As a result, clients find our reports more appealing and comprehensible. It's easier for them to draw conclusions and understand our services."
Bartek Staszyński, TENSE Group
How does reporting in Google Data Studio save your time?
DS lets you create a report template which contains all the necessary data and meets the needs of both your clients and yourself. You can do that to spare yourself the hassle of making a new document for each report. Just copy the template and change the data source.
Data Studio reports are updated automatically. Create a mailing schedule and DS will provide your client with the document – sent as a PDF or otherwise – on a predefined date.
A readymade template in GDS
To fast-track your first steps in Google Data Studio, we've prepared a free template. You can use it to prepare your first report with Google visibility data from Senuto.
Integration with Google Analytics and Google Search Console
Another useful feature is the integration of Senuto with Google Analytics and Google Search Console. Integrate your GA and GSC account in Senuto Rank Tracker to see in a single chart how your SEO efforts affect traffic.
Besides, you can complete your chart on the number of TOP 10 ranks for keywords with Google Analytics data such as:
number of users – all sources
number of users – organic traffic
number of sessions – all users
number of sessions – organic traffic
And from Google Search Console:
number of clicks
CTR
position
number of impressions
"SENUTO keyword tracking is among the most important screens that any SEO expert inspects in their daily work. When monitoring the keywords, it's a great help to see such information as the number of sessions and average rank, which is possible when you integrate your SENUTO account with Google Analytics and Google Search Console. The greatest advantage of these integrations is that we can monitor the organic traffic of our website in a single view.
Another big asset of the integration is the Rank Tracker report, which gives you an overview of the project. You can analyse TOP 3 visibility and simultaneously add extra charts such as the number of organic users pulled from Google Analytics or the number of clicks from Google Search Console.
For an SEO expert, all this information is extremely valuable. For instance, we can learn if our plummeting organic traffic and the number of views in Google results from a drop in our TOP 3 keywords? Or is the keyword visibility steady and external factors are in play, like in the screenshot? In the case of Empik Tickets, the popularity of tracked keywords fell among users as the events sector got frozen due to COVID-19 pandemic, and search engine visibility was in no way responsible for the decreased organic traffic."
Rafał Gąsiorowski, SEO Specialist, Empik S.A.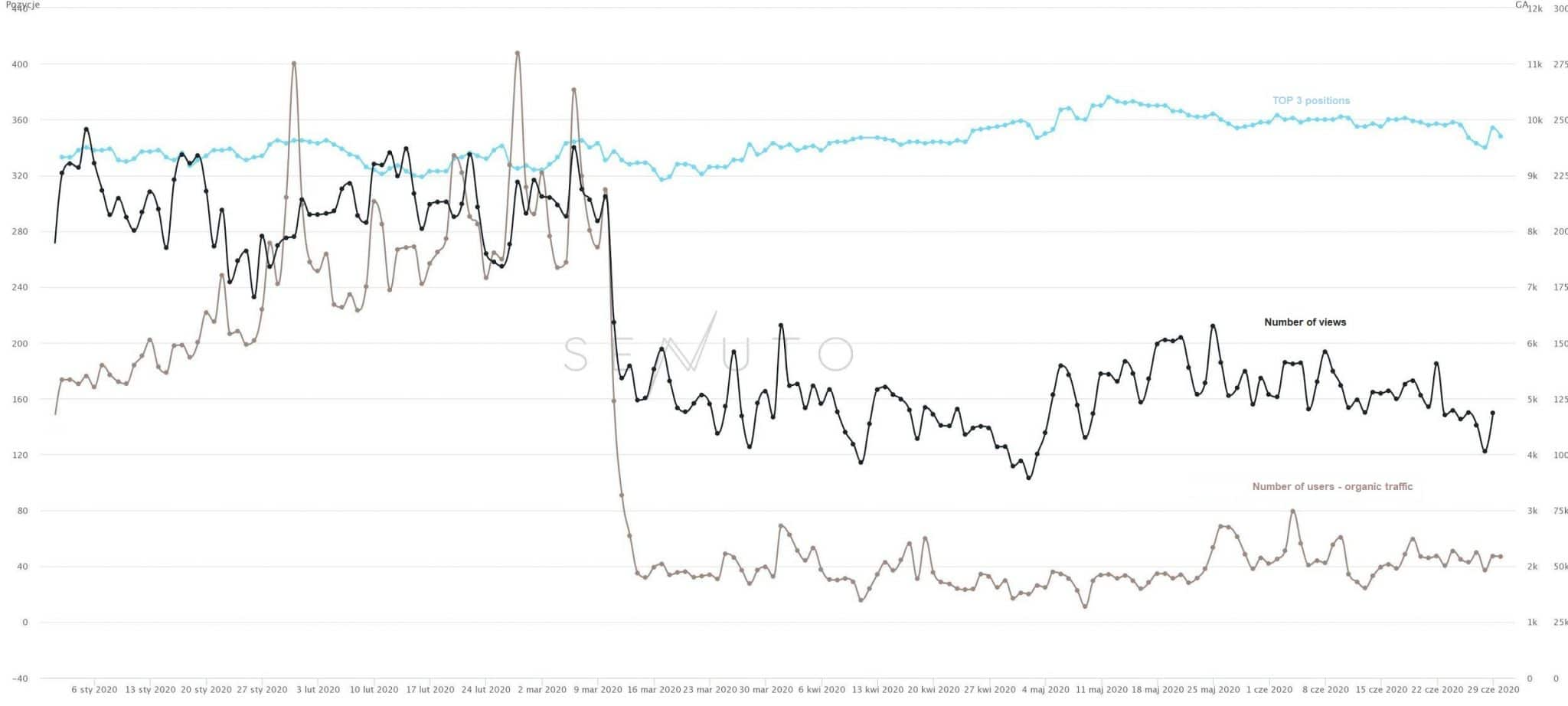 In Bluerank, we like to create dedicated dashboards adapted to the individual needs of our Clients. Consequently, we are regular Data Studio users. That's a small step away from pulling data from Senuto :). Visibility data and similar information work great for reporting on results and ongoing tracking of the website's performance in Google. The integration of Senuto and DS is just the beginning. In reality, the API unlocks enormous potential for report building :).
Mateusz Rzetecki, Head of SEO, Bluerank
Integration with Google Sheets
The integration of Senuto with Google Sheets is the youngest of all available on our platform. Just add the Senuto plugin to the add-ons in Google Sheets. The data from Visibility Analysis and Rank Tracker will be fed straight to your document.
You can import data from any report without logging in to Senuto. It will speed up your work on audits, client reports, and campaign result verification by a lot.
As I often work with Google Sheets, this integration is likely my personal favorite ????.
Integration with Slack
Slack is a tool designed chiefly for team communication. But not exclusively! It does have a range of plugins. You can integrate it with Gmail, Google Docs, Brand24, and Senuto.
If you're using Slack for team communication in your daily work, you must try out this extended range of possibilities.
Integrate Slack with Senuto to rest assured that you're always up to speed with the results of your projects.
You can enable 4 types of notifications:
SERP changes – we'll tell you about the recent tweaks in the Google algorithm.
Favorite websites – we'll send you a digest on Google visibility of domains you've marked as favorites.
Rank Tracker – you will get a daily summary of your projects in Senuto Rank Tracker.
General notifications – we'll let you know about the expiration of your subscription and new features in Senuto.
Learn more of the integration of Senuto with Slack.