What is content marketing exactly and what are its main values? Can you introduce it in any company? How much work does it require? What effects can you count on and how long does it take to achieve those goals? Karolina Matyska, Content Marketing Manager at Senuto, answers to all these questions, gives examples, fun facts and great sources of knowledge as well as helps you to build your own content marketing strategy.
A few words of introduction
In the last dozen or so years, the Internet has become the primary source of information for a majority of us. Everyone uses it; the youngest and the eldest – people across each and every target group of varied financial status, educational background, place of residence and family or social situation. The Internet is a fast, inexpensive and usually efficient source of knowledge about the world; that's why it connects so many people.
An average Joe is online 6 hours and 42 minutes daily (according to research conducted by We Are Social and Hootsuite). And since the Internet is a relatively old channel of the media, we use it with certain confidence.
We've also developed various habits and attitudes:
We block ads
We skip paid search results
We're able to tell the difference between paid results and unpaid ones
We're aware of product placement in bloggers' activity and
We know what an advertisement and an objective opinion are.
Moreover, it's commonly believed that people are able to tell what's true and what's false online.
Unfortunately, it's a misconception. In the era of post-truth and fake news, when everyone can post content, it tends to be difficult to see through one's intentions and to tell if one is credible and truthful if you're not a marketing expert. That's why specialists are so vital, as they'll provide you with reliable information.
Nowadays no one needs to be convinced that marketing strategies which don't take the Internet into account are useless.
And because of that, more and more companies worldwide try out different tools and content marketing strategies. Their goal is not only to become an expert in their industry but also to be more recognizable online, or even to increase site traffic. One thing is certain: both users and Google algorithms prefer reliable and comprehensive content.
Global and local brands across the world focus now on content marketing.
But what is content marketing and what are its benefits? Is it useful for every business? How much effort does it require? What results does it produce and when can they be measured? Let's take a closer look at all these questions below.
What is content marketing?
Content marketing is one of the most popular and efficient forms of marketing, based on creating, posting and disseminating content that's useful for users and aimed at attracting the consumer to the website and convincing them to buy something.
Fun Fact
When I was a little girl and later a teenager, quite unhappy about the capitalist nature of the world, I would promise myself that I'd never ever work in advertising. When I grew up and I got a job in marketing, I consciously chose the path of content marketing that presented a product in a non-pushy way to people looking for information and answers to their questions. I strongly believe in content marketing – when the customer gets a solution to their problem and the brand may present its product, it's a win-win for everybody.
Content marketing – examples
Content marketing is primarily about running business blogs and preparing case studies, ebooks, reports and white papers. But it's also an area where creative marketers thrive because there are numerous ways to reach possible customers. Some prefer videos, others like podcasts, tutorials, webinars and other less popular formats.
My favourite examples of content marketing activities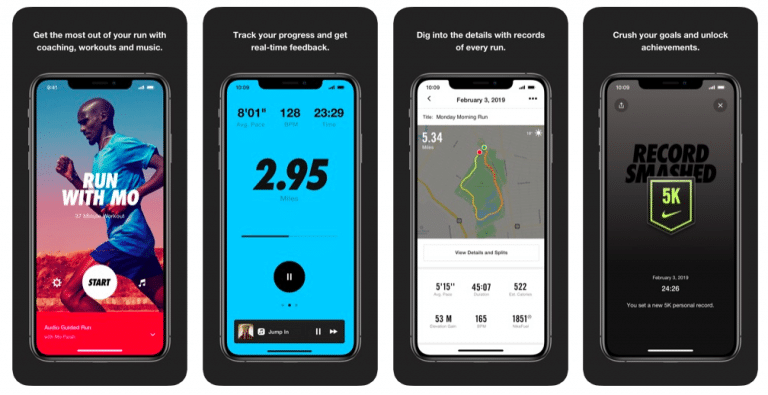 ● Nike Run Club app created by Nike to help runners in their workout and preparation for competitions
● HubSpot Academy where HubSpot educates the market on digital marketing, sales and customer success.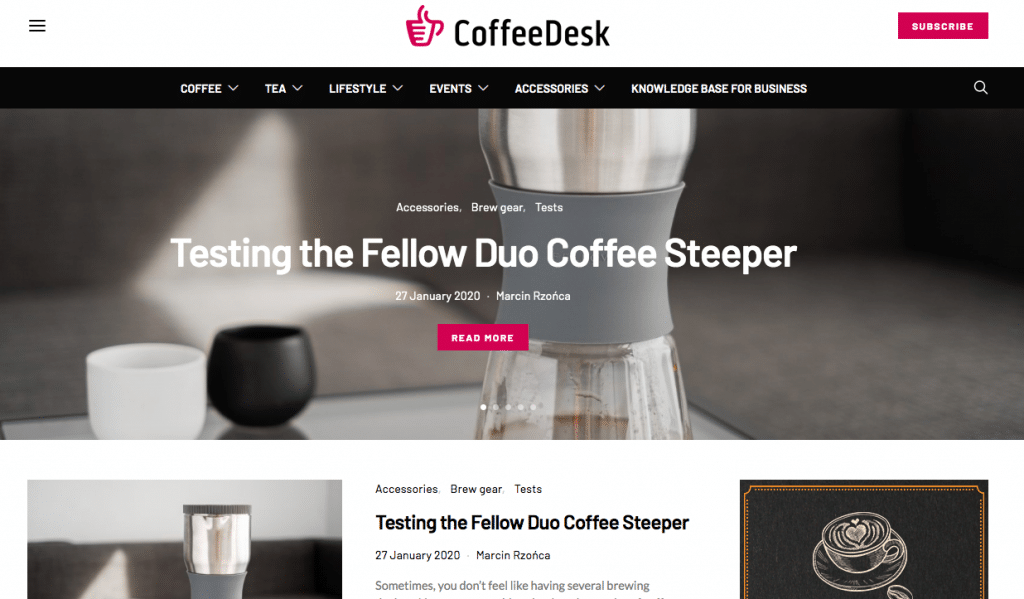 ● Blog CoffeDesk where you can learn everything about coffee, coffee business and coffee-drinking events. I got my new Aeropress from them because I've learned a lot about this way of brewing coffee from their blog. Now I'm their regular!
● At Pracuj.pl you can find content helpful in both job search and widely understood professional life. We helped them plan it and we're really proud of that because traffic generated by their website noted a significant increase!
Content Marketing Manager
What does the job of Content Marketing Manager involve? Obviously, the responsibilities depend on a company and job description, but the very job name indicates that it all revolves around content.
At the early stage of brand's life, when there's no a thought-through content marketing strategy in place, a Content Marketing Manager will need to prepare and implement it, and then keep track of performance and analyze what's working and what's not; fortunately, he won't be alone. It would be quite a difficult and time-consuming task, to be honest, especially since content marketers tend to start too many projects at a single time. After all, content is sooo fascinating!
A Content Marketing Manager often coordinates the work of many teammates – graphic designers, copywriters, translators or video creators.
However, not all of such tasks need to be executed in-house. Some of them can – and even should – be outsourced.
A few words about content marketing strategy
What's content marketing strategy for?
In order for a content marketing campaign to be effective, one has to clearly define its goals, and the more detail, the better. This way everything you do is meaningful and useful. And believe me, it's how you make it all really work.
Content marketing activities are pursued for various purposes. They may be classified into general and specific ones, and it's impossible to fulfill the first ones without fulfilling the latter ones.
General objectives:
Building and developing brand awareness among present and potential customers
Shaping the brand image
Gaining the reputation of an expert in the industry
Attracting new customers
Cultivating customer relations.
Specific objectives:
Generating more traffic across the entire website/blog/page
Engaging customers
Generating leads
Getting more newsletter subscribers
Increasing the time spent on page by the user
Increasing the number of pages visited during a single session
Getting more people to subscribe to a company YouTube channel.
Multi-level content marketing
Remember that content marketing is quite a time-consuming process. Individual projects can take months and you'll probably need to wait for results even longer. However, when you think a strategy through really well while planning it and optimize it later whenever needed, your regular work will bear fruit in the long run.
Example
If you create and post something about SEO content marketing on a new site, Google will need some time to index and assess it (this may take up to 3 months). Feed the web crawlers with plenty of good content to work with. However, don't forget about internal linking and link building, and structure your content in a clear way to make the crawlers' job easier.
Just like other marketing strategies, content marketing is a complex, multi-step process, though certain activities ought to be recurring.
Before getting down to drafting a strategy, you need to plan it. Once you have a strategy ready, you have to execute it, i.e. create content. Then there follows distribution and eventually analysis and optimization. This path produces really good results!
Drawing up a content marketing strategy – let's make it happen
First comes planning. According to Brian Solis, a misplanned strategy is a plan for a failure.
Thus, let's think about the goal of your campaign and identify your target audience. Next, define content you'll be posting to attain this goal. In addition, set a structure of content distribution, its channels and frequency. What's also crucial when you begin is to select the right performance analysis tools.
Step 1 – Identify goals and KPIs
If you're new to content marketing, think why you want to dive into it. Name and write down the reasons to always keep them in mind.
Goals are important, but so are KPIs. Do you want to get more newsletter subscribers or improve the sales of a certain product? How much? When? Answer all these questions right at the beginning of planning and be realistic. If now you send your newsletter to 1000 people, don't expect this number to grow to 15 thousand after 3 months of executing your content marketing strategy. KPIs should be ambitious, but achievable.
Step 2 – Define a target audience and personas
If you want your content to prove successful, you need to tailor it to individual personas. There's an old saying: a jack of all trades, master of none. This applies to content as well.
Consider your personas as individuals representing target audiences you've identified. Think of actual people whom you'd like to reach with your content. Establish whom they are, how they live and why they're looking for information that you wish to provide them with.
Step 3 – Choose the form and channel
Now think about what kind of content you want to push in order to get your persona interested in what you offer and achieve the goal you've set at the beginning. Video tutorials? Specialist articles? Or perhaps weekly newsletters?
Remember that a YouTube channel, expert blog or podcast is a long-term commitment. Each of these formats requires patience, consistency and… tenacity.
If you prefer to kick off with a one-time thing, try an ebook, industry report, infographics or quiz. When you decide to step up the game, you may start sharing specialist blog posts or YouTube video series.
From what I've seen, regularly updated blog is one of the least expensive and yet most effective forms of content marketing. And if you choose the right topics and create valuable content, your website will get ranked considerably higher in SERPs on Google. Two birds, one stone J
Step 4 – Create content
Decide how you'd like to create content for your brand. Do you have time and people to do it on your own?
Outsourcing of individual tasks is an alternative. You don't have to hire a copywriter, you can use their services whenever needed. It's the same when it comes to translators and graphic designers. In fact, you can outsource the entire project or content marketing campaign.
It all depends on your budget, availability and preferred way of working.
Step 5 – Track and analyze results
Below are listed tools that you can find useful in monitoring performance. It's important, really important. Failing to keep track of which content attracts the most users, whether they read/watch it till the end, if it converts is like working blindfolded.
Step 6 – Optimize
You track and analyze content marketing performance in order to optimize your content and to tailor it to users' needs, which will in turn bring more subscribers, conversions and transactions.
A blend of content marketing and other marketing forms
Content marketing activities can't be ripped away from the entire complex and comprehensive marketing strategy of a business. On the contrary! They ought to follow from and be completely consistent with such a strategy.
SEO content marketing
For example, content marketing perfectly blends with SEO, i.e. website positioning. In fact, one relies on the other because you need good content for SEO efforts to be efficient, plus content loses some of its potential if non-optimized, sentencing you to distribution via paid channels.
Social media marketing
Social media is one of the best places to disseminate content. Diverse channels (like LinkedIn for professional B2B content, Instagram for astonishing visuals, Twitter for technology news) allow for feeding content to the audiences defined while planning and creating it.
Video marketing
When diving into content marketing, it's worth knowing a thing or two about video or at least someone who can film and edit clips. Video marketing has been getting more and more relevant for years and is often preferred by both Google users and Google crawlers. So if you don't post any videos, perhaps it's a good time to start.
Email marketing
It's my second favorite way to advertise content, right after social media. It reaches people who personally asked for information about new products or services, so it's the essence of content marketing in content marketing by default.
Content marketing tools
There are so many content marketing tools to choose from. Are they actually necessary? Well, they certainly make work easier, help anticipate results, optimize efforts and keep track of performance. Truth be told, without tools you lose valuable keywords which are necessary to draw up a successful content marketing strategy. And without a strategy, you act blindly and not only do you fail to tap your potential but you also waste your time. And nobody wants that.
Content marketers use tools both while strategizing and in day-to-day operations. Tools help identify personas, select topics for articles, create simple graphic elements, create content SEO-wise, hold webinars and smoothly distribute what eventually gets posted online.
Content creation
Do you outsource content creation? Make sure to send the tips below to your creators and move on to Content creation outsourcing.
Write for personas
Content should be created specifically for your target audience (individual personas you've identified). You need to "earn consumers' attention" with your content – that's what Barbara Stawarz-Garcia thinks in her book titled Content marketing po polsku. And that's why it's so crucial to get to know your customers and their needs as well as possible.
What exactly does the word 'content' mean?
In fact, it may be interpreted very broadly. Content stands for both text in the form of an article, ebook or newsletter, but also multimedia like pictures, videos, infographics or even gifs. Content can also be webinars, podcasts or even social media posts.
The form of content you choose when planning a campaign should reflect the needs of a target audience and be consistent with your strategy.
Useful skills
Numerous experts claim to know the perfect recipe for successful content from a marketing perspective. Combining the knowledge of copywriting, web writing, SEO and marketing, they create content that attracts Internet users, converts them into possible customers and prompt them to act in a specific way. Thus, there's a complete guide to best practices which ought to be followed by people involved in content creation and marketing.
Best practices in content creation
First and foremost, content needs to be diverse and suit target audience's preferences. Even if you classify your users into groups, keep in mind that they're still different individuals. They're interested in similar though not always the same topics.
What's more, no one likes monotony. That's why every brand should aim at intriguing and surprising the user. Create such content that'll get remembered and try to engage the reader in a conversation. Have a look at 20 ideas for gaining and keeping reader's attention and create content which will live in your audience's minds.
However, don't forget to adjust the content form to the distribution channel. For example, it's not advisable to post a long video on Facebook or Instagram; YouTube would be better for that.
Where to source topics from?
To identify needs and preferences of your customers, observe their reaction to your content and analyze market trends – both in Poland and abroad. Brands which often offer new solutions get noticed frequently and are appreciated for their effort. I personally take a peek at such brands now and then because they're an amazing source of inspiration. Why not to become one of them?
There are plenty of tools useful when looking for topics. Some analyze the Internet in terms of popular topics (e.g. Google Trends), some – in terms of keywords searched for by your possible customers (Senuto).
Feel free to read my article where I suggest ideas for blog posts.
There are plenty of content marketing formats!
Don't bite more than you can chew; one can easily get carried away when drawing up a content marketing strategy. There are many forms of content marketing. Below are a few of them, choose whatever your possible customers might need, whatever your industry might require, taking into consideration your resources (time, people, money).
Blog
A company blog is something that I always recommend. It's got so many advantages and such potential that it'd be a shame not to give it a go! SEO-optimized blog posts will increase the visibility of your website. Besides, it's your own material and channel that you can control completely. If this doesn't convince you, let me remind you of something: blogs are so popular that your competitors have certainly been using them already for some time now. Think about it and keep up with them!
While creating content for a blog, make sure to take the customer on a journey with your articles. It's also worth considering demand for and supply of content in a given industry, although this is a little bit more complicated and when you're not a marketer for a large brand, you can definitely pass on that.
If you don't want your blog to be based solely on intuition, and you shouldn't because it's ineffective, introduce data into your content marketing efforts.
Video tutorials
Examples of video tutorials include short videos posted on a regular basis on a YouTube channel. Their goal is to visualize how new tools and reports work as well as to explain step by step what individual pieces of information mean.
Webinars
They're a useful solution in industries with concepts that require to be explained to possible customers. But that's not all! Webinars are perfect when you wish to have a face-to-face conversation with an interesting figure who's famous in the industry or might inspire your possible customers.
Ebooks
There exist various, equally good recipes for an ebook. You can start from scratch and present a chosen topic in detail; but why not to re-use the content that you already have? You'll make an ebook in no time by getting together your blog posts. Add some expert commentary and infographics, wrap it into an eye-catching layout and there you go!
White paper
A white paper is sort of an extended report touching upon selected issues or the entire topic comprehensively. It's usually quite formal, almost research-like. I personally consider white papers a high-level form of content marketing. Not that I think less of a professional blog or YouTube channel! But do you know why there are plenty of blogs and only few white papers? The latter requires an in-depth analysis, research and expertise[MM2] ; it's not so easy to compile.
Nonetheless, white papers are one of the most efficient forms of B2B content marketing. A well-written white paper is a testimony to the author's or brand's knowledge of and competence in a particular field.
Reports
A report can be a white paper or something smaller, like for example a ranking.
Infographics
Pictures presenting complicated information are often more digestible by users than words. Explain difficult concepts to your possible customers and not only will they start considering you an expert, but they will also be curious about your other ideas. Do you wish to get more newsletter subscribers? Give infographics a go.
Content creation outsourcing
As I've already mentioned, it's virtually impossible for a single person to be a copywriter, translator, graphic designer, social media manager and SEO specialist. However, a well-organized content marketing team has all of the above.
If you have the opportunity to outsource any of these tasks, do it. Remember though to work only with specialists to avoid wasting time and money for results that would never be delivered.
Do you outsource SEO tasks? Read our article about the first steps of collaboration with an SEO agency.
Content promotion and distribution
You can disseminate your content via social media (Facebook, Instagram, LinkedIn, etc.), company blog, YouTube channel, newsletter, mailing, website, display ads, Google Ads and many, many more. The first rule, however, is to post regularly and according to a predefined posting schedule.
SEO optimization
Post and distribute your content in a way that it can reach your audience. The first channel [MM3] you should consider already while planning and creating content is SEO optimization. When your content is crawler-friendly, your website performs better in SERPs and what you post gets to be seen by more people.
Social media
An optimum solution is to use various channels depending on content type and target audience. Keep in mind that every social medium works differently so if your brand is present in more than one channel, your message should be tailored to a particular channel. That's how you keep the fans you have and get new ones. Think about it this way: if you posted the same content on Instagram, Facebook and LinkedIn, why would your fans follow you on each of these platforms?
Performance tracking and analysis
When you wish your content marketing campaign to perform as expected, you need to regularly monitor and analyze customers' behavior being a response to content you post. Pay attention to what makes people comment or share and what doesn't.
Testing is also advised (e.g. split-run testing) to get to know users' preferences better. After all, you can optimize not only content formats and content creation methods but also content distribution methods. When a Facebook post that you shared and promoted gets liked a lot and yet few people have actually read it, you should be rather alarmed; something's definitely gone wrong.
By analyzing your own actions, you can identify both your mistakes and opportunities. You can get to know your customers and their needs better, which in turn will help you improve your content and properly define personas. At this stage of a campaign, the most useful tools include Google Analytics, Facebook Insights and Senuto Rank Tracker, where you can check the rank of your site on Google for selected keywords.
Content updates and optimization
Updating content breathes new life into old articles. Which ones are worth refreshing?
Let me give you a hint about how to update blog posts. First, handpick those articles which got visited a lot of times, but are characterized by a short visit time and a high bounce rate. Then have a look at those pieces of content which lead to cannibalization of keywords – it's best to get rid of such pieces as soon as possible. Do you have some articles of strategic value which are not topical anymore? Work on them as well.
Content recycling
Did you know that content you create has enormous potential? It'd be a shame to waste it with a one-time article in the same format everywhere. Sure – if, for example, you optimize a blog post SEO-wise and make YouTube videos following the rules and best practices, they'll live eternally. Well, at least until the topic is hot.
But why would you stick only to a single form of content sharing? Some prefer reading, others prefer watching and the rest – listening. I use YouTube pretty rarely, but I listen to podcasts every day while commuting.
Here's a bunch of ideas how to recycle content:
Transform a blog post into a short tutorial video
Get a few articles about the same subject together into an ebook
Are you organizing a webinar? Film it and post it on YouTube
Do you post interviews on YouTube? Save them as audio files and upload them to some podcast platforms
Are you or anyone at your company delivering a lecture during a conference? Film it and upload it to your social media profiles.
Is content marketing for any company?
You know… I think it is.
Regardless of whether you run a small family business, work at a newly established start-up or at an international corporation, content marketing offers a lot. It's not always high traffic from Google (because when competition is high, you'd probably find it extremely difficult to outperform it with a limited budget). Sometimes content will get you loyal customers, at other times your brand will reach those who have preferred competitors' solutions or products so far.
Obviously, the more respected a company is and the greater its coverage is, the more it needs content marketing. Huge marketing budgets of big brands make many ideas reality. However, don't think that you're doomed without plenty of money on your account – on the contrary, I believe that financial constraints might stimulate creativity!
Sources of knowledge about content marketing
From where you can learn about content marketing? I strongly encourage you to:
Visit our blog (or just subscribe to our newsletter) where we post a lot about content marketing, copywriting and SEO
Subscribe to Senuto's YouTube channel – there are some videos already and we plan on uploading many more!
You can also learn various useful content marketing tricks by following efforts of Content Marketing Institute and by reading their articles.
Everybody Writes by Ann Handley is worth looking into as well.
Events discussing content marketing are held all over the world. The United States host ContentTech and Content Marketing World conferences, and Senuto took part in both of them [MM4] last year!
A few words to wrap it up
I personally commit to keep this article up to date by adding new information on content marketing to keep it a useful source of knowledge. I wish you patience and persistence in creating and optimizing content, but most of all I wish you all a lot of fun along the way!