Category descriptions often don't get the attention they deserve. Do you also just let them be during online store optimization and zero in on product descriptions only? Big mistake!
Anybody can write a category description… Or can they?
When was the last time you saw a well-written category description? Or wait, let me rephrase that: when was the last time you saw ANY category description?
Category descriptions may feel like the unwanted children of e-commerce. Online stores are usually careful to hide them from clients' eyes in expandable side banners or all the way down the product listing page. These days, PLPs tend to load new products dynamically, so trying to reach the description when scrolling is just tilting at windmills.
Why is that so? More often than not, a category description is a massive presell page stuffed with keywords and presenting zero value to the consumer. Yet another text ballooning your website on the off chance of upping your product page listing a notch higher in the SERPs.
Why shouldn't you just let your category descriptions be?
Category descriptions are an excellent tool for effectively optimizing your product page. Better yet, they give your consumers a wealth of useful information at all stages of the sales funnel.
Besides, the category page is a fantastic place to present your brand values and guide the client further on the path to purchase.
Take a look at a case study by Textbroker, a content provider which created 5 000 category descriptions for one of the TOP 10 e-commerce businesses.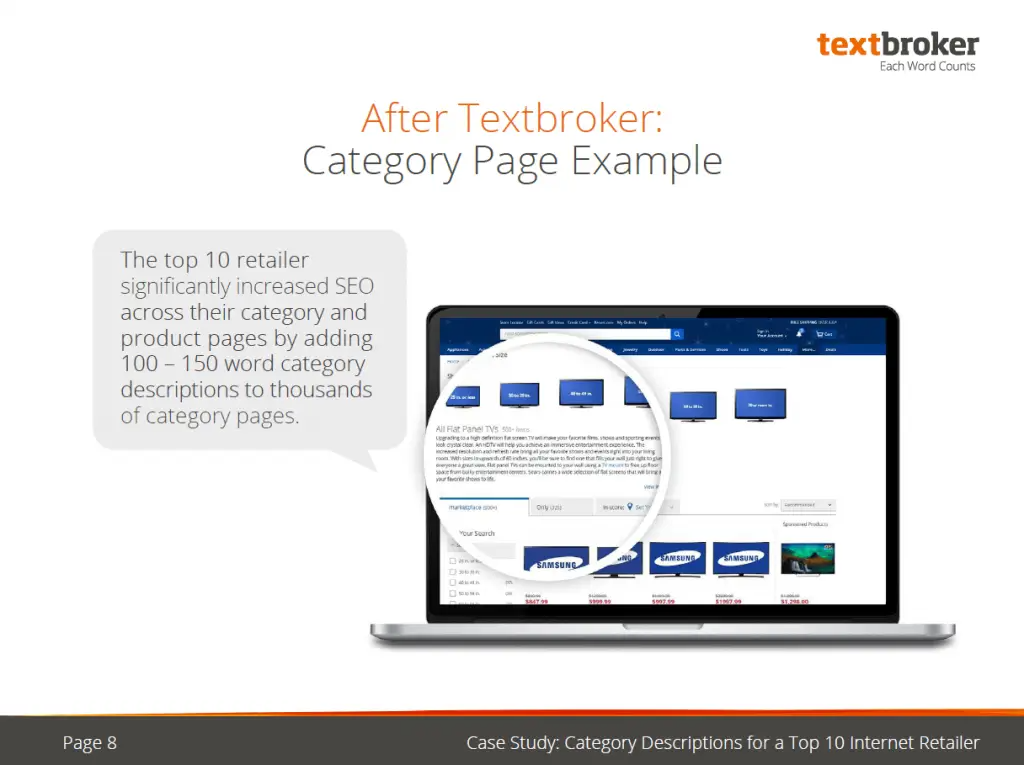 Original, calculated content with the right saturation of keywords (and internal linking) secured Textbroker a 5% increase in the SERPs for almost all product categories and a boost in organic traffic.
A good category description:
ups your ranks (when brilliantly written)
is a form of brand communication,
provides clients with tons of valuable information on your product mix,
points clients to the next steps on the path to purchase,
improves your conversion rate.
Does it really pay off to just ignore all that potential?
Effective category descriptions optimize and sell
Like a good product description, a category description is often the sole salesperson that promotes the offer of an e-commerce business.
If a product description may act like a shop assistant in a brick-and-mortar store, a category description is a sales manager who provides effective sales support and cares for the visibility of the store's product assortment on the market.
According to #SMXINSIGHTS, a category page may generate:
a 19% greater boost in keyword coverage,
a 413% greater boost in traffic,
a 32% greater boost in traffic potential (potential visibility in organic results)
than a product page.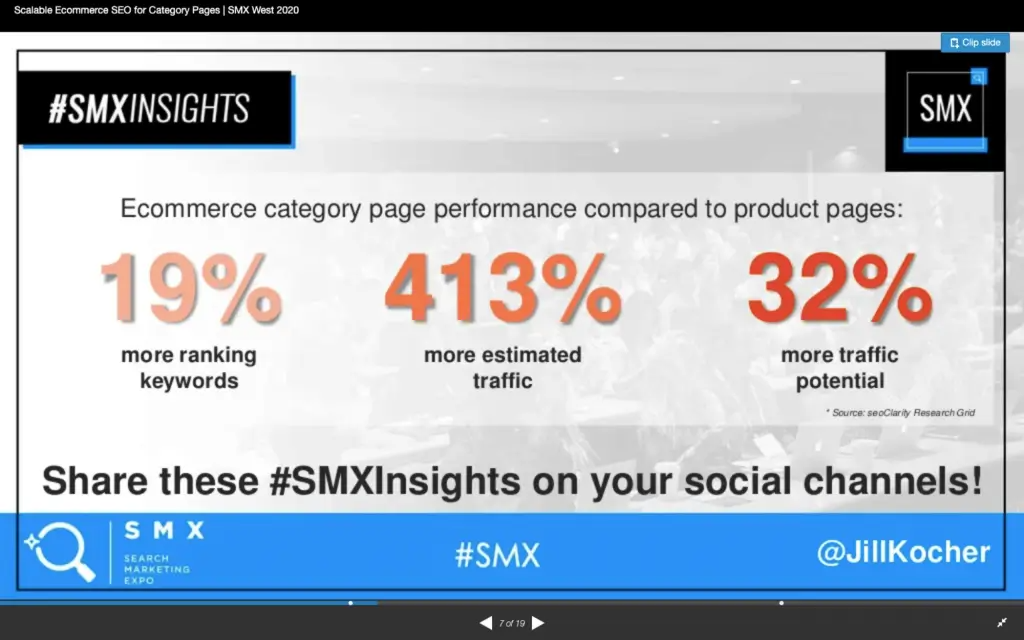 Certainly, a category description is merely one piece of the puzzle that adds to the final result. Still, its poor quality or absence affects UX and severely limits the SEO potential of the page, which contributes to reduced traffic, organic visibility, and conversion rate.
What is the ideal length of a category description?
Do you know what is the most common word out of the mouth of an SEO expert? "Depends".
When planning the length of your category description, there's one rule of thumb – exhaust the topic and give users all the information they may be looking for.
Not so long ago, we thought that all SEO texts (because that's what a category description is) should be as long as possible. 5000 characters with spaces? Sure! 10000 characters? No problem. 15000? Bring it on!
A longer text gives you more space to stuff with keywords, related keywords (linguistically and semantically), and internal links. At the same time, it can communicate more information.
With longer texts come greater opportunities, no doubt about it.
But will a longer category description better optimize a page? Not necessarily.
We can back our words with the Senuto Report of May 2020, which scrutinized 78 953 e-commerce blog posts.
The study concerned blogs, but its findings are directly applicable to category descriptions.
On average, e-commerce articles are 6233 characters long, with the standard deviation of 4691 characters.
Senuto report shows that:
The biggest group of articles are brief texts around 1000–2000 characters long.
The second-largest group includes texts that are 3000–4000 characters long.
As we analyzed blog post length and visibility, it turned out that longer content did warrant a higher position in search results, but differences between individual ranks of long and short articles are negligible. Thus, there is no correlation between text length and rank.
Senuto has confirmed that text length is not a decisive factor for the Google rank of your listing.
However, remember that while text length may not seal the fate of your SEO efforts, it should be sufficient to:
provide useful and quality content,
exhaust the topic,
ensure readability,
adequately promote your products.
Extra hint: if you use category descriptions to target specific keywords, check the length of top-ranking contents for these keywords in Senuto's SERP Analysis. It's also a good call to see the average content length for the given keyword. Take a look at text structure, including the number of headers and content length on individual pages.
What should you put in a category description?
When planning the content of your category descriptions, get your mind straight about a few key points.
Firstly: which products fall into the category?
Secondly: what subcategories make up your product listing page?
Thirdly: what are the core criteria of product selection and categorization? What are product attributes and parameters?
Besides, identify product information sought after by your prospective clients and perform keyword analysis.
You may also try conducting SERP analysis of your main keywords in Senuto. It will help you choose the right auxiliary keywords and their related phrases (linguistic and semantic context). Simultaneously, you will expand your coverage of target keywords entered by online shoppers.
If you don't know what to write in a category description, ask the public using the "Questions" module in Senuto. Build content driven by the most important questions asked by users.
When writing a category description:
outline the product mix offered by the e-commerce,
inform the users which categories contain the right product types,
give your prospective clients tips on how to choose products when shopping,
indicate how they may inquire the store about the products,
encourage them to browse the products,
answer their frequently asked questions.
How to write effective category descriptions? 10 copywriting tips
Writing quality category descriptions which will boost your ranks and conversions is a rather demanding, time-consuming process. The task involves many rules and techniques that you should follow.
1. Know your persona
If your content is for everybody, it's for nobody.
Who is the target client that visits the category page?
Before you write your category description (or any other e-commerce text), you should learn the basic facts about the target group of customers interested in this particular product mix.
Key information includes demographic data, the stage of the path to purchase, needs and concerns, finances, professional situation, social status, or preferred communication channels.
Think about the needs and soft spots of your client. Try to build your category descriptions around these emotions (desires and concerns). Some people are driven by their inspiration to achieve new goals. Others just want to escape their current position.
If you know what consumers need, you can motivate them to satisfy their desires and achieve their goals using the store's assortment. And if you know their soft spots, you can point them to the product that offers a solution to their troubles.
Remember that product descriptions are not written for the Google algorithm, but for a living person. To add some human touch and compose a text that people actually want to read, conjure up an image of a persona – an avatar of the perfect client – and write to them.
Creating a persona with human traits will help you identify the needs, concerns, and soft spots of your clients. The final outcome: more effective communication.
2. Make your content useful
At the risk of repeating myself, I'll claim that usefulness is the fundamental factor for creating content that really reaches your readers.
Pages containing useful text will have a lower rejection rate, which sends Google a clear signal that they provide interesting content of high quality.
Besides, by offering useful content – even in the seemingly inconspicuous category descriptions – you show your prospective clients that your brand treats its target audience seriously. As a result, even a mere category description can effectively optimize your brand, business, and its product mix in the minds of the clients.
Use the Above The Fold principle
When did you last see a category description at the top of a product listing page?
Exactly.
Above The Fold principle defines which content will be displayed in the first view as the page is loading, without scrolling down. Most e-commerce businesses hide their category descriptions and throw the products to the top of the page.
You can't take issue with that approach as products are the main interest of the client.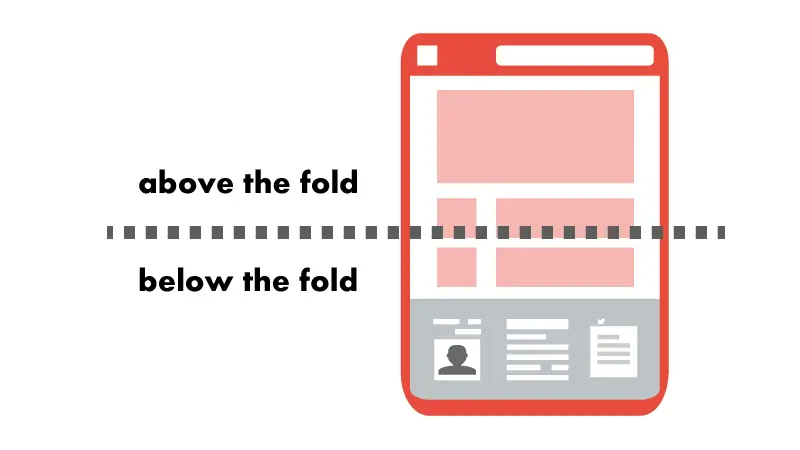 How to be smart about using the Above The Fold principle, to provide consumers with the right UX and uphold the SEO potential of the page?
3. Split your category description into parts.
At the top of the page, place your H1 header.
Below it, position selected products of the category or a bitmap presenting the category thumbnail. Include the main keyword in the ALT attribute.
Further down, put a small fragment of the category description, such as the lead. Ideally, include exact keywords and some two auxiliary keywords.
Then, insert product filters and first products of the category.
At the bottom or on the side, fit the rest of the category description. Remember to keep it easily accessible to the consumer.
4. Remember about proper SEO optimization
When optimizing your category descriptions, you should:
distribute keywords evenly across the entire content,
avoid keyword stuffing,
keep your keywords natural.
Write your keywords in singular and plural, use a variety of forms, and add synonyms.
Keyword diversity will give your category descriptions better keyword coverage, and by the same token – improve your organic traffic.
Insert your keywords in:
the H1 header,
the title,
the lead,
ALT attributes,
metatags – TITLE and DESCRIPTION,
paragraphs,
headers and subheaders,
lists.
The H1 header should contain the exact match of your main keyword. As for other headers, try to use broad and exact match of auxiliary keywords.
The content should contain your main keyword and at least one instance of several auxiliary keywords.
Use internal linking
Linking has become a core technique in both on-site and off-site optimization. Never forget to implement sound internal linking across your online store.
As you work on your internal linking on a category page, it's a good idea to create links leading to:
blog posts or database information on products of the given category,
product rankings, reviews, or tests,
recently purchased, viewed, or commented products,
subordinate, superordinate, and coordinate categories,
manufacturer and brand categories.
Internal linking may also reduce keyword cannibalization on your website and bolster the keyword used as anchor text.
5. Format is no less important than content
A well-formatted text is easy to scan through, read, and remember. Below, you'll find the characteristics of perfect formatting identified in a study by Nielsen Norman Group.
Emphasize keywords and key fragments
Using bold, italics or underlines for key fragments and essential keywords pays off. It is a small boost for your SEO and a step to improving UX.
Headers that reveal paragraph content
Catchy headers work great in magazine columns and literary exploits. They will not do the job in functional texts.
Header content should inform the reader what's coming in the paragraphs below. It will help them scan the text and improve UX.
Bulleted and numbered lists
Bullet points help readers:
scan the text,
find information,
absorb knowledge.
Besides, they make the text look better. Don't get carried away with the length – readable lists should be brief (up to 9 points).
One paragraph = one idea
A paragraph should have around 2–3 sentences and convey a single idea.
One-sentence paragraphs are fine, too.
They will help you get your core message across to the reader.
Use the inverted pyramid model of communication
Place vital information at the beginning of the text – push the least important data to the end. This approach improves the chances of your reader actually absorbing your message.
6. Create content that matches the style of brand communication
Can you imagine a B2B store for professionals which abruptly hits a very casual tone in its category descriptions? Or a skiwear store targeted at a broad customer base with category descriptions that come off as downright pompous?
When writing a category description, always word your message in line with your brand communication. Otherwise, you're setting consumers up for a cognitive dissonance as they interact with the brand. This may impair brand image in the mind of your target clients, limit their confidence in the brand, and even push them to abandon the shopping cart.
7. Use the 3XWHAT principle
Useful, quality content should answer three vital questions:
What is it? (the product)
What is its use to the client? (product's assets)
What will the client gain? (the final profit)
Ask yourself these three questions when writing to optimize the organisation of your content and step into the shoes of your prospective client.
8. Use AIDA – and be smart about it
AIDA is an acronym that describes one of the older patterns in marketing content writing. It stands for:
A – Attention – catching the client's eye
I – Interest – raising the client's interest
D – Desire – creating desire in the client
A – Action – motivating the client to take initiative
Attention
Catching the client's attention is the first step in sales – and one of the most important.
On category pages, the main catch-eyes are the promo banners and products themselves.
Interest
At this stage, the focus falls on content within the category page – tests, reviews, comparisons, rankings, and… useful category descriptions.
Desire
Product pages inspire desire mainly through visual messages, such as product photos. Recently, Polish e-commerce businesses are taking to rich media product cards with interactive elements or animation, which elicit a strong emotional reaction in the clients.
The inspiration of desire should revolve around the needs and gains of the client. A message written in the language of profit is the way to go.
How to inspire desire on the category page? A regular promotional banner will do the trick.
Action
Finalize the sale and give the client a call to action.
9. Don't forget about a CTA
Call to Action is the last step of making the sale.
Reaching this spot is the goal of any advertisement, marketing content, or presentation of a cookware set or luxury bedding.
The key to composing an effective CTA is to define its function. Think about it – what CTA will fit a category description? Simple! You may encourage the client to browse the products, check out the brand profile, or sign up for the newsletter.
Contrary to what you may think, opportunities are plenty. It would be a waste to leave your category description without a CTA.
10. Write until you exhaust the topic
Do you remember how long a category description should be? As long as it has to.
Category and product descriptions must dive deep into the topic to provide users with all information they need to make the purchase.
Let's recap
Category descriptions:
optimizes your website and improves your conversion rate (when brilliantly written),
provides clients with tons of valuable information on your product mix,
points clients to the next steps on the path to purchase.
What to put in a category description:
outline the product mix offered by the e-commerce,
inform the users which categories contain the right product types,
give your prospective clients tips on how to choose products when shopping,
indicate how they may inquire the store about the products,
answer their frequently asked questions,
encourage them to browse the products.
A recipe for a great category description:
write to a persona,
usefulness first – everything else is secondary ,
remember about the Above The Fold principle,
use internal linking,
avoid keyword stuffing and be smart about optimizing your descriptions,
format your content to make it readable and easy to scan,
create content that fits the style of communication adopted by the brand,
use the 3XWHAT principle,
include a CTA.
Despite the potential of category descriptions, Polish e-commerce still fails to give them due attention. Even industry moguls do not always see their full value. I hope that this article will do its part for the improvement of category descriptions across the Polish Internet.