Are you looking to improve your website's search engine rankings? If so, it is important to use some effective outreach strategies. SEO outreach is a strategy that has been proven time and time again to work with a great return on investment (ROI). In this blog post, we will discuss the benefits of using outreach for link building, what it entails, how to do it correctly and more!
We're going to cover:
What is outreach?
The difference between regular outreach and link building
Some SEO outreach statistics
Types of backlinks you can get through SEO outreach
SEO outreach tools (and how to use them!)
How to use the SEO outreach process for link building
Let's dive right in!
What is the definition of outreach?
In business, outreach is defined as the process of bringing a corporation's products and services to new markets, and to different customer groups. In content marketing, outreach can be about attracting customers, or potential customers, with advertisements via social media posts, emails, text messages and more.
SEO outreach refers to any type of contact that an individual has made in order to get exposure for their website content, either from other websites or from blogs that are relevant to their niche. The goal here is not just getting links; it's also about having people discuss your articles on social media channels like Twitter by promoting them through tweets or mentions (i.e., "Check out this article I found! @website_name"). You want these conversations to happen organically, and the best way to do that is by providing helpful insights in your outreach emails.
Outreach in the context of link building is a strategy that helps marketers grow their organic search rankings by reaching out to other websites, bloggers and potential link partners. This approach to building links has an indirect effect on Google's algorithm because it doesn't directly change the way your site or blog looks, or what content you publish. Rather, outreach generates backlinks by connecting with sites that might be interested in linking to yours; thus increasing your domain authority.
The difference (and similarity) between regular outreach and link building
Outreach is the best way for businesses to effectively get high-quality backlinks. It takes time and patience and can often involve some pitfalls. This approach has evolved so that it *mostly* works when backed by innovative content. While outreach is a term that differs quite a bit from link building by definition, the two concepts can definitely interpenetrate in interesting ways.
For one, both are all about forming relationships. Link building is best done when partnering up with multiple other SEO outreach specialists, as such partnerships can land plenty of backlinks. Whether you're warm or cold calling, attending a large event and reaching out there, or going personal on platforms such as LinkedIn, the end goal is to get more partnerships, and the same goes for building backlinks.
Secondly, both outreach and the process of getting links to your content can create a snowball effect. If you're well known in a particular network, your chances of scoring additional contacts increases. Similarly, the more backlinks you get, the easier it becomes for other sites that are pertinent to yours in terms of subject matter or audience demographics, to want to link back and be associated with your site.
Finally, both outreach and link building have the same final quantified objective—increasing sales. The goal is to get as many eyes on your site or blog, and, so, the more backlinks you have, the better.
Some SEO outreach statistics, and why we might need to review our methods
Cold email outreach is dying
Seeking to get backlinks even from bloggers in the same niche as yourself by offering nothing but your blog post won't net many results.
According to userp.io, only 8.5% of cold outreach emails get any results.
Instead, offer true value or an incentive. Perhaps you've partnered up with other sites and could get a backlink for the webmaster in return, or have done an extensive study about a particular topic. Either way, make sure that you don't show up empty-handed.
Link building lives in a crowded arena
Since there are so many people trying to score powerful links, the market has become more saturated than ever. To be successful, marketers have to come up with innovative ways of offering value when reaching out.
65% of digital marketers say that link building is the hardest aspect of their profession. (SEOTribunal)
To get these golden nuggets, you'll need to put in the time and effort. For example, case studies and other forms of actual research seem to attract webmasters, as you provide something that hasn't been yet said anywhere else. Original analysis on popular topics, getting solid conclusions, and describing that are all basically link magnets.
According to Moz, posts with over 3000 words get more backlinks on average.
Of course, the fact that the market is filled to the brim has its advantages. The more marketers are willing to exchange links, the better your results.
Content is mostly trash
Only 2.2% of content gets more than one referring domain, e.g. a backlink from a unique site. (Backlinko)
There's a reason why Google has adopted backlinks as one of the most powerful ranking factors. The reason for this is that it's so incredibly simple, albeit effective when assessing authority of a domain. Good content gets rewarded with links. Bad content doesn't. End of story.
As I mentioned before, producing excellent-quality posts is what will land you links.
Reciprocal link building is alive and well
Some SEO pros argue that reciprocal link building is not a viable technique, but the statistics seem to prove just to the contrary.
73.6% of all domains have reciprocal links. (Ahrefs)
I have found partnership-based link exchanges to be the most effective strategy, yielding anything upwards of five backlinks per relationship. And there are plenty of relationships to be made.
Personalisation in outreach emails significantly improves success rate
The more personalised your outreach emails, the better.
According to Backlinko, it has improved their response rate by 32.7%. (Backlinko)
This is also a crucial time to mention the importance of tailoring your pitch. If you are reaching out to bloggers in an unrelated niche, then don't send them your content about, say, blogging and expect anything other than rejection.
Types of backlinks you can get through SEO outreach
SEO outreach can land you all sorts of backlinks. Of course, apart from *just* getting them, you should also make sure that they're at least partially relevant to your industry and that they're not toxic.
Editorial links
The golden nuggets of SEO. There are two kinds of editorial links. Natural ones are placed by the editor without any soliciting on your part. The writer found your content, deemed it valuable, and decided to use it as a reference. These are usually the most powerful as, in most cases, topical relevance is the most accurate. Google aims to only count these links towards a website's authority, but their algorithm does have its limitations.
Another way of getting editorial links is by reaching out to the author and asking them to use your piece of writing. Instead of beating around the bush when telling them that you can provide a comment, write the paragraph immediately and send it straight to them.
Guest posting links
While guest blogging links used to be far more desirable, it's still a technique digital marketers like to utilise – especially in tandem with partnerships. Nowadays, most businesses have blog sections on their sites so you can ask the editor to publish your content and link to your site. Since this method has become quite spammy, Google supposedly makes an effort to diminish the power of links within articles marked as guest posts, according to some SEO specialists.
Partnership links
Scoring partnerships on the grounds of mutual benefits in terms of backlinks, can be one of the most efficient strategies. Usually, marketers have more than one site where they can get you a link. Such deals can go on for years, as both yourself and your partner expand.
Acknowledgement links
If you or your client has been a part of some event, you can almost always count on a backlink placed somewhere on the organiser's website.
Paid links
While these are scorned upon in the SEO community, as well as entirely forbidden (black hat) in the eyes of Google, a market for paid backlinks exists – and is prominent. It's against the webmaster guidelines to pay for links, but by making them look editorial and natural, you can get away with this. The average price for a single link is about $350.
Paid links are useful when making exchanges with your partners. Provided that you have a database of sites where you can buy a placement, you can offer these to your partner for placing your page on their blog, making it 'grey hat', at least on your side. As you didn't pay for the link they placed, you should be above suspicion.
What to be careful about in your outreach strategy
When reaching out to webmasters or marketers, there are some pitfalls you need to watch out for.
Overusing paid links
While an occasional paid placement could work out just fine, overusing it can considerably increase the chances of a manual penalty.
Forum and comment links
This technique used to be the go-to way of getting backlinks, but it has been depleted beyond belief. Such links are usually only good for short-term benefits, as Google has gotten good at detecting sudden link influxes over the years.
Irrelevant pages
The more relevant the page, the better. Relevance plays an important role when Google assesses your backlink profile. Getting highly irrelevant placements leads to suspicion, and could mean a penalty.
Low parameter and spammy sites
The main parameter I look at is organic traffic, as this is the best indicator of a site's health. While high DR (Domain Rating), or authority, is also important, it can be manipulated by getting tons of links on PBNs, forums, and comments. Traffic is calculated based on the site's rankings in real time. Looking into the content on the site is also important. If it links to porn, casinos, or marijuana-related things in great numbers, this is a huge red flag.
Hidden links
Some bloggers employ the tactic of hiding the links to try to trick Google and its users. This doesn't count towards your authority, and if you spot something like this, you should message the author immediately and ask them to remove it if it links to one of your pages. The same goes for your domain. Don't hide backlinks. Manipulation is strictly prohibited, and can also lead to penalties.
PBNs (Private Blog Networks)
Some SEO experts argue that PBNs are very risky nowadays, with Google making efforts to find and penalise those who use them. While there's a debate as to whether they can still work in the long run, it is generally advised not to use PBNs at all unless you're sure of what you're doing.
SEO outreach tools and platforms (and how to use them!)
There's a range of tools that can help you to streamline your SEO outreach process.
Automatic email senders
These are widely used among SEO professionals when conducting extensive campaigns. Personally, I don't like to use them as I've had experiences where these tools decreased email deliverability by a considerable margin.
Some of the tools do not provide security encryptions and you have to use DMARC tools such as PowerDMARC's to generate and enable email security protocols.
HARO (Help A Reporter Out) – Reactive Outreach
HARO is a platform which connects reporters, bloggers and journalists, and lets them post queries. Answers to these queries can then be used by the reporters and writers as a reference in their piece. It's worth noting that using platforms like HARO is called reactive outreach, which is the process of sending out responses that have been asked for. In contrast, proactive outreach is emailing respondents who aren't really expecting them.
Three times a day, the platform sends out emails with queries posted by the editors. You can receive as many as 100 queries a day(!), in the Business and Finance category alone, so there's a lot to pick from. Now, if you write a proper, well thought out comment, you've got a chance of being included in the next article, usually along with a link. HARO features journalists from tremendously reputable sites like Forbes, Entrepreneur, and Tech Target.
Queries cover a range of topics:

Depending on your niche, you want to answer only the most relevant queries.
An example query looks like this: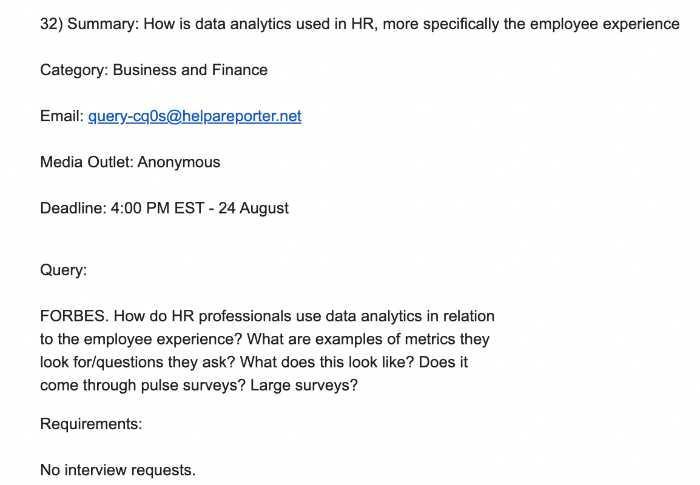 Short, concise, and straight-to-the-point answers work the best. Try to never exceed 300 words, unless a longer answer is specifically asked for; journalists are busy people and they have no time for looking into each essay-length answer.
I've found that short, 100-word answers work the best. Answering even one question, but doing that thoroughly, and providing real-life experiences does the trick.
This is only three sentences worth of text, but it still got used and linked. This tactic is completely white-hat, and the link is as natural as it can get.

Additionally, if the media outlet field is not anonymous, you should always check out its parameters. Our rule of thumb is that anything with less than 5,000 organic traffic is pretty much a no-go, unless it's extremely targeted, and the audience fits right with what we're looking for.
Linkody Backlink Checker – Competitor Analysis
Linkody has been a vital part of our strategy at Chilli Fruit for a good while now, as it provides excellent data and is presented in an easily-readable form. The tool is a backlink checker which analyses websites in terms of their off-page profile.
Everything starts with establishing who the main competitors are. The more referring domains they have, the better, as it means there will be more opportunities for outreach.

Over 7,600 opportunities right there.
The referring domain of each of our competitors is filtered in terms of their DR; Linkody integrates with Moz's database, so the metrics are as accurate as they get. As soon as the app has gathered the referring domains, we filter them and put everything into a spreadsheet for easy access. We then evaluate each site in terms of its relevance, traffic, and type, then choose the preferred template to reach out with. This works best with SaaS companies since they seem to have the most competition to choose from.
The logic of that entire ordeal is plain and simple — if a site has linked to a competitor, why wouldn't they link to our client?
SEMRUSH and Screaming Frog – Building a list for outreach
One particular feature of SEMRUSH is Rank. It's a database of websites in specific countries listed by traffic. SEMRUSH allows you to export up to 30,000 websites; which is a great starting point when conducting a campaign for one country.

Of course, all of these sites are only filtered by traffic so you don't know which ones are good for outreach.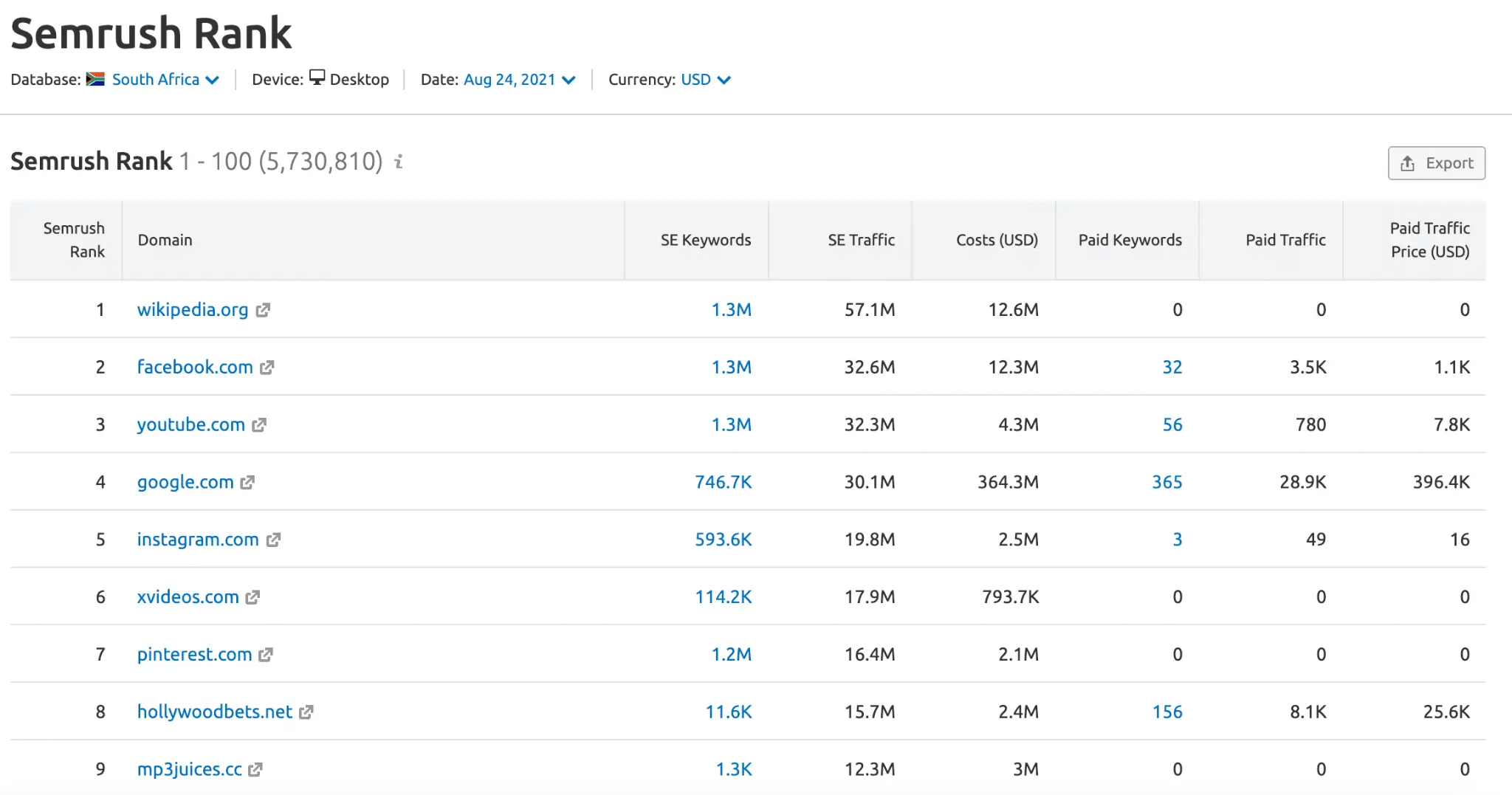 Sites as shown in SEMRUSH.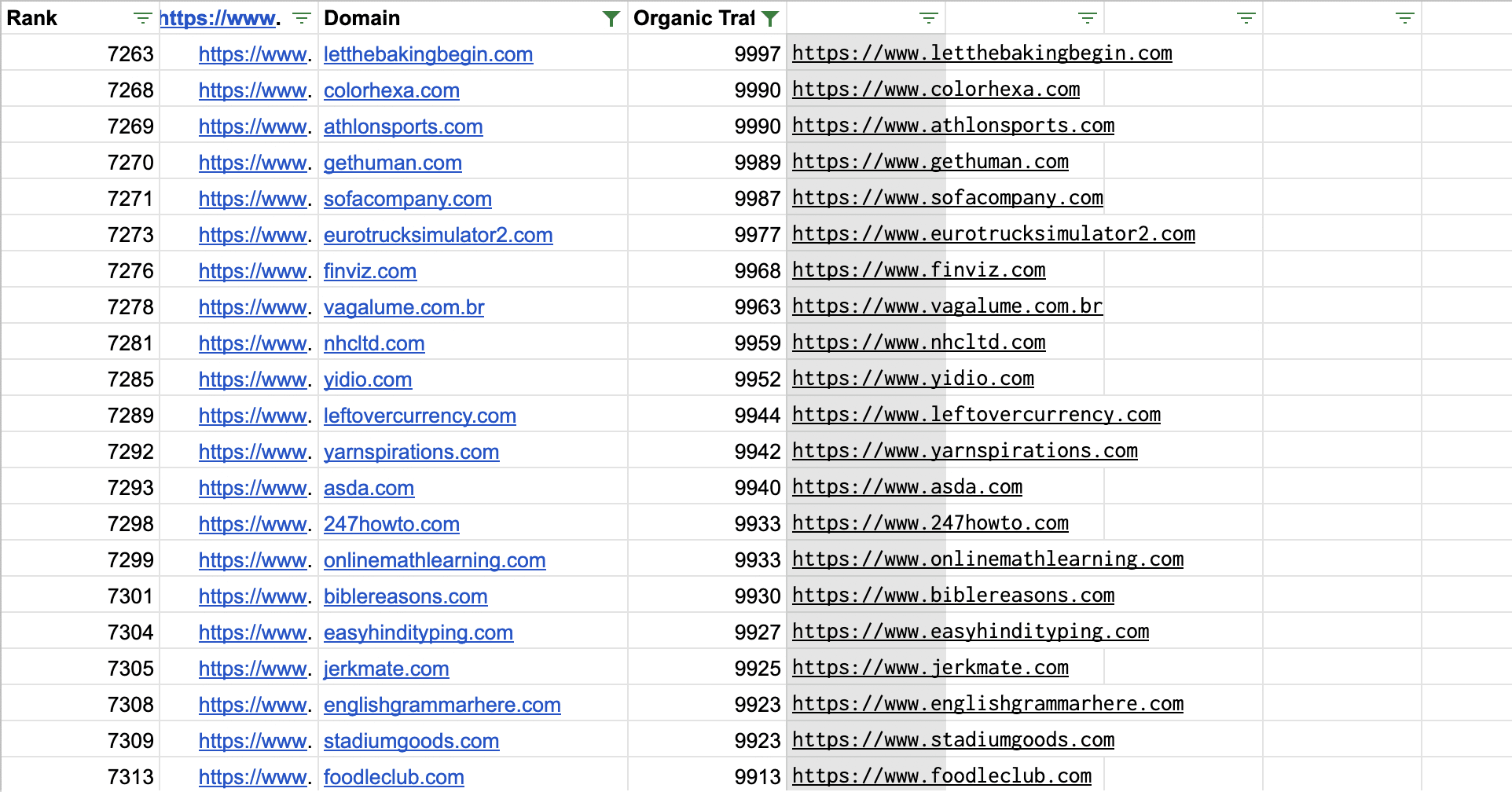 Sites after exporting them to CSV.
To filter them out, I like to use Screaming Frog, a website crawler.
First, I need to set the configuration.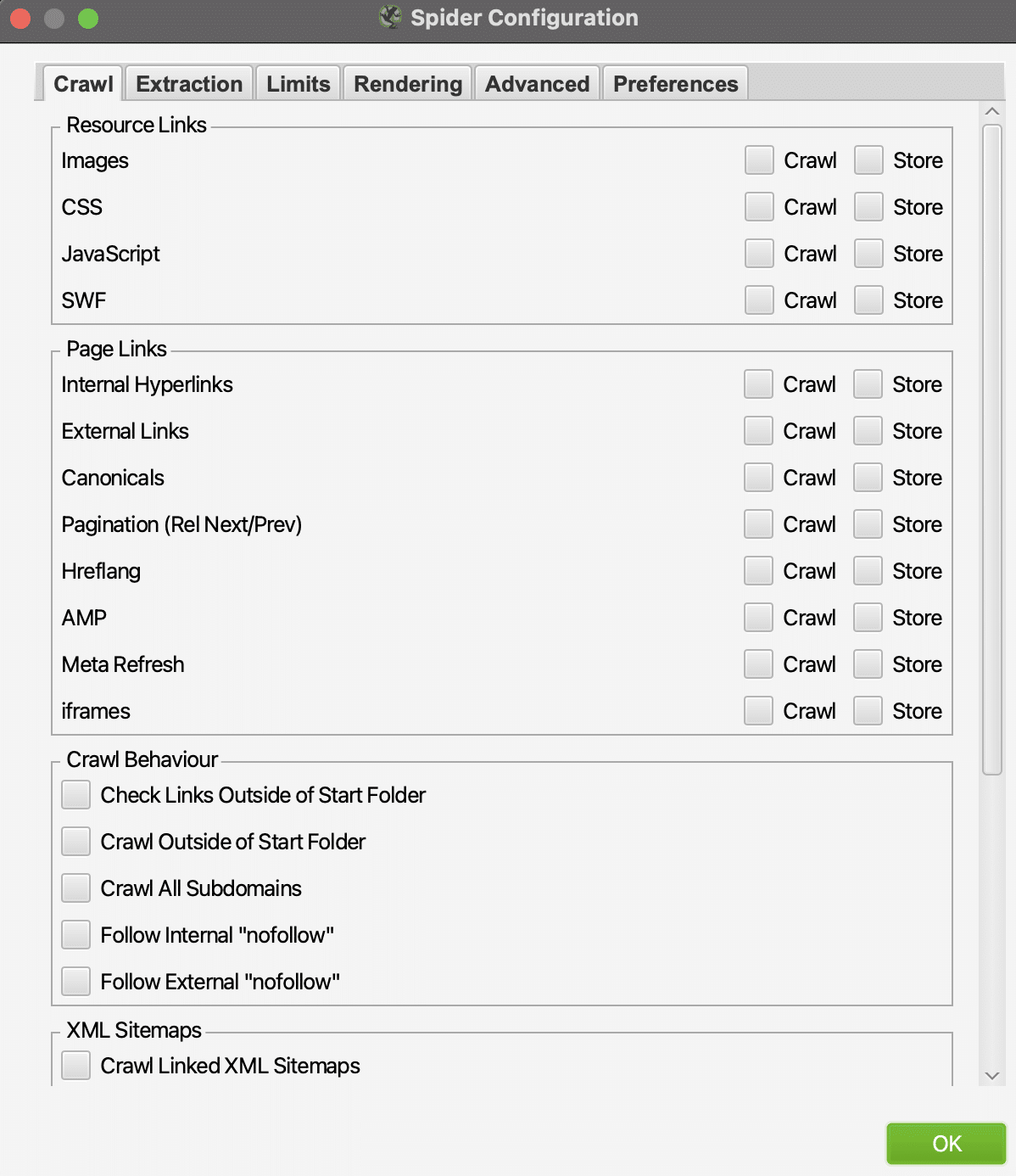 All the boxes have to be unticked here, as we're only looking at the code.

I only tick the first four boxes in the Extraction tab.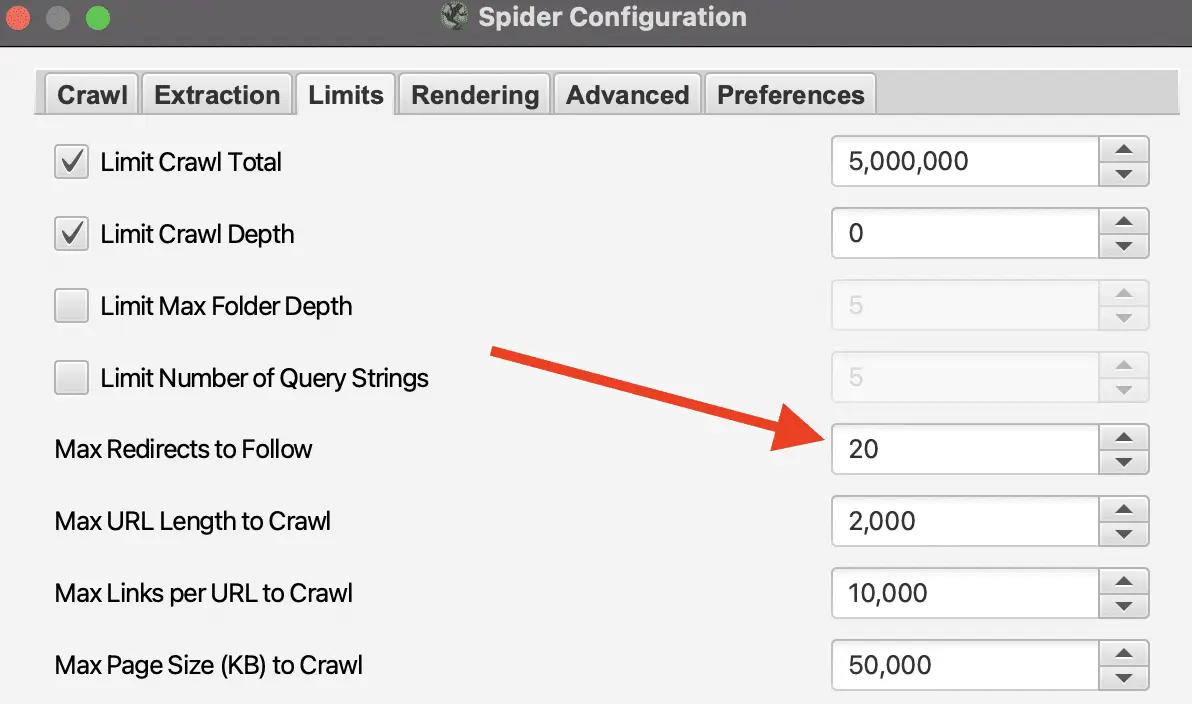 It's vital to set the maximum number of redirects to crawl to 20. This lets Screaming Frog reach the final version of the site and scrape the necessary information.

Finally, tick the top four boxes.
After I've exported the sites from SEMRUSH, I filter them by traffic and put them into Screaming Frog bit by bit, for example 2,000 sites at a time.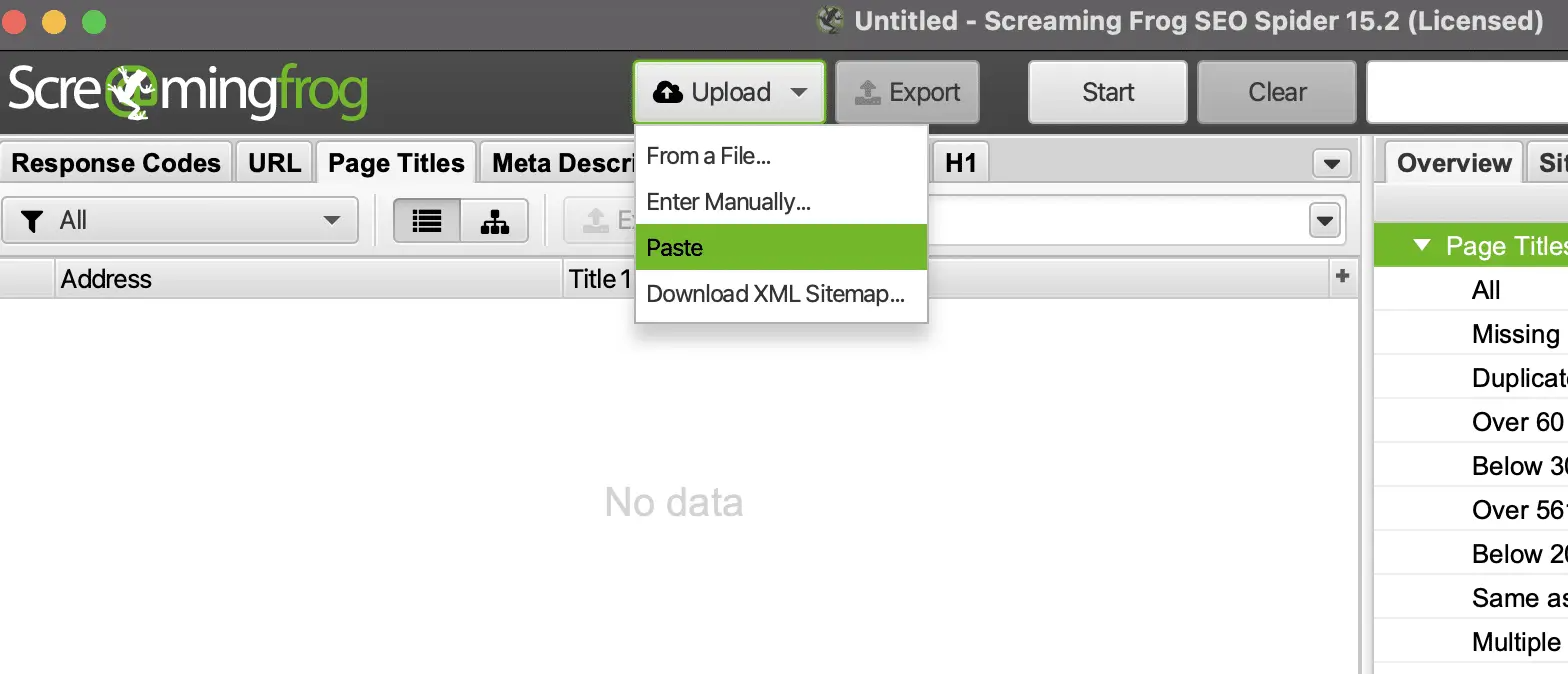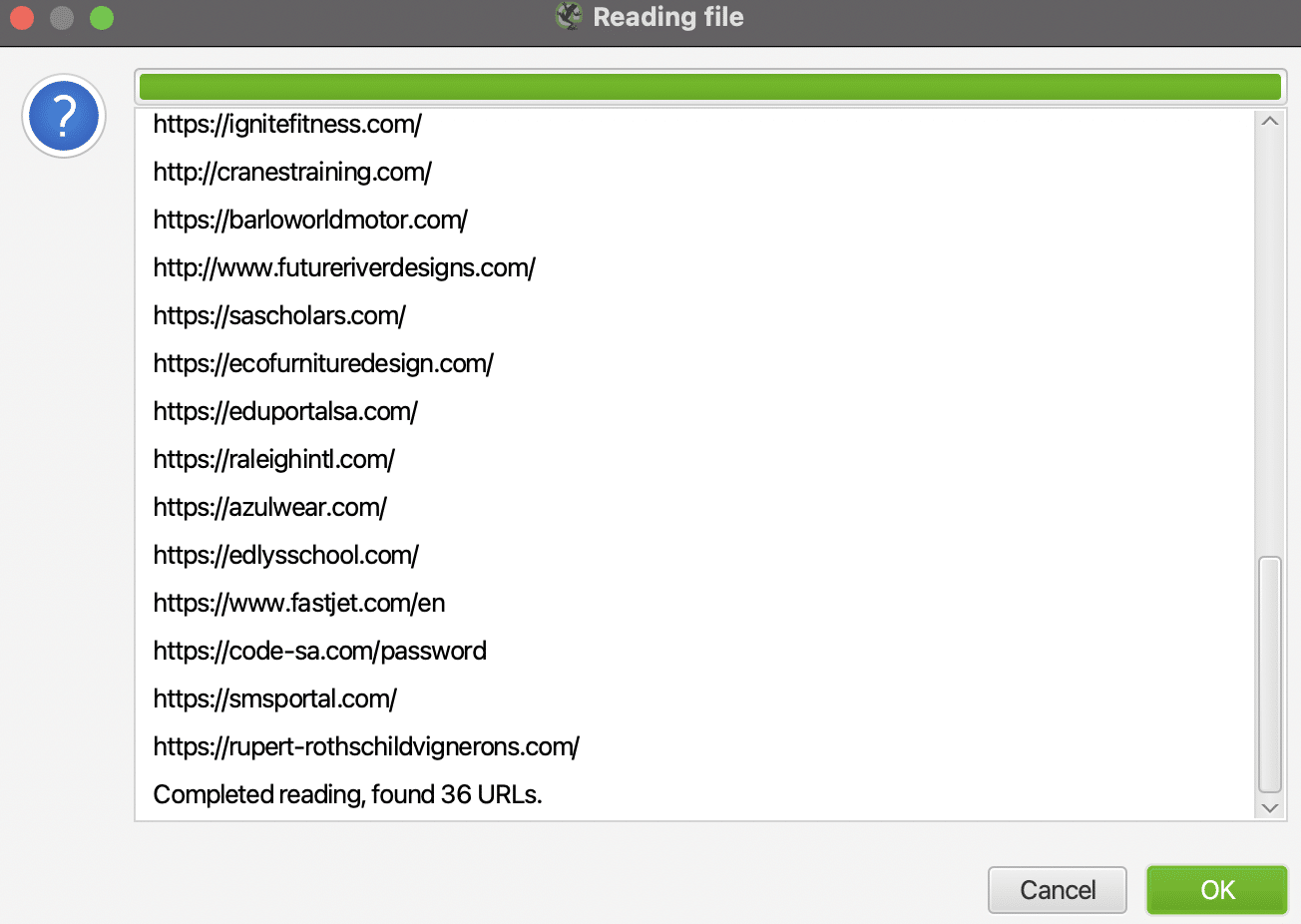 I then crawl the URLs and pull out meta descriptions, titles, and H1s. This gives me some info about what the sites are about, and makes it way easier to sort the wheat from the chaff.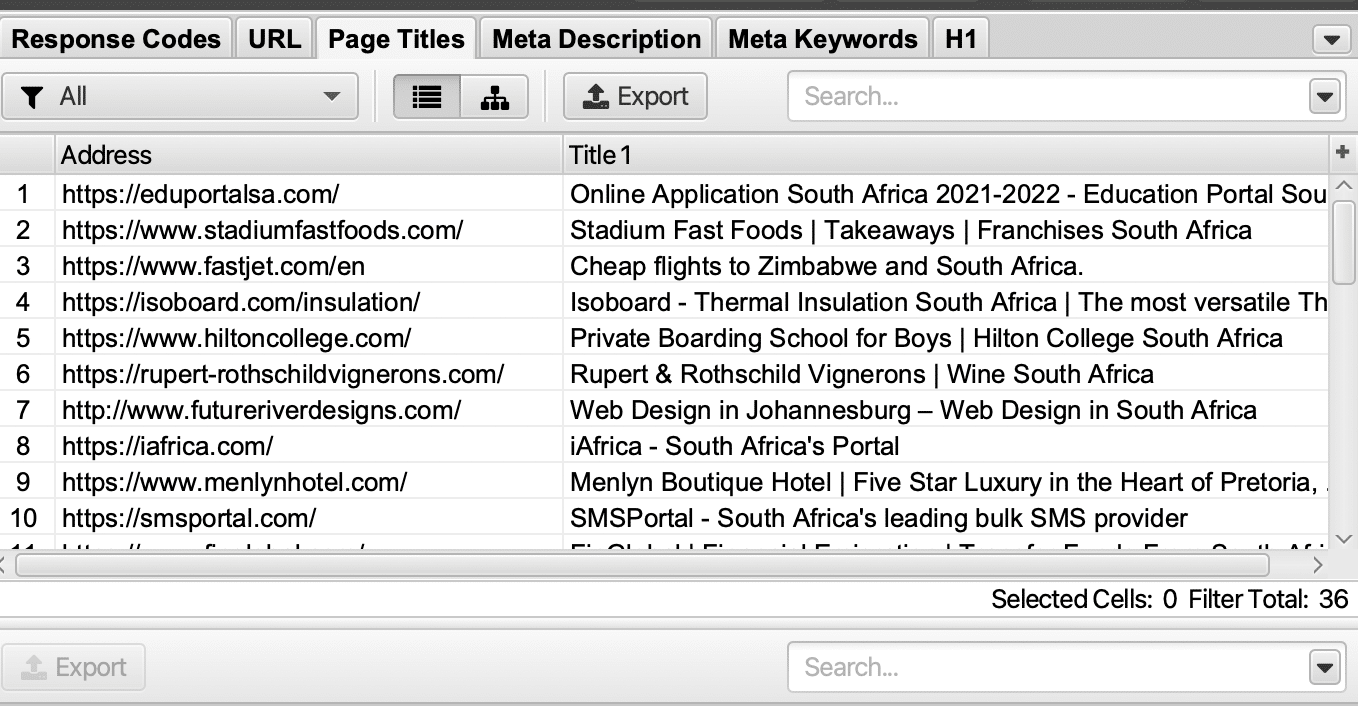 After the crawl is complete, I put everything into a spreadsheet and begin reaching out!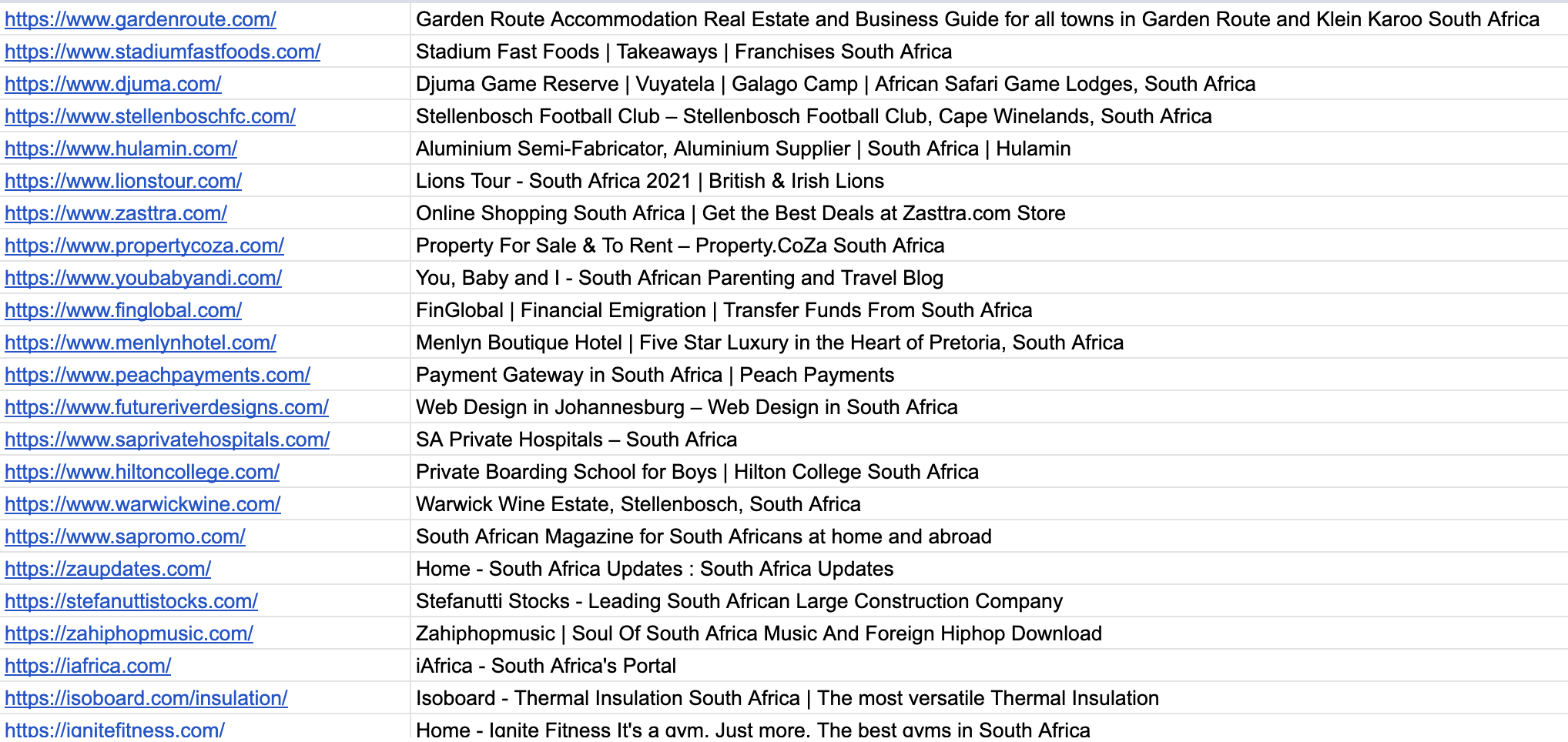 Ahrefs
There is one particular feature in Ahrefs that is incredibly useful when looking for sites to reach out to.
It's called Content Explorer, which lets you find pages within the exact niche you're looking for. You enter a keyword, and the tool provides you with a list of pages from all over the internet which contain that particular phrase.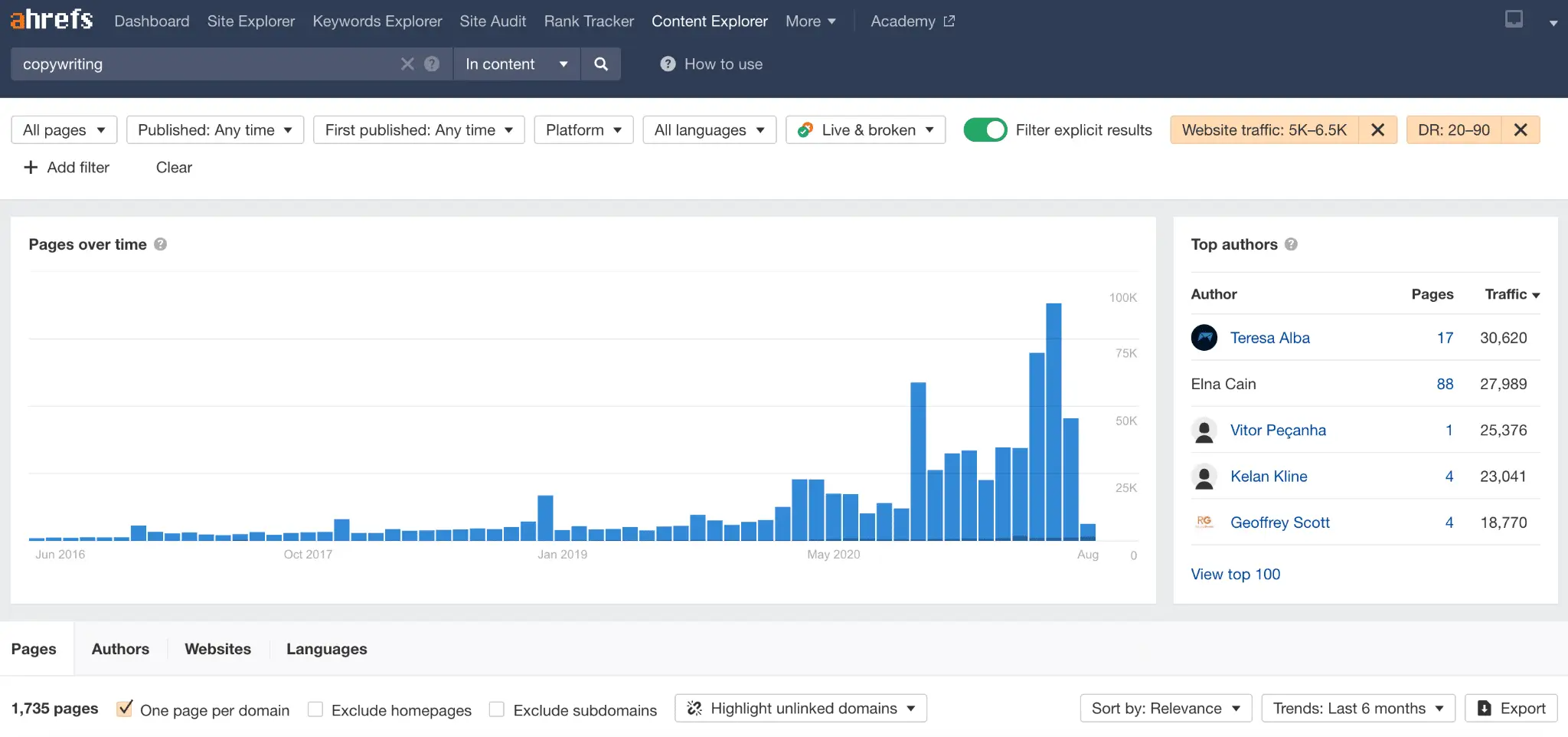 Over 1,700 potential opportunities.
Still, while SEMRUSH lacks a little something in terms of providing you with information about the site, Ahrefs' Content Explorer is unable to establish what country the traffic is from.
That is pretty unfortunate because such a feature would make our lives so much easier.
After I've gathered the sites from Ahrefs, I again filter them and look for some golden nuggets.
Hunter, Voila Norbert, and Find That Lead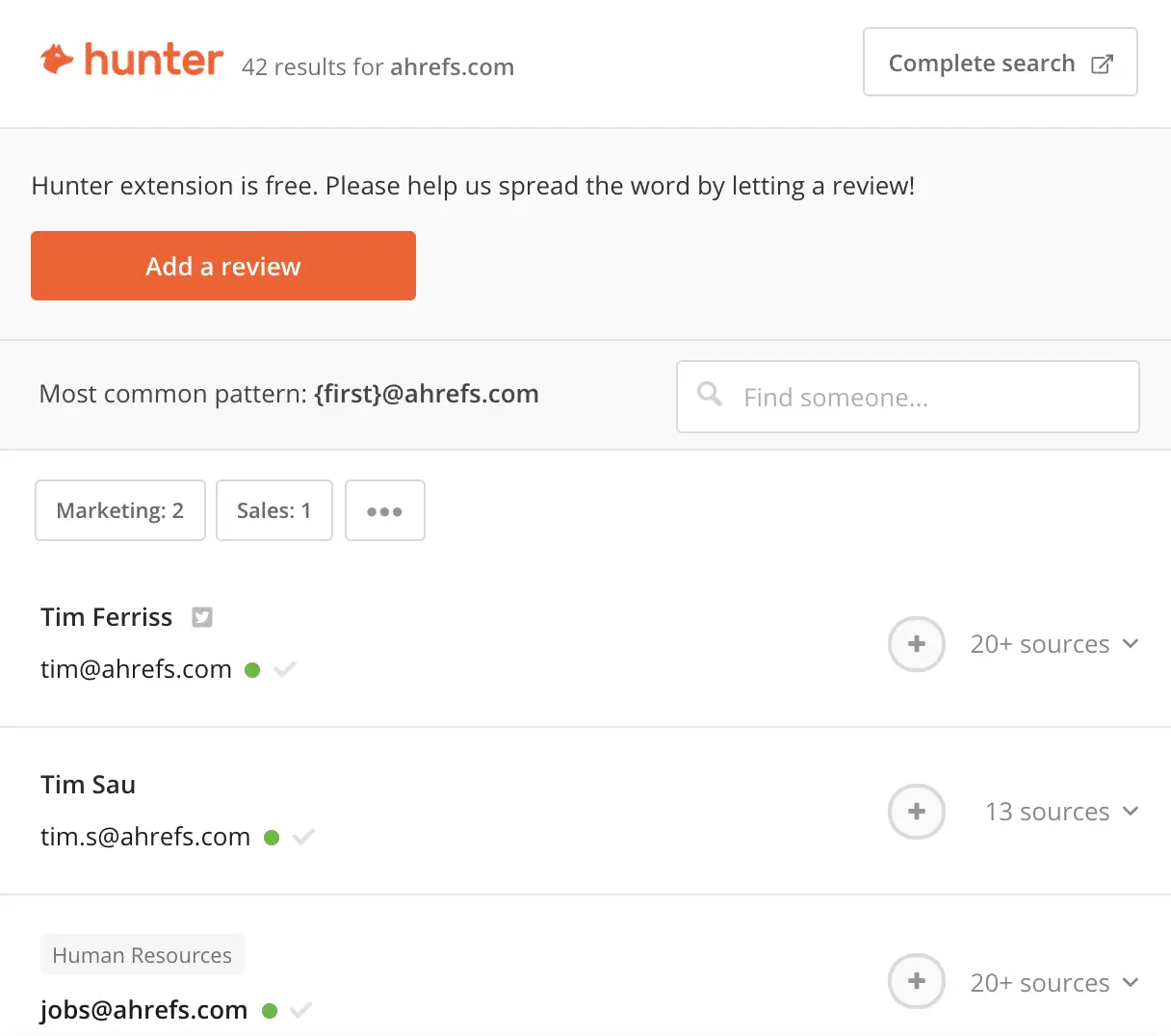 All three of these tools are email-finding and contact list building software. They search for any information that can be used to find the owner of a certain email, such as their name, location, company name or title within said company. Hunter and Find That Lead are great for checking out the entire domain for email addresses, whereas Voila Norbert comes in handy when looking for the email of a particular person.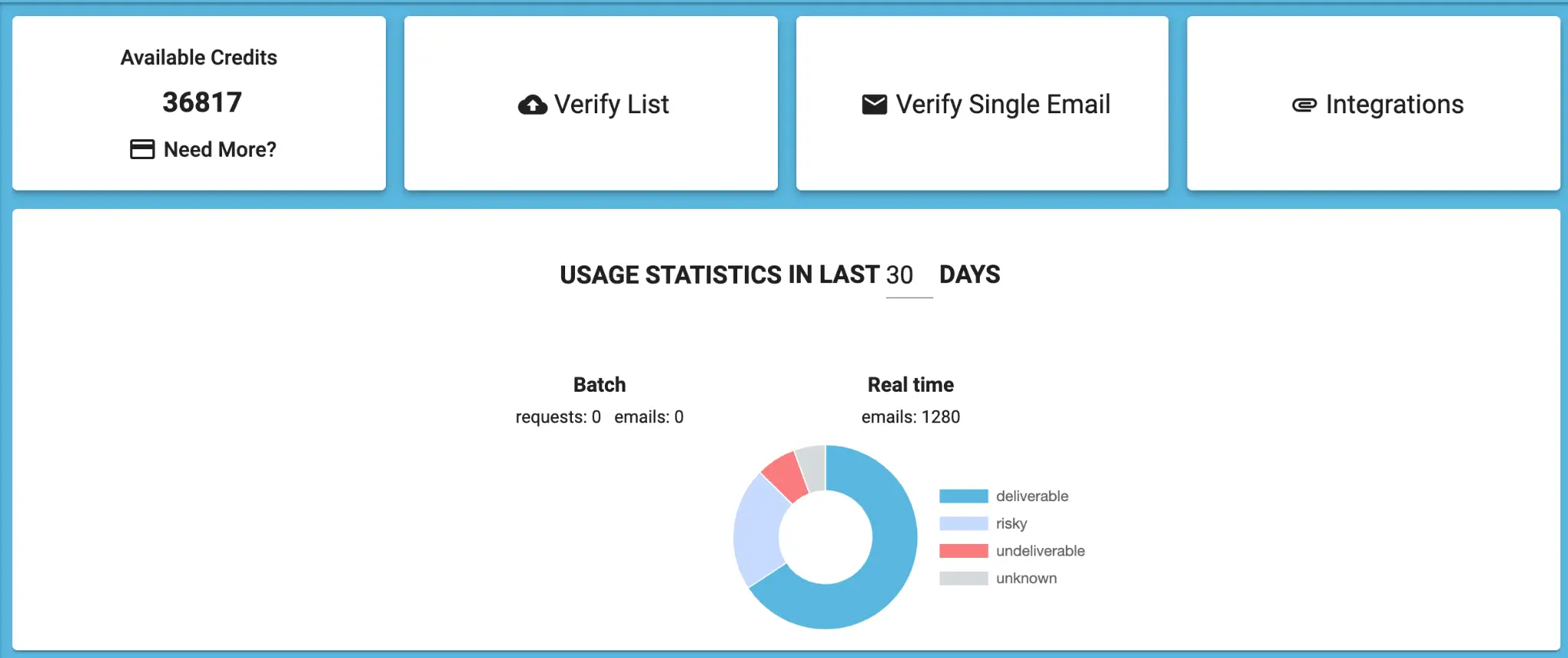 Bouncer is an email verification tool that allows for checking the validity of single or bulk email addresses. While all of the previous tools have this feature, Bouncer is much more effective in determining whether an email address is real. Not once have I had a situation where Bouncer told me that the email address was valid and it bounced back, whereas with other tools, this has happened on multiple occasions.
How to use the outreach process for link building
There are a couple of steps and link building best practices that are worth considering.
Finding appropriate websites.
First of all, you should establish some criteria that make a prospect a good one.
Is the site thought-leading or authority-based?
Informative, educational, and/or entertaining?
Proprietary, related to the industry you work in?
What minimum traffic level are you aiming for?
Be sure to set your (and/or your client's!) expectations straight from the beginning, so that you don't bite off more than you can chew.
The next step is to figure out which sites have the best authority, and then follow the link to each of them individually. The more sites that you find, the more potential you have for outreach.
Ideally, the websites should be within your niche, or at least adjacent to it. Not only does this increase the value of potential backlinks, but improves your chances of getting them in the first place.
At times, you may find yourself in a situation where there's simply a low amount of opportunities within your niche. A good way out of that is to go for exchanges with SaaS businesses. These often have high parameters, and this alone can get you to the top of search results.
After you've established what you're looking for, utilise the tools mentioned above to find these sites.
Hunting for emails
Now that you've got your list, you need a way of contacting the webmaster. By using Hunter and Find That Lead, I'm able to find the email address about 90% of the time. In the event that I can't locate it, I go to LinkedIn and look there. FTL has a built-in LinkedIn email finding feature. If I still can't find what I'm looking for, I message support. On the off chance that it works, it's worth trying that way as well. For one, you might get redirected to your target's marketing department immediately.
I like to keep my website database and emails in one spreadsheet for clarity.
Your choice of email address types is pivotal here. Support and sales will rarely land you a reply, let alone a partnership of any sorts. The most success I've had was with messaging somebody that takes care of SEO or other marketing efforts. Oftentimes, these people know what link exchanges and guest posting are, which is half the battle. Customer service specialists rarely care about such issues.
There's also the option of contact forms. Although tedious, using these lands a pretty good response rate.
Email hunting tools aren't always that great for foreign sites. German webmasters, for example, like to practice putting spaces in between characters of email addresses to prevent tools from scraping them: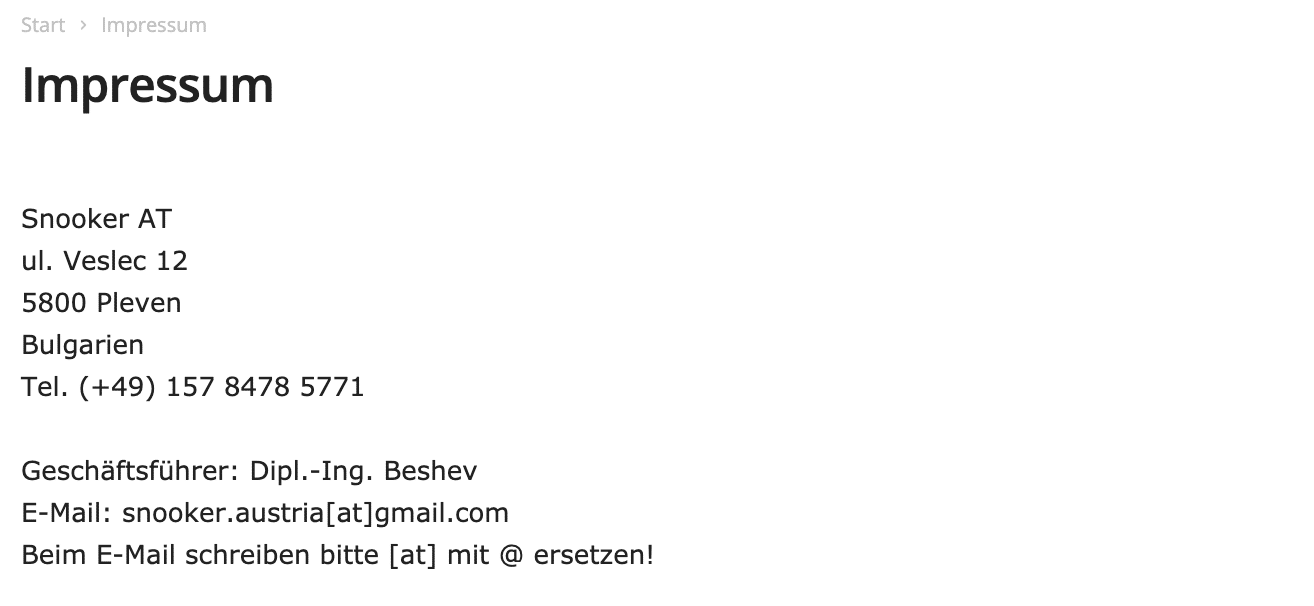 Still, Germany is pretty easy to handle manually, as most of their domains have a page called Impressum, or Imprint in English, wherein an email address can be found.
That is just one example of a country-specific characteristic, each state has its own culture and you can expect different things when going through the site.
Crafting the perfect message
The message depends on which tactic you employ.
Blogger outreach
When looking to publish a guest post, you'll need a truly convincing and well-written pitch. The topics you propose to write about have to be in accordance with the content that's already on the site. A good way of finding topics for a specific website is to investigate to see what their blog is missing.
Be sure to include your past content in the pitch so that your respondent can see the value you can bring to their blog. More often than not, the webmaster will appreciate your interest in their blog, as long as you're concise in your message and offer some real insights.
Partnerships
Online businesses like to exchange links since this works to their benefit. To make sure that the process is as easy as possible for the webmaster, a good practice is to find blog posts on their site that you think would benefit from adding your link to them and send them in your message.
Going for a two-way exchange is the best for your site, as you don't have to add any links to your pages. Instead, you get to provide the backlink on a different site for your partner; your link juice doesn't suffer, you get a link, and your partner gets a link, so everybody is happy.
There's always the option of offering money, too. This works particularly well with information and authority websites. These aren't as willing to go for link exchange, as they don't have any other way of making money besides advertising; unlike online businesses such as SaaS companies. Nevertheless, it's imperative that you're careful when going for paid links, since this tactic is frowned upon by Google.
In all of these cases, the message should be straight-to-the-point. You've got something of value to offer, and you've got something to gain. Describing both of those things works best. Keep it polite, short, and sweet so as not to waste anybody's time. Nobody likes to get essays in their inbox.
It's worth mentioning that including too many links in your message reduces its deliverability rate. We've also had multiple accounts where putting both too many links and images has caused the email to be deleted automatically.
Contributing to roundups
Roundups are an excellent way of scoring powerful editorial links. These often go viral and are, as a result, hugely influential. The more high-profile the roundup, the better.
Since roundups have strict deadlines, and are usually published at a set time, you'll need to pitch your idea early in order to get it accepted. If they accept your contribution – which is often contingent on paying for their service or offering them something of value – be sure not to miss the deadline.
The post can be submitted as a guest article, or you might be able to get them to include your link in the roundup at no charge if they like your idea or have space for it.
Follow-up messages
If you didn't get a response from your initial outreach email, it's important to follow up. This way you can show that you're serious about the relationship and have some patience. Send the follow up after a couple of days, and another one after one and a half to two weeks have passed.
It might be worth going for a more informal tone in this case so as not to come off too pushy or desperate; simply keep things friendly but don't sound clingy by being overly enthusiastic.
If they still don't reply after a third email, it's best to stop there. Alternatively, you could contact them on social media. When you're sure that you've exhausted all of your possibilities with that particular person, either stop, or look for another email address.
During the holiday season, people are often out of office. Don't get discouraged, and, more importantly, be patient. The more messages you send out, the better your results will be in the end.
Streamlining the process
Make sure that you're using spreadsheets to track all of your efforts. Here's what an example spreadsheet can look like: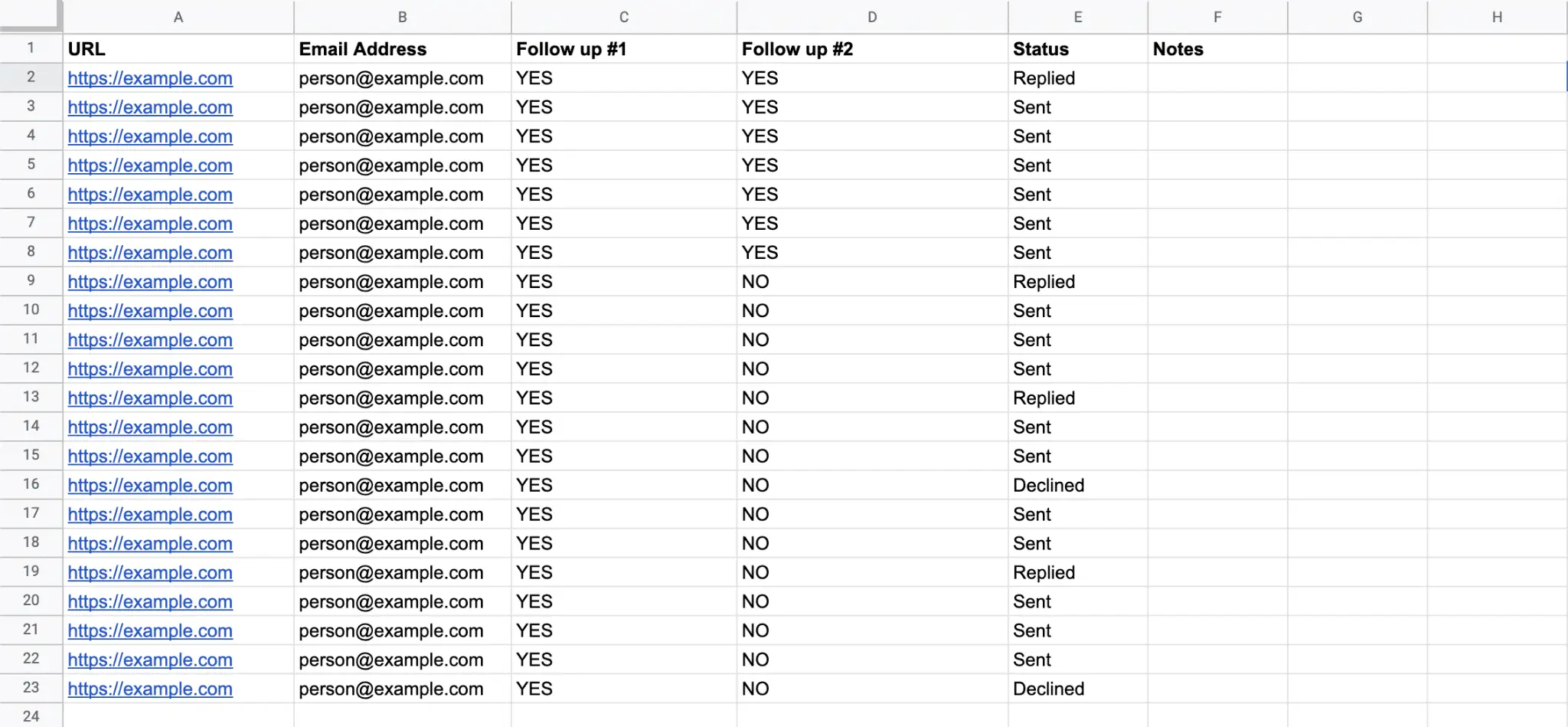 If you're sending out thousands of messages, it's easy to lose track of what you're doing – which leads to lost opportunities. Doing periodical inbox checks is what works the best.
Each week, I prepare another spreadsheet with opportunities that we've found for the following week. This way, I can go through it and see what's worth contacting and what isn't.
Another trick I use is adding the email to Google Tasks Board to respond to it later.


While replying as quickly as possible is generally good practice, it's sometimes worth keeping someone hanging for a couple of days. This is especially useful when going for paid opportunities and trying to negotiate the price. If the webmaster follows up, it's a telltale sign that they're desperate for your business, which is solid grounds for negotiation.
Another useful tip to consider is looking into a website's parameters when negotiating the terms.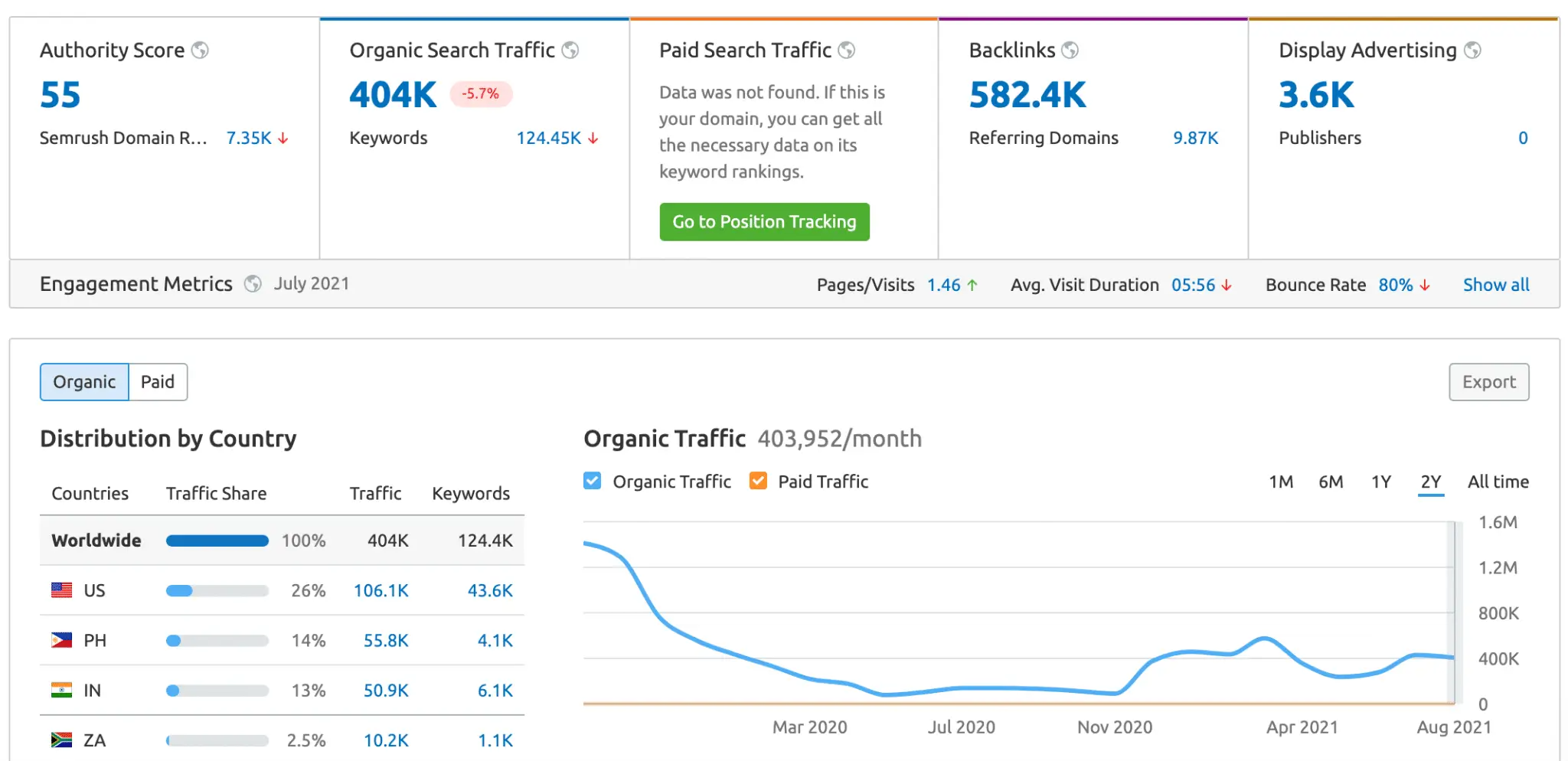 Similar drops in traffic are a valid argument.
Wrap-up
Outreach is a great way to increase your website's rankings. By reaching out to other websites and blogs, you'll find more opportunities for guest posts or lead generation. The tips in this post should help guide you through the process of creating outreach emails that are effective at generating links and leads from popular industry websites. If these principles sound interesting, but overwhelming, consider partnering with one of our skilled marketing experts who can take care of everything for you! Perhaps you have already used some of these techniques on your own? Let us know what worked best for you in the comments section below.