As a blogger, you can't afford to idly wait for the inspiration to strike. Finding blog post ideas is a skill – even (or especially) when nothing just springs to mind. If you want your blog to be popular, you need regular updates with interesting and diverse content. But what to write about?
This ebook unveils a world of blogging inspirations. You'll find here 9 sources of topics for your articles and 34 ready-to-use blog post ideas. They're universal enough to work for just about any industry; no matter if blogging is a part of your online business activity, a platform for presenting your hobby, or a source of income.
How to organize your ideas?
Before we move to more tangible advice, let me give you one general hint: organize your ideas.
Never allow a blog post idea to escape your mind. Inspiration comes and goes. Sometimes, a topic may appear out of the blue – during a conversation, a conference, or in the middle of an interesting article. Keep that in mind and find a way to note down and organize your ideas.
Preferably, you should have your idea notebook at hand round the clock.
Google Docs may be of help. You can synchronize your documents across devices and edit them even on your phone.
You can also opt for Evernote, designed specifically to ensure swift organization of all your notes.
Another good solution is a Trello table, where you can group blog post topics in categories, set reminders, and so on.
What to note down?
the topic plus a brief overview of the content,
text excerpts which gave you the idea,
quotes you've heard,
questions from your customers and coworkers.
Open your notebook anytime you struggle to find a new blog post idea.
Sources of your blog post topics
1. Use Senuto Keyword Explorer
The tool will not only help you find interesting blog post ideas but also show you what your target group is looking for in Google. Once you see the queries that your readers type in the search engine, you'll know what sparks their interest. Besides, optimizing content for keywords is the cornerstone of the alliance between content marketing and SEO.
An article based on Keyword Explorer data will provide tremendous value for the reader and look attractive to Google.
Senuto Keyword Explorer shows the most common queries entered in Google Search. Type a keyword that describes your blog – for instance, "men's fashion" – and the tool will display a whole list of related topics such as: "what suit to wear for a wedding" or "how to wear suspenders". Voila! Now you know what to write about on your blog.
Phrases from Keyword Explorer are entered in Google Search by users and your potential blog readers. Better yet, they come with information on the average monthly number of searches and seasonal trends (to learn when the phrase is the most and the least popular).
Try clicking on the magnifying glass icon next to the keyword to get more relevant information. For instance, you can see which website is currently displayed in the first position for this keyword. Check also what other phrases to include if you're optimizing your text for that particular keyword to improve your Google rank.
This is the information that shows up as you click on the magnifying glass icon next to the phrase "apple laptop":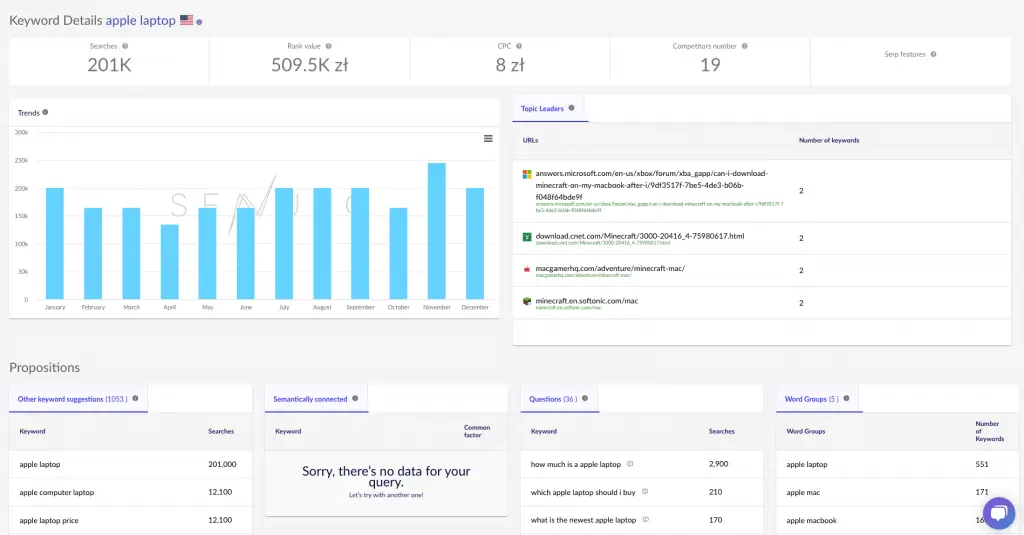 The bars above tell us that the high season for winter jacket shopping among men comes as early as in October and November rather than in December. This knowledge will let you plan your publications right on time.
Attention! The content that reaches its peak popularity in May is best published way sooner, in February. SEO takes around 3 months to kick in. Depending on the industry, timing may vary. We have conducted a study on the topic: "How Long To See the First Effects of SEO?" – have a look.
Besides, go to the Questions tab. It also contains keywords, but in the form of the most common queries entered by Google users.
Sample queries for the phrase: "apple laptop:
how much is a apple laptop
which apple laptop should i buy
what is the newest apple laptop
which apple laptop to buy
where can i buy an apple laptop
These queries are ready-to-use blog post ideas. All you need to do is write an article that answers any of them. You'll find the Questions tool in Keyword Explorer, in the panel on the left.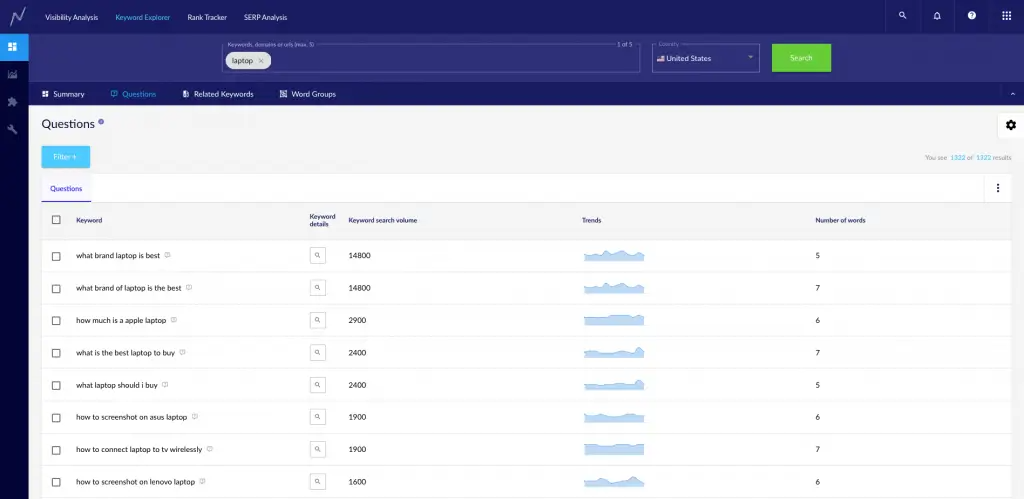 Did you know…
…that when you create blog content following the ideas from Keyword Explorer, you work to improve the topical authority of your website?
The theory of topical authority says that Google favors websites which cover the biggest number of problems related to a particular topic. From the standpoint of the search engine, depth of analysis makes you an industry expert – so you stand a lot to gain.
Once you achieve a high level of topical authority, Google will display your listing for more words than you originally planned. That will translate to better visibility in organic search results and increased traffic.
2. Skim through the most popular books in your industry
Books tend to present vast and extremely condensed knowledge on a given topic. Besides, they are often penned by industry influencers. Even cursory familiarity with their content will help you get up to speed with the latest industry trends. In many cases, book titles are ready-made blog post ideas. Remember not to copy-paste them, though, but rather employ as a theme.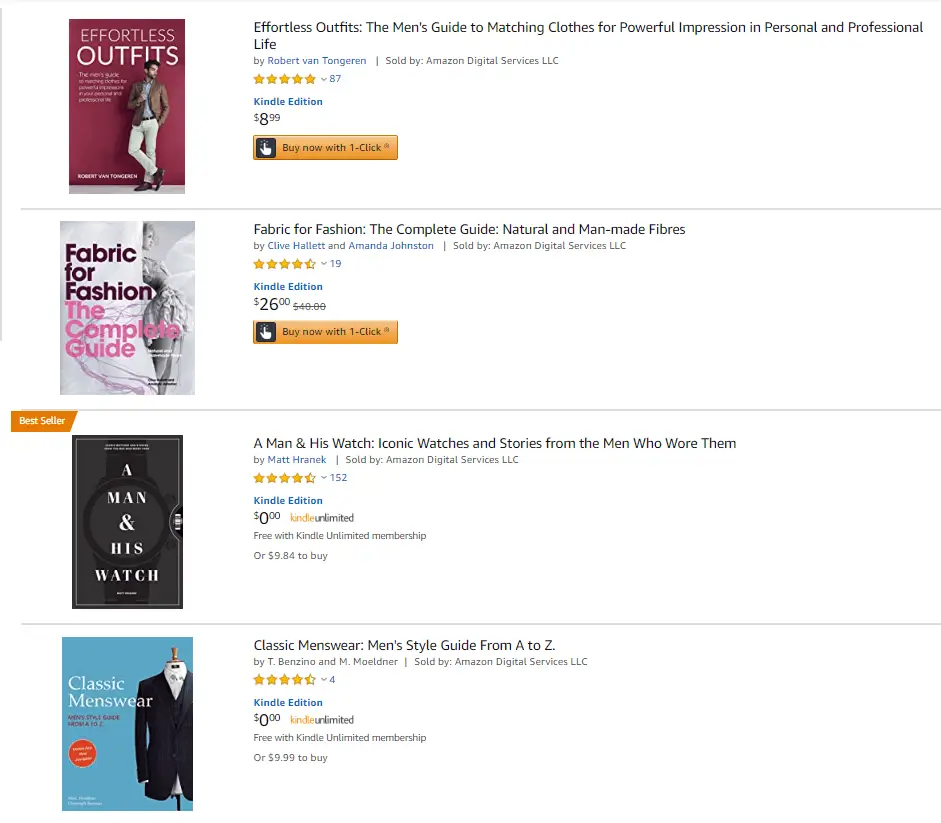 As you browse through Amazon's top-ranked books on men's fashion, you'll find men's style guides or more advanced publications on the fabrics used in the industry.
Information on the latter topic may serve you to compose an exhaustive article discussing the process of fabric selection from the standpoint of fashion designers.
3. Check out the most popular courses in your area of expertise
Online course platforms are a great source of blog post ideas. They will point you to interesting problems and things that people will pay to learn.
Sample popular Udemy courses on men's fashion: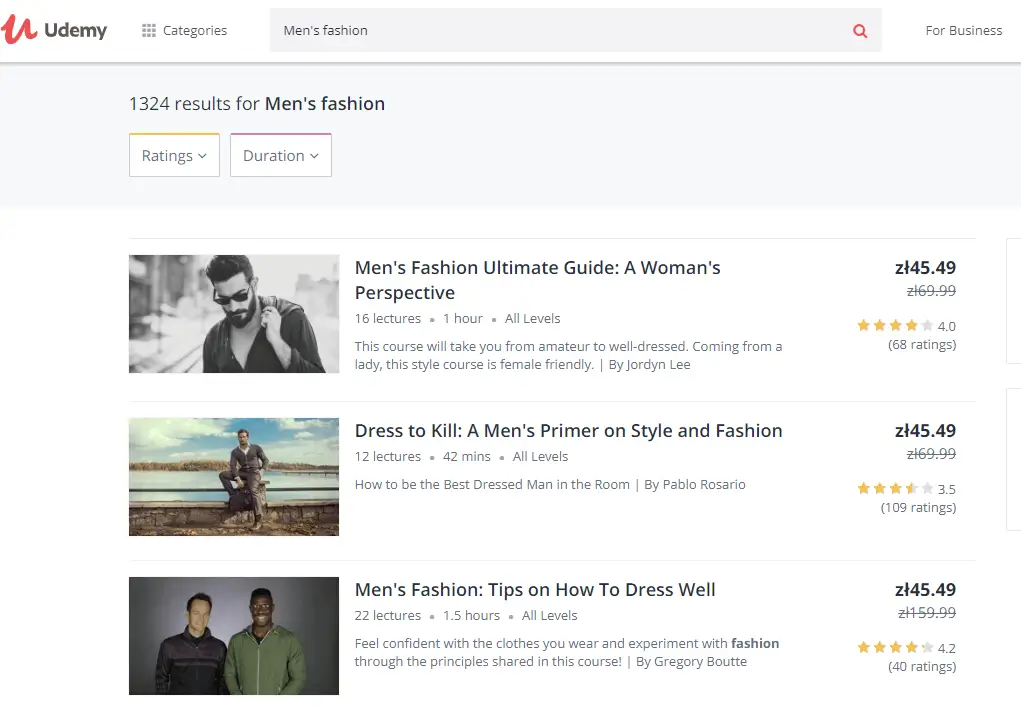 4. Attend industry conferences and other events
You can watch many conferences on the Internet, too. Listen to the discussions, note down questions from the audience, and pay attention to the interesting anecdotes shared by the speakers.
For instance, it turns out that Senuto webinars are an inspiration for businesses such as Linkhouse. Their team listens to the questions asked by participants and uses them for service development.
5. Check out other blogs from your category
Take a look at other blogs to set the bar for your efforts. See what topics are discussed most often by top bloggers – it's a hint on potential ideas. Additionally, you may use Senuto Visibility Analysis to inspect which keywords these bloggers are targeting.
Simply enter the domain of a rival blog in the Visibility Analysis tab and go to Positions.
You can also find out the keywords for which other blogs are ranking and yours is not. Check it with Competition Analysis.
To see what interests your target readers, check what they're talking about on the Internet. The online community usually holds discussions on message boards and in social media.
Focus your research on Facebook groups, which tend to show exceptionally high levels of user activity. The Polish market is slowly embracing the Linkedin groups as well – sneak a peek at those during your hunt for topics.
Below you'll see examples of some most popular message boards where you can seek inspiration:
Reddit – various topics;
The Fashion Spot – style and fashion;
Weight Loss Fitness Forum – weight loss, dieting, fitness;
bodybuilding.com – sport, bodybuilding, fitness;
Ultimate Guitar – guitar playing.
You could also use a Q&A website called Quora, which has millions of users across the globe. For some time, Quora has been running in multiple languages.
You'll find there questions and answers on any topic. Many answers are provided by experts using their real names.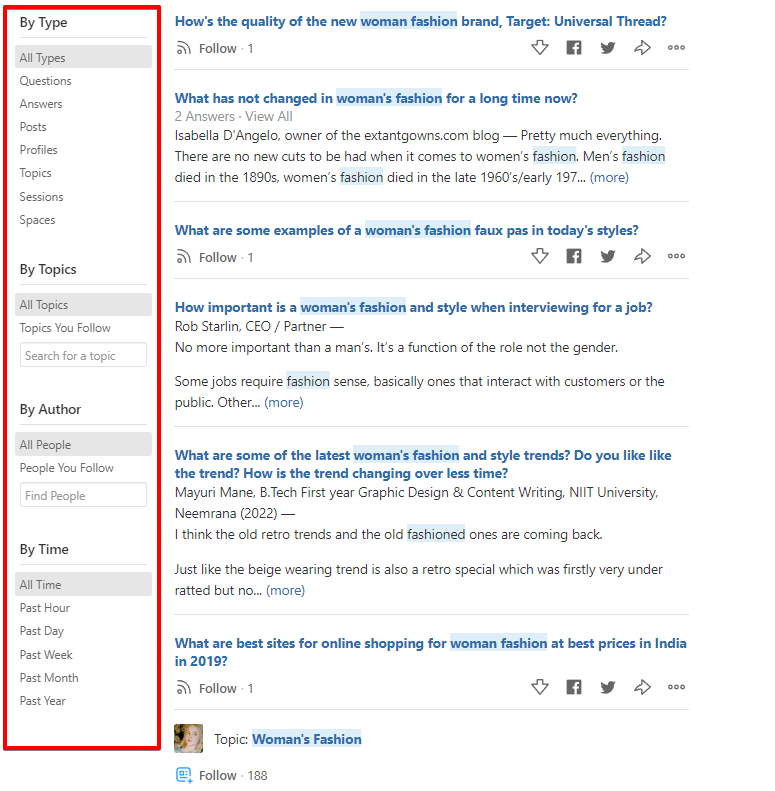 7. Ask your readers what they want to read
If you have active readers, ask them what are the topics they would like to see on your website. You can pose the question directly in a blog post or on your profile in social media. If you have a newsletter, send them a questionnaire.
Another great idea is to make a survey. Let the readers vote on your ideas and add their own. It's a surefire way to get more answers – tried and tested!
Pay close attention to readers' comments as well. They are a cornucopia of questions and observations that will help you pinpoint new topics and the threads that require further exploration.
8. Get topics from content aggregators
At first, we talked about the need to organize your ideas. The same goes for inspiration sources. If you're reading blogs, websites, or magazines, add them to aggregators such as Feedly, Alltop, or Inoreader.
An aggregator will provide you with a single feed of all the new content published on tracked websites. It's a convenient way to monitor your favourite websites and discover new blog post ideas.
9. See what reads best and add more
Sometimes, guessing what to write about just doesn't make sense. Some of the articles on your blog are doing exceptionally well. They get the biggest numbers of comments, views, and shares. You can pinpoint them with Google Analytics.
Once you have a list of your most powerful pieces, consider possible reasons for their popularity. Why did your readers react the way they did? Inspect each text, identify its distinguishing features, and create something similar. It's no use reinventing the wheel.
30+ ready-to-use blog post ideas
Now that you have several fertile sources of inspiration, let's get to ready-to-use blog post ideas. Use them as you wish. Let this list be your cheat sheet that you can go back to whenever you need.
1. X best ideas for…
Such an article may contain creative and practical tips and tricks on any problem. For instance: "10 Best Gift Ideas for a Football Fan", "5 Best Ideas for Exotic Vacations"… You get the drill.
2. X good reasons to…
"7 Reasons Why Not To Scrimp and Save on SEO". "3 Good Reasons To Wash Your Hands Even After the Pandemic Is Over". Write an article that will convince the unconvinced, convert the non-believers, and boost the morale of the initiated.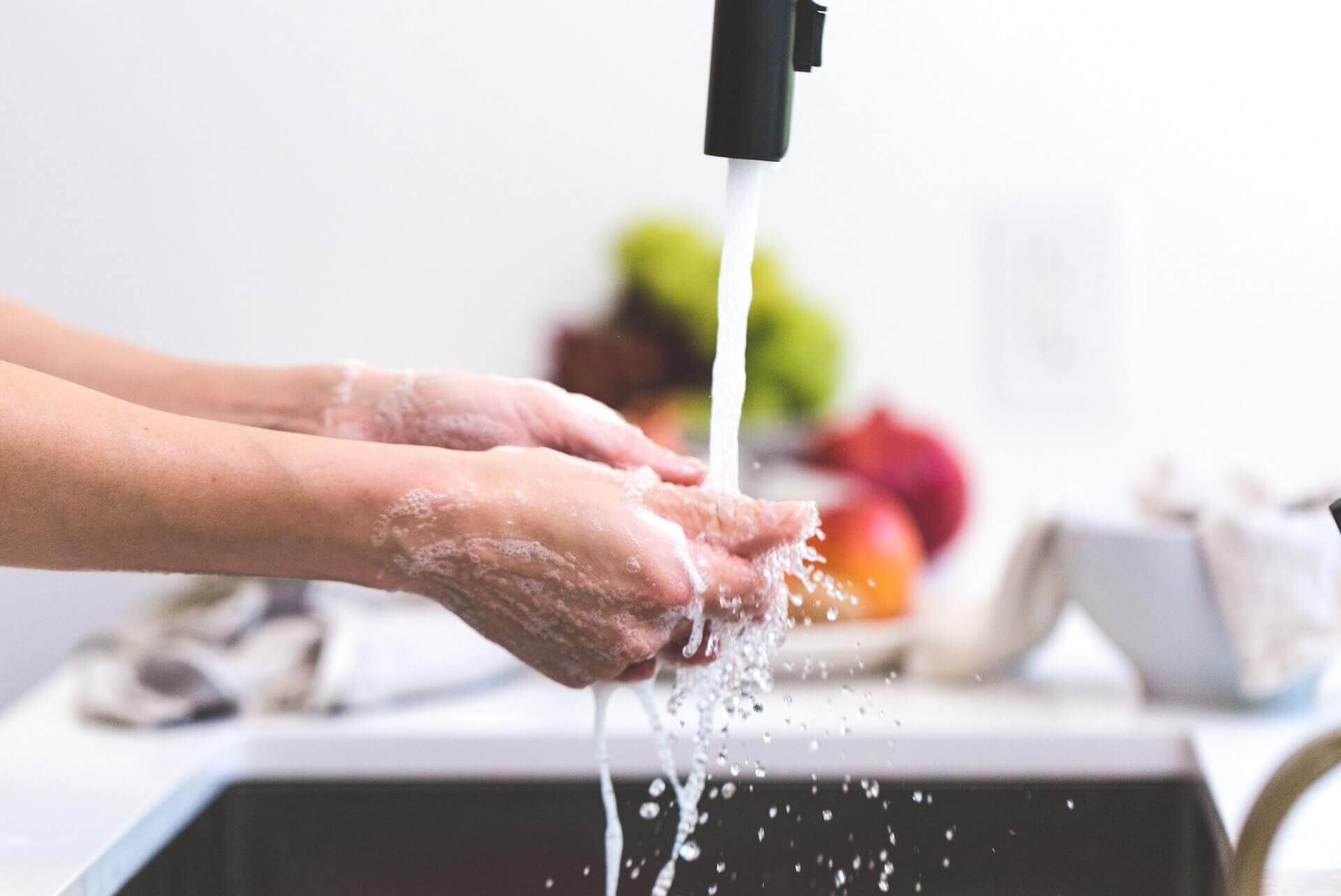 3. Tips & tricks
"10 Sales Tricks That Really Work" – that's a title that can really work! We may not think highly of tricks, but we do want them up our sleeve. What if we learn something simple and effective? "10 Tips…" is also a great idea, though the word "tips" seems a tad less powerful.
Example: Web Writing in 10 Steps – How To Write for the Web
4. A checklist
The ultimate and definitive way to heal your life from all anxiety. A checklist. "Things To Remember When Starting a Blog". "5 Things To Check When Optimizing Content for Search Engines". "E-Commerce Must-Haves – What Your Store Can't Do Without", and so on. A checklist is a set of tasks to complete to get a desired result. It's all the stuff you just have to remember.
5. "The evil twin" of a how-to blog post
If your how-to blog posts are getting traction, try the opposite approach. It's a great way to cover a similar topic but from a fresh perspective.
Look how you can reverse your topics:
5 Tips on What To Wear at a Wedding – 5 Things To Never Wear at a Wedding.
7 Traits That Will Make You a Great Business Partner – 7 Traits That Will Make You a Horrible Business Partner.
With a touch of creativity, you may come up with an original and catchy title, followed by some tongue-in-cheek content.
6. A profile of an interesting person
If you're running a blog on finances and money-making, pique the interest of your readership with an article titled "Who Rockefeller Really Was? The Staggering Story of the Richest Man in History". New technology enthusiasts may be eager to learn more about the founder of Xiaomi. And those interested in alternative medicine may click on the biography of Deepak Chopra.
Controversial figures attract more attention, especially if their life is relatively unknown (you'll have a hard time trying to steal the spotlight with a biography of Steve Jobs).
7. An interview
Maybe you know an interesting person you could talk to, then record the conversation, and write it down? Note: interesting does not necessarily mean famous or respected. When speaking of potential guests, we tend to imagine experts or celebrities. But actually, you can invite anybody who has a fascinating story. Anybody who stands out from the crowd. Anybody who can get the attention of your readers. Such journalistic content is always unique.
8. Basing on someone else's wisdom
We didn't think it up ourselves. That's the "A Proven Method by Albert Einstein: How To Write Snappy Blog Post Titles". Alternatively "What Albert Einstein Taught Me About Blogging" or, if you don't want to make up Einstein's advice for bloggers, you can also go for the more plausible "Steve Jobs on How To Start Your Day".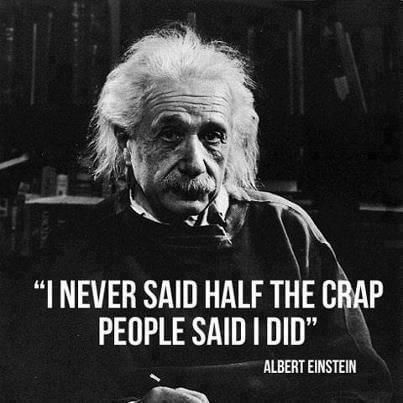 9. A list of recommended software/apps
Do you have some favorite apps that significantly facilitate your work organization or the pursuit of your hobby? Share them with your readers. If you manage to solve their problem, they're bound to appreciate the favor!
10. A list of recommended YouTube videos
YouTube is a well of truly professional-quality materials, and the video format fosters good instruction. Exploit that and create a list of the most useful videos offered on the platform. Needless to say, you don't have to limit yourself to guides. You can choose funny videos, the best ads, examples of the stuff you blog about, and so on. It's also a great idea to make a list of the most interesting channels exploring a particular topic.
Case in point (about online courses, but the principle stays): A List of 30+ Free SEO and Marketing Courses for the Quarantine.
11. Industry tips and tricks
The industry likes to know how to optimize performance and how others go about it. What SEO expert wouldn't like to learn "How To Escape the Most Common SEO Pitfalls SEO Experts Don't Know About"? What graphic designer will not click on the title "How I Deal With Clients Asking for Endless Revisions"?
12. Best books and blogs in your area of expertise
What industry books have affected you the most? Make a list or a personal ranking. Even better, find movies that relate directly or less directly to the topics discussed on your blog.
Every niche has its slogans, figures, or events that generate jokes and memes. In many cases, they're understandable only to the people actually interested in the topic and able to get all the subtleties and innuendos. A list of such industry jokes is a great idea for a more casual blog post.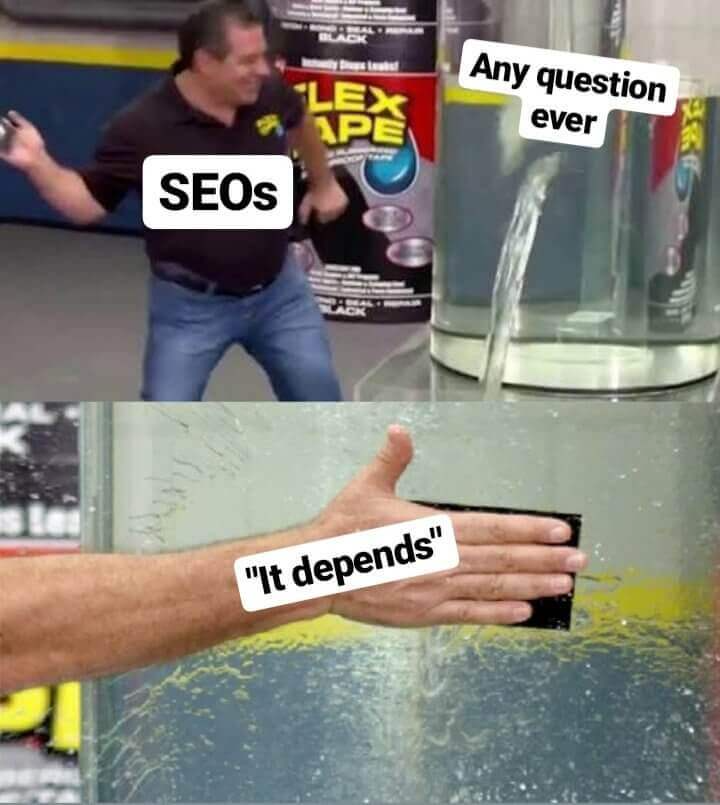 14. What I plan to do / avoid for the next X months
Tell your readers about your resolutions for the nearest future – they don't have to be directly related to the main theme of your blog. Companies may describe their roadmap for the coming period.
15. A complete guide to buying X
Whether you're buying a new computer, piece of clothing, car, or software, you always need to take multiple factors into account. A guide presenting the key tips & tricks will surely be of use to your readers. Especially those with little expertise on the industry, uncertain what they should keep an eye on.
16. The greatest X myths
Do you know any slogans or sayings which are often repeated and considered true, though they're the exact opposite? Debunk those myths to help your users and get recognition as an expert. "Why Everybody Matches Their Shirts and Pants Wrong". "10 Corona-Myths That TV Makes You Believe". Some will be furious and others grateful that "somebody finally said it out loud".
17. Why I don't like X
If you believe it's right, express your negative opinion on the practices and behaviours observed in your industry. Such a topic is likely to start an animated discussion. And every discussion extends your reach. Of course, what we encourage is not sensation-seeking but sharing your reflections on topical issues.
18. A step-by-step guide
Explain in a simple and organized way how to repair something in a car, install and set up a computer program, or properly clean a pair of smart shoes. Texts of this type tend to never go out of date, which makes them evergreen context.
19. Guides of all types
The previous point could also bear the title: "The complete guide", where "complete" stands for "from A to Z", "everything you should know about" (for instance, about making money on your blog. But you could also create an "advanced" guide. Or a "beginner" guide. Or one "with examples". Your blog post title should contain the word "guide" and a clarification. What sort of guide are you writing? What are the takeaways? Who is it for? And so on.
20. A recap of the last month/quarter/year
Sum up the recent developments on your blog or at your company. Alternatively, you can prepare a recap of the latest industry events.
21. How to become an expert?
This idea may not work for professions where the entry level involves graduating with a particular major. But "How To Become an SEO Expert" could be an excellent blog post topic, because the issue is far from self-evident. The same goes for becoming a chef, an Uber driver, or a hypnotherapist. You know the requirements and the full path? Tell your readers about it.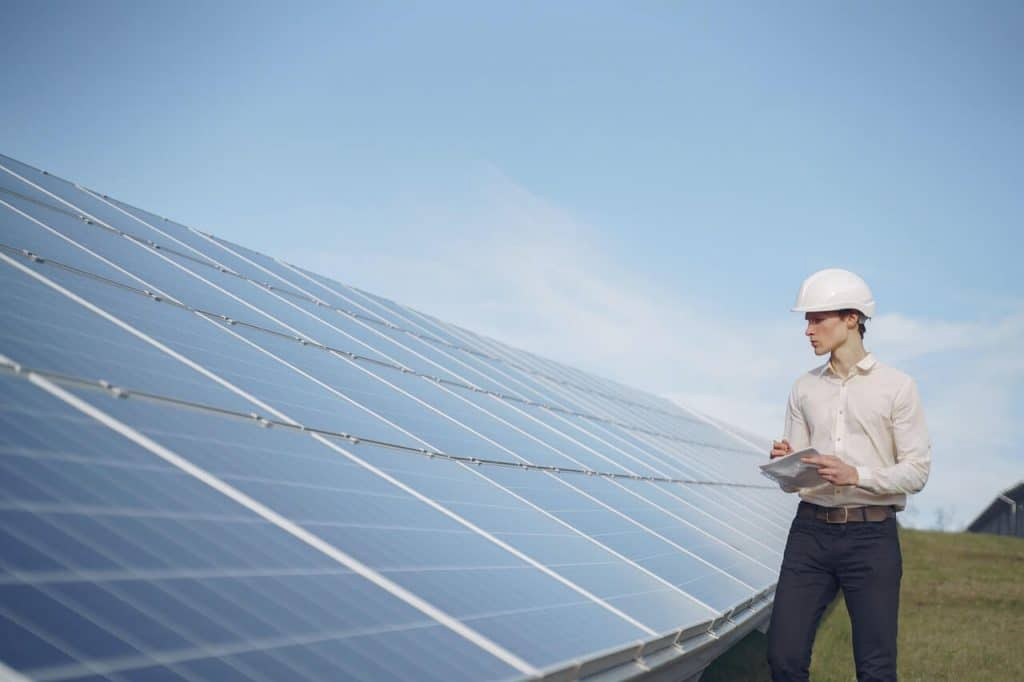 22. How does it work?
Discovery runs a program titled "How It's Made". It's popular for a reason – people are interested in the mechanisms behind the elements of their surrounding reality. That is why topics such as "How Google Search Really Works" or "How Bank Deposits Work" may attract a sizable audience. When you use this idea – and generally, when blogging – remember about the persona. Who are you writing to? More advanced users will skip an article for beginners. Rookies won't click on a title that suggests that a higher level of initiation is required.
An example of a "how does it work" post bordering on a guide: How To Create Unforgettable Content?
23. Explaining how the world works
"Search Engine Optimization – What's the Deal With SEO?" is just one example. The idea is to provide a text which explains some fundamental term or concept.
Most general terms are already thoroughly explained on the Internet, so such an article may be hard to push to Page One in Google. But there are many less popular or well-described topics, which may appear simple but actually require an in-depth analysis by a real expert.
There are many theses worth explaining and exploring (because they may be less evident than you think). For example: Why Shouldn't You Give Up on SEO During the Pandemic?
24. A review of an industry book
You could make a list of recommendations, but you could also take a closer look at a selected publication and write a review. Say what you liked about the book, what are your objections, and add some personal thoughts.
Depending on the theme of your blog, choose a related product and write a review. A book, a movie, or a device are your most basic ideas. But you can also go for a less obvious choice, like an online course or a subscription service.
You can combine reviews and recommendations – if you pen 3 positive reviews of books covering a similar topic, you can then compile them into a single article: "3 Keto Diet Books Worth Reading".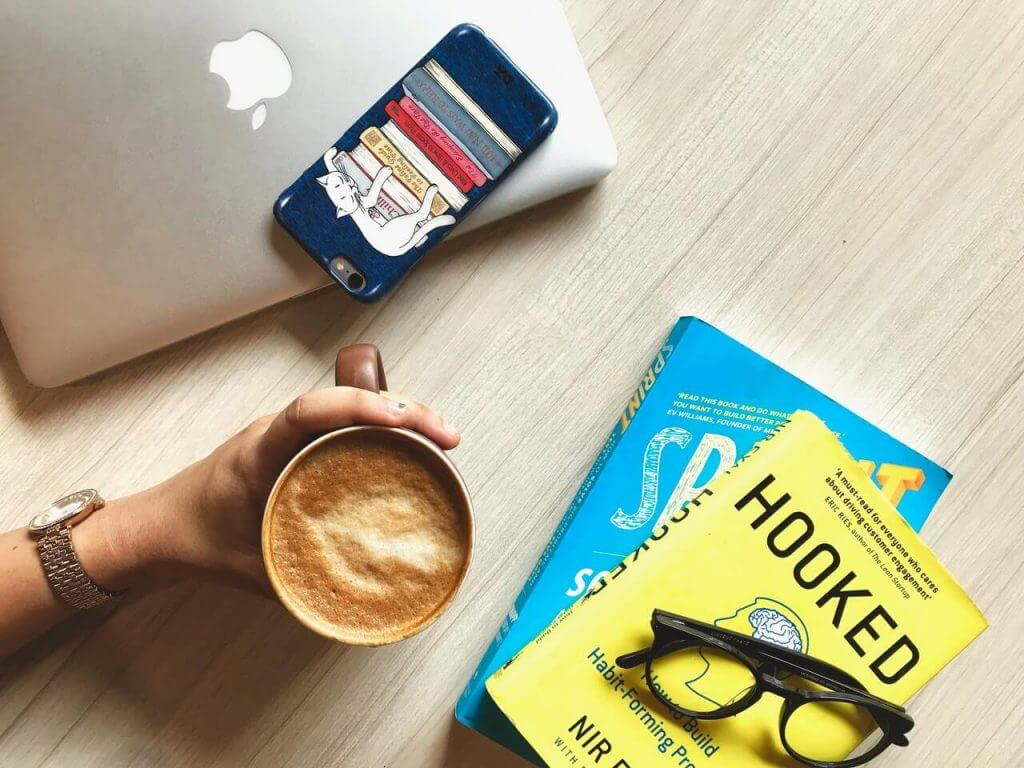 25. The most important days of the year in the industry
It's a great blog post to have at the beginning of a new year. Use it to present the key upcoming industry events, product premieres, and so on.
26. A report from an industry event
If you had the chance to appear at an important event, describe your impressions, upload a lot of photos, and share your feelings. Such a report makes for a highly original and intriguing blog post. If you gave a speech, even better. Mention it to build up your position as an expert.
27. Case study
A case study is an exhaustive report on how the use of your product/service has helped a customer.
You can also describe a historical case – one that's already documented – and draw conclusions. "How To Become a Better Person Every Day? The Methods of Benjamin Franklin (a Case Study)". A case study should show a way to success drawing on the story of a chosen figure.
The dream is to create an original case study. For instance, if you're working in business consulting, you can show how to grow your customer base by 30% in half a year, relying on the experiences of your customer.
Alternatively, if you're developing a tool for inspecting site visibility and keyword research in Google, your company blog could use a text like: Topical Authority – How Did We Generate 100 Thousand Visits per Month? The Case Study of Pracuj.pl and Senuto.
28. A day in your life (or someone else's)
Are you a freelance writer? It would be interesting to listen about your day, because I assume it differs from the day of a corporate employee. Are you a corporate employee? Tell us about your typical Monday – there's probably tons of colorful tidbits to share. Or maybe you suffer from a chronic disease and you want to put it out in the open? A day in the life of a diabetic is surely different from somebody's with a healthy pancreas.
If you want to present someone else's daily life, talk to them and write a description in your article: "A Regular Day at a Construction Site. Confessions of a Foreman With 30 Years of Service".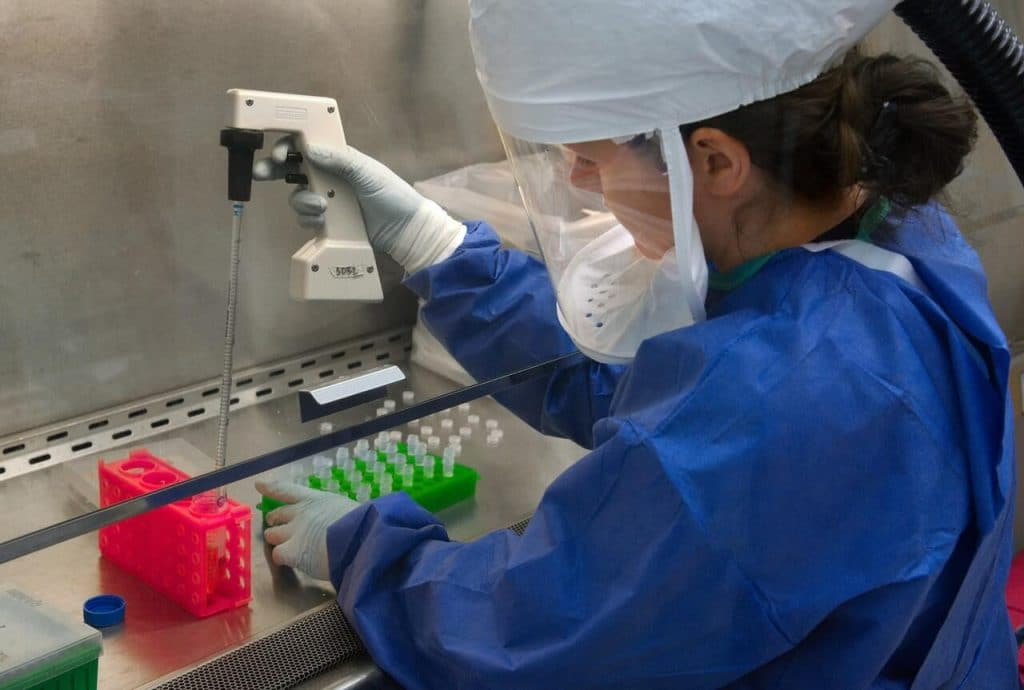 A day in a laboratory? Why not.
29. Good practices – they do it right
In contrast to a case study, the point is not to describe anything from your own portfolio, but the activity of other people/organizations. Show how their actions and approach to the issue at hand set a good example and what lessons are there to learn from their experience.
30. Assistance with decision-making
"Whom To Choose: SEO Agency Or a Freelancer? Let's Solve Your Dilemma". Who wouldn't want some assistance with an important life dilemma? Every day, people face choices. Some things to opt for, others to give up. And the Internet is often the first source they turn to for decision-making support.
31. A webinar transcript
It doesn't have to be your webinar. The Internet offers a multitude of valuable videos from online meetings conducted solo, as a dialogue, or a larger conference.
In many cases, webinars offer a comprehensive account of an important and catchy topic. Writing it down won't drum up your authority (these are not your words, after all), but you can grab the attention of many readers – and seize some Google traffic.
Do the same for your own webinar. A 1.5-hour conversation gives you material for not only a transcript (some people prefer to read, not watch) but also a checklist, a summary, and many other shorter topics. Check it out!
32. A list of tools for…
…assembling a swing set? Sure, a list of actual hardware tools will do as well. But what I mean are chiefly technology tools for movie editing, SEO support, graphic design, or team management, and so on. Listing them will be easier if you're a user yourself. Otherwise, you can always base on external sources.
33. A ranking
Best books on emotional intelligence. TOP 20 of foreign travel blogs. Best movies featuring Robert De Niro. 5 most interesting restaurants in Birmingham. 10 must-see places in Croatia. What will you recommend to your readers?
34. Tutorial
Or a self-study manual. If it concerns your product, service, or a tool you're offering, even better. A clear-cut tutorial is a step forward to reach your current and future clients. But people are looking for all kinds of manuals. If you mastered a sound-editing program, the art of setting up a WordPress site, or… changing a bicycle w heel – describe it step by step. Once we used to inquire the elders how to do something, now we ask Google.
What to write about on your blog? Now you know!
Now, even in a time of crisis, you'll have a nice set of blog topics at your fingertips. Collect your ideas from various sources, keep them well-organized, and transform them into exciting, original content. Good luck!