Specialist tools for search engine optimization offer far more than position tracking. You can also use them to check on your competition. It's always the right call to keep your finger on the pulse – both before and after the launch of your SEO strategy. Competition monitoring is a likely source of invaluable insights into the efficiency of particular approaches, keywords, and strategies.
How to identify your rivals in Senuto? How to run an audit and competition analysis? Today you'll see how we are doing it.
Disclaimer: Competition analysis is part of Senuto's Visibility analysis module which, for now, is available for users from Poland, the Czech Republic and Slovakia. If you are resident in another country, Senuto offers you the Keyword explorer, SERP Analysis and Rank Tracker modules.
Competition audit – a general status check
Senuto is a tool for inspecting not only your own website but also your competition. But why should you even do it? As an SEO agency planning strategies for your clients, your might use competition audits:
to assess the situation – we size up our future rivals and the amount of work needed to draw level and, finally, to get past the pack;
to create benchmarks – we make a realistic review of our competing websites and treat them as reference points for assessing results;
to get information – some call it inspiration, some call it imitation, but one thing is for sure. If our rivals use essential keywords that are missing from our website, we will never get to their level. That's why we check which keywords lead users to the competition and make them the target of our own SEO efforts.
SEO never takes place in a vacuum, which means that keeping an eye on your rivals is the way to go. If it turns out that you need to operate faster or bolder, hard data will give you an impulse to double your efforts. Screen the visibility of your competition with Visibility Analysis in Senuto.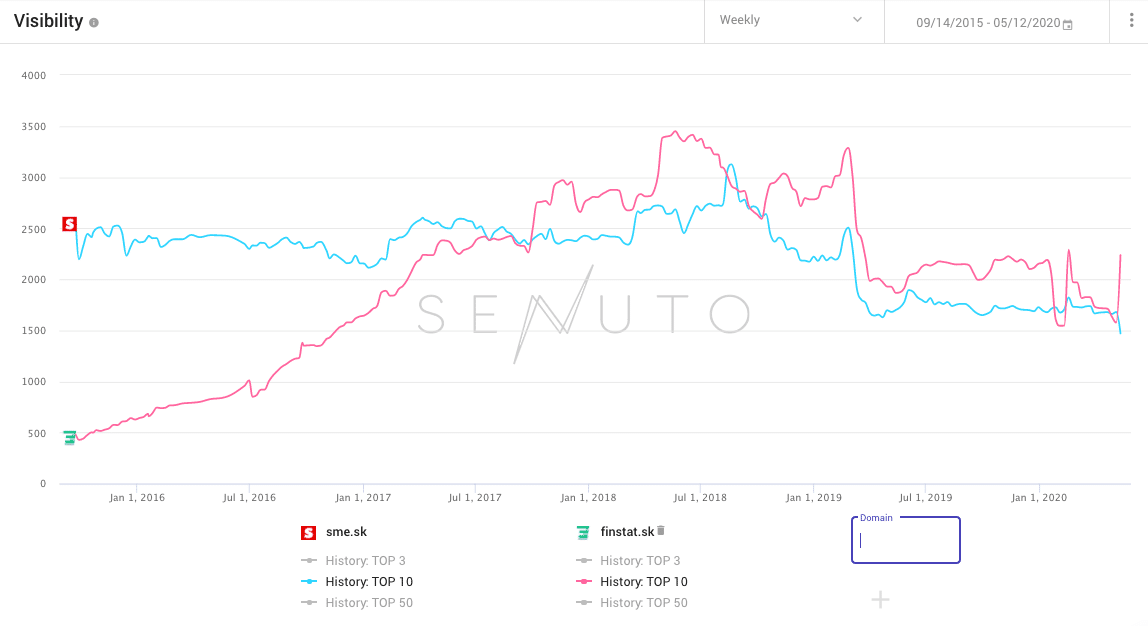 How to find your competition in Google?
Just type the competitor's company name in Senuto. The platform is proficient enough in website analysis to find the exact URL on its own, sparing users the effort of looking for the full URL and preventing typos. To screen our competitors, we need to know only who they are.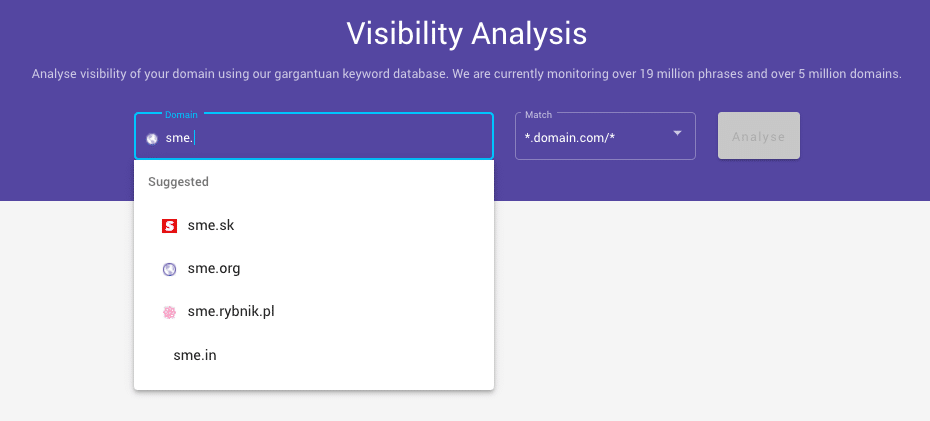 And what if our client is just starting off and cannot yet identify key rivals?
The Competition tab in Senuto provides us with a list of rivals selected on the basis of the number of our shared keywords. Remember that real-world competition and Google competition are not the same thing. Websites targeting similar keywords may offer widely different services or products.

However, that is not to say that we shouldn't compete with them for top rankings for our most important keywords. For starters, it's best to go over the list to see if it includes companies with a similar profile. Then it's wise to check if the selected companies rank in TOP 10 for our most important keywords.

How to use Competition Analysis to perform a competition audit in Senuto?
Senuto focuses its competition analysis around keywords, providing us with information that's useful for both strategic planning and content optimization.

Competition Analysis Report in Senuto lets us analyze the competition from three angles:
keywords we rank for, and our competition does not;
keywords our competition ranks for, and we do not – the content gap;
keywords we both rank for.
Competition audit and your SEO strategy
When drafting an SEO campaign strategy, we start by checking if our keyword list can be supplemented with additional phrases targeted by our competition. The tricky part is making the right selection. Disparities in the range of services offered may push our rivals to target keywords that are inconsequential for our website.
Make sure to distinguish keywords related to your services or products from those pertaining to your thematic field. If your opponents tend to target the latter type as well, you should probably follow suit.
Competition audit and the assessment of SEO efficiency
As we publish regular updates on our website, we need tools to increase our content efficiency. Poor results are not necessarily brought about by total disregard for content optimization. Sometimes the efforts just come short when compared against your competition. To avert that scenario, we use Senuto to analyze the keywords pervading our competitors' content and make them ours.
This strategy will often require content building. In other words, you shouldn't retrofit your texts with additional keywords but naturally weave new phrases into fresh content.
How to go about content building with Senuto?
When creating new content with Senuto, our go-to place is the Questions tab in Keyword Explorer. Faced with the need to expand an article that seemed exhaustive, anybody could find themselves at a loss for ideas. Questions Report in Senuto is the solution.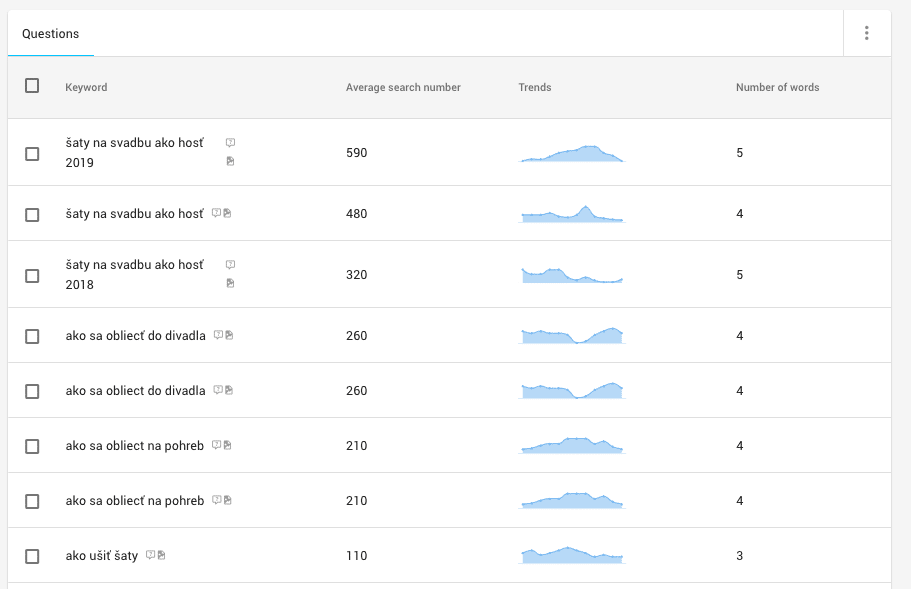 Enter any phrase, and the system will display a list of queries typed by real users in Google. For instance, the phrase "website SEO" yields such questions as: "what does seo mean", "how to seo", "how much does seo cost", etc. These will make perfect headlines for additional paragraphs. Test a few similar phrases to get as many suggestions as possible.
Competition analysis in Senuto
We have now presented our ways to use competition audit for planning SEO strategies. An audit involves a review of the strategies and tactics adopted by the competition. In Senuto, this means the study of keywords. By performing an audit, we can take a sneak peek of the efforts made by our rivals.
Competition analysis is a different matter. It shows us not the steps taken by our competitors but the effects and their evolution over time. It can be performed anytime, not necessarily in regular intervals.
The analysis is most profitable when we target companies at a similar stage of development. Obviously, Senuto can show us businesses with mind-blowing results in Google. We can use them as inspiration, but a vast efficiency gap often follows from company size and reach. A two-person company and an international corporation are hardly comparison material. Their budgets for online marketing are probably worlds apart.
On the other hand, we can use competition analysis to identify companies we want and can race for high rankings in the TOP 10. These businesses should become our reference points.
What parameters are up for analysis?
Visibility in Google – we can see for how many keywords our competitors rank in TOP 3, TOP 10, and TOP50 of Google search results.
Changes in position – recent decreases and increases of your competitors for particular keywords. Particularly useful when we had some visibility drops and need to check if they are part of a larger trend. This metric allows us to spot changes resulting from algorithm tweaks.
Keywords – we can check which phrases generate the greatest traffic for our competition. It's a valuable hint. If something works for them, maybe we could turn it to our advantage as well.
Seasonal trends – a vital bit of information, particularly when our clients are just starting off as business owners. The trends let them prepare for busier and slower periods throughout the year.
Another useful feature is the Rank Tracker. Just add a project and the system will continuously track all keyword ranks, offering you a quick and convenient way to gauge your progress. For a client, such a report is a cherry on top, because it shows real results compared against the competition.
Audit and competition analysis in Senuto – key takeaways
If you need a tool that will streamline your SEO efforts and hand you the necessary data on a silver platter, Senuto is a good choice. Its extensive database, adapted to the local market, provides insights into the key visibility metrics of your competition. Keep in mind that website optimization takes place in a universe of other companies, so regular checks at all stages of your SEO strategy are not an option – they're a must.