Any SEO specialist realizes the importance of progress reports. A report submission clause is likely to find its way to your SEO services agreement or a job contract. Whether it is for a client or a boss, when drafting an SEO report, you need to put your best foot forward.
How to compose a quality report without squandering too much time? Automate your reporting! Below you'll find a quick cheat sheet for automating your SEO reports in Senuto. Have a look!
What information to include in an SEO report?
Any SEO report should present carefully selected information in a plain, reader-friendly manner. That much is clear. Now, let's get more specific. Which data exactly should feature in your report?
overall website visibility in Google,
the website's ranks for particular keywords in Google,
a list of keywords that provide the most traffic,
brief information on linking – the number of acquired links (optionally, a few examples of links for verification),
a list of tasks completed over the last month,
plans for the future months of the campaign.
Data concerning on-site optimization, future plans, or linking are relatively easy to present. Analytical data are a whole different story. Collected from multiple sources, they may prove frustratingly hard to organize.
Faced with such a challenge, you can rely on Senuto – the app which many SEO experts regard as the most important part of their toolkit.
Automated SEO reports – how to make use of Senuto?
Visibility Analysis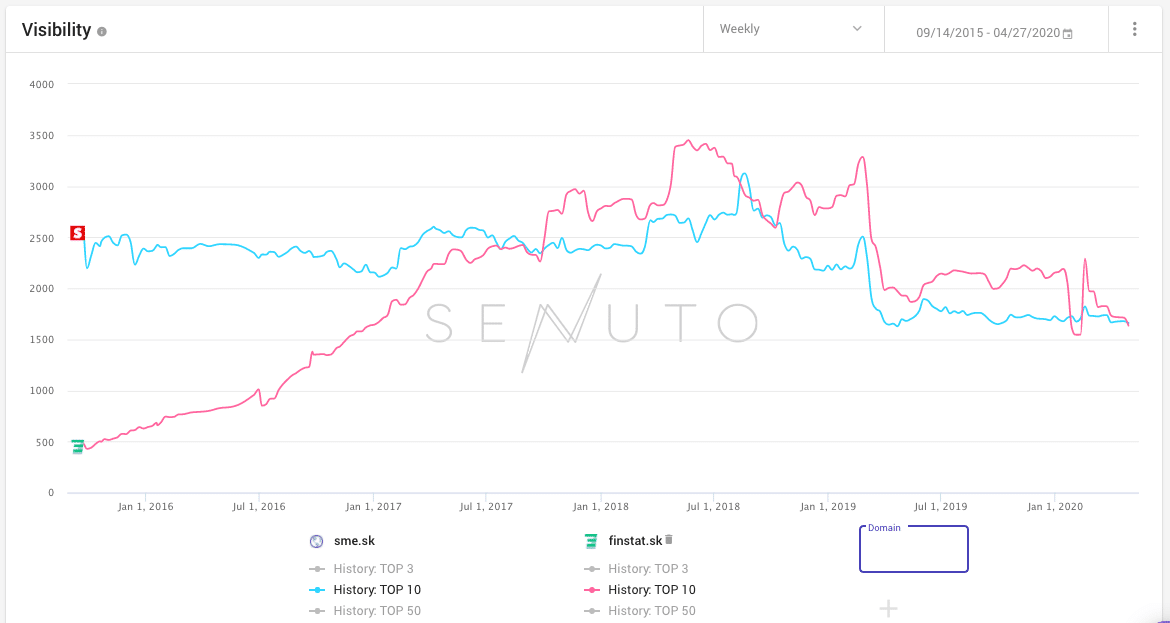 Visibility Analysis displays information on the current Google visibility of the examined website.
Senuto provides lots of practical reports which scrutinize shifts in website visibility. These reports include:
Increases/Decreases,
Acquired/Lost Keywords,
Positions.
Better yet, Visibility Analysis shows you the number of keywords for which your website is ranked in TOP 3, TOP 10, and TOP 50 of the search results, as well as your overall website visibility.
The downside to basing your reports on Visibility Analysis is that the module covers the totality of your ranking keywords rather than a selection of phrases targeted in your SEO campaign.
Rank Tracker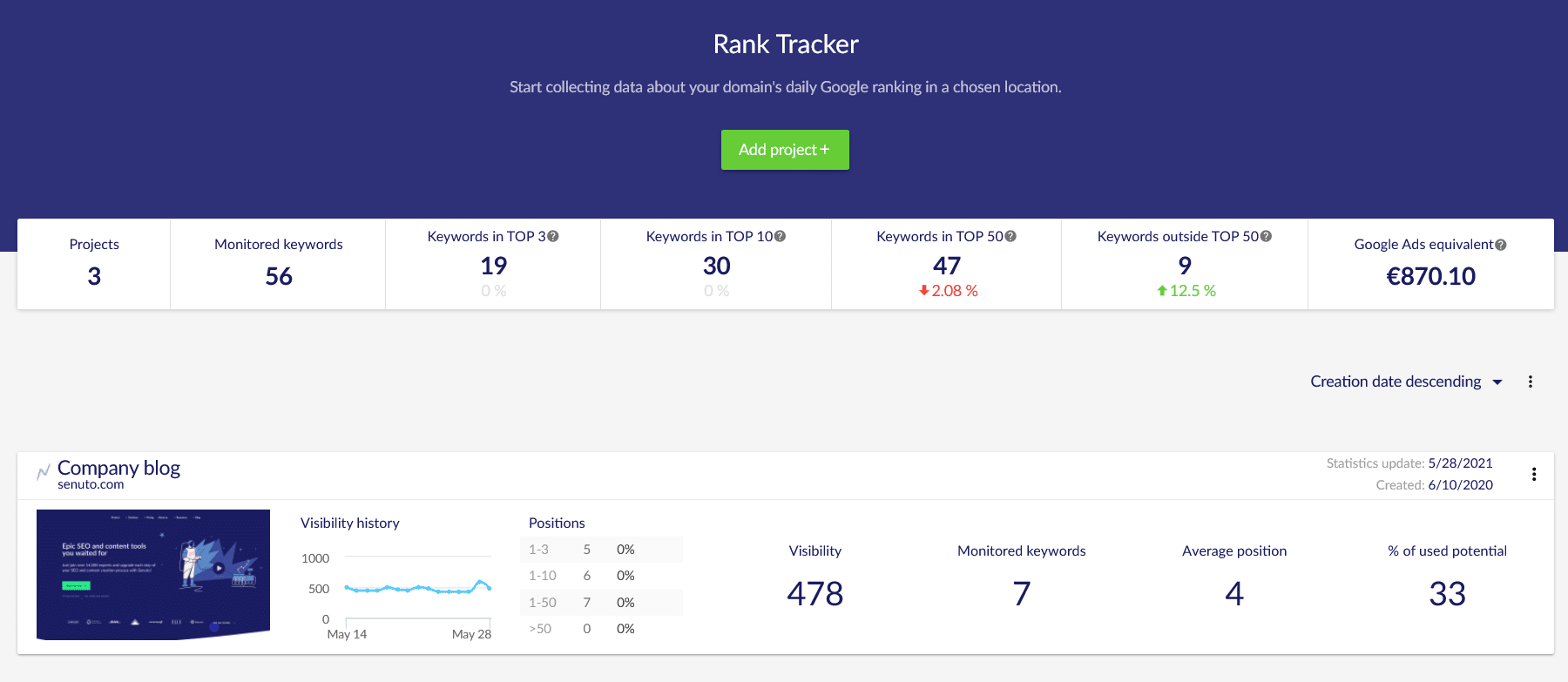 For this reason, we recommend using the Rank Tracker, a module designed for day-to-day monitoring of your Google ranks for individual keywords. Select your target keywords and Senuto will perform a daily check of your positions.
Depending on your preference, you can either export these data to an Excel sheet or present them directly in Senuto by granting the recipient access to the app. This way, your boss or client will become a distinct Rank Tracker User.
Let your clients access Senuto as Rank Tracker Users
Rank Tracker Users can access a project only upon obtaining a relevant permission. They are unauthorized to see any other projects or edit any settings.
Presenting the Rank Tracker reports directly is extremely convenient as it allows the client to get more involved in the project and check all the critical changes on the fly. As an extra perk, you're building trust. Sharing access to your tools with the client goes to show that you've got nothing to hide.
That's not all you stand to gain by using the Rank Tracker. Senuto can integrate your visibility information with data pulled from Google Analytics and Google Search Console. Simply put, you can upgrade your reports with extra information and always keep all the data at hand.
Integration with Google Analytics
What portion of your website traffic comes from organic search results?
Integrate your Senuto account with Google Analytics for a more thorough analysis of the impact that your SEO campaign is making on traffic stats.
Integration with Google Search Console
What is the average position of your website in Google? And your average CTR from the search results? How much traffic is generated by individual keywords? Integrate your Senuto account with Google Search Console to check how Google visibility translates into actual traffic on your website.
Google Data Studio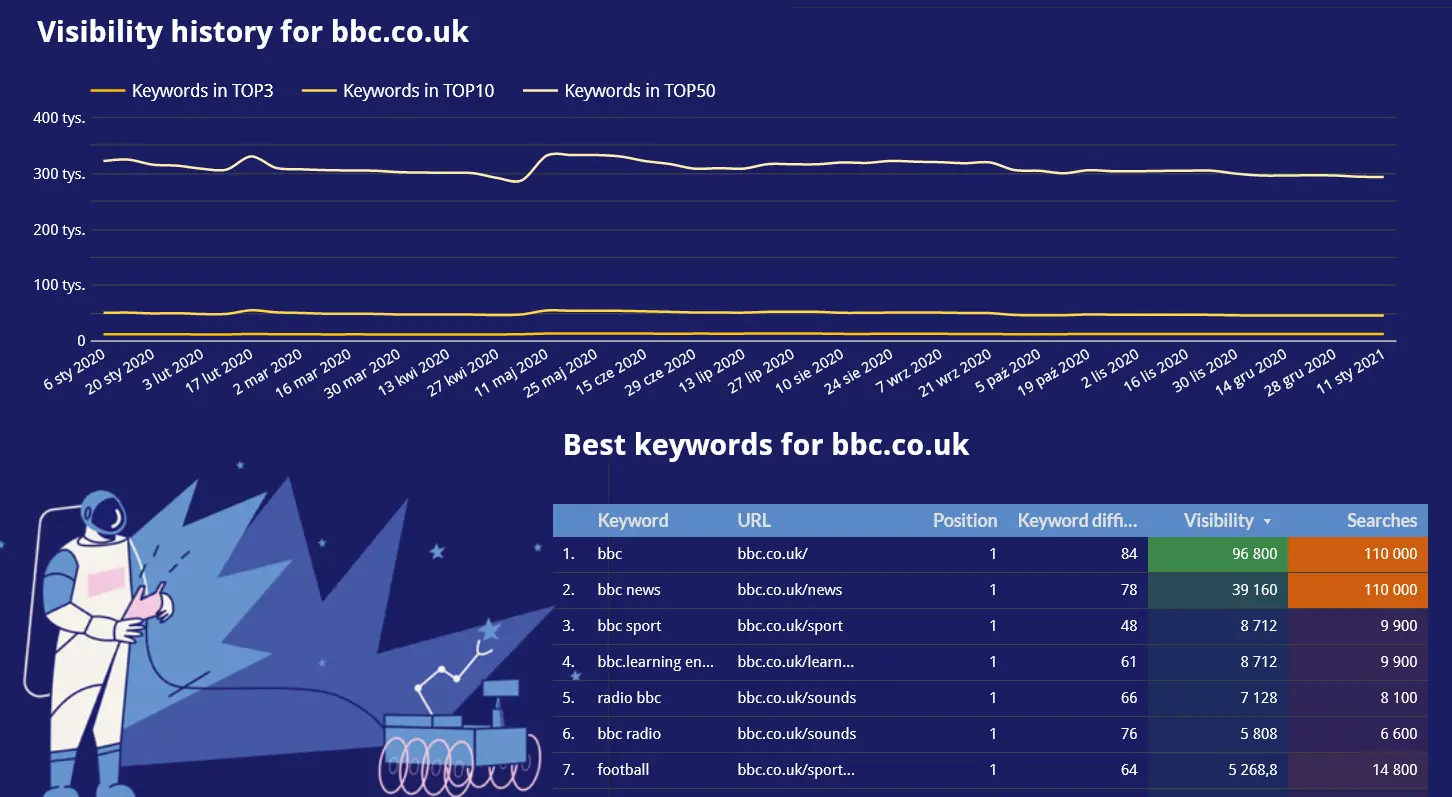 Recently, we have introduced a number of features designed to assist experts in report automation. One of them is the integration with Google Data Studio. Eagerly awaited by many of our clients, the feature hugely accelerates reporting to a client or a boss. Once you've created your first report, you can use it as a template for all your clients. Swap the data and you're done.
There's yet another advantage to reporting with Google Data Studio – the link sent to your client will always point to the latest report. As you can see, GDS integration can fast-track your work by automating reporting in your company. Just create one universal report that automatically pulls data from our platform and spare yourself the time spent on preparing a new document every month.
With Senuto and Google Data Studio integration, you can show your clients data from Visibility Analysis, and also from the Rank Tracker.
Read how to integrate your Senuto account with Google Data Studio.
If you're using Senuto with GDS integration, feel free to try out our sample report.
More ways to automate your work
When it comes to work automation, we still have some more tricks up our sleeve. These include alerts and our Slack integration. Use those to have us – Senuto – inform you about changes in all the matters that you wish to check on a regular basis.
Alerts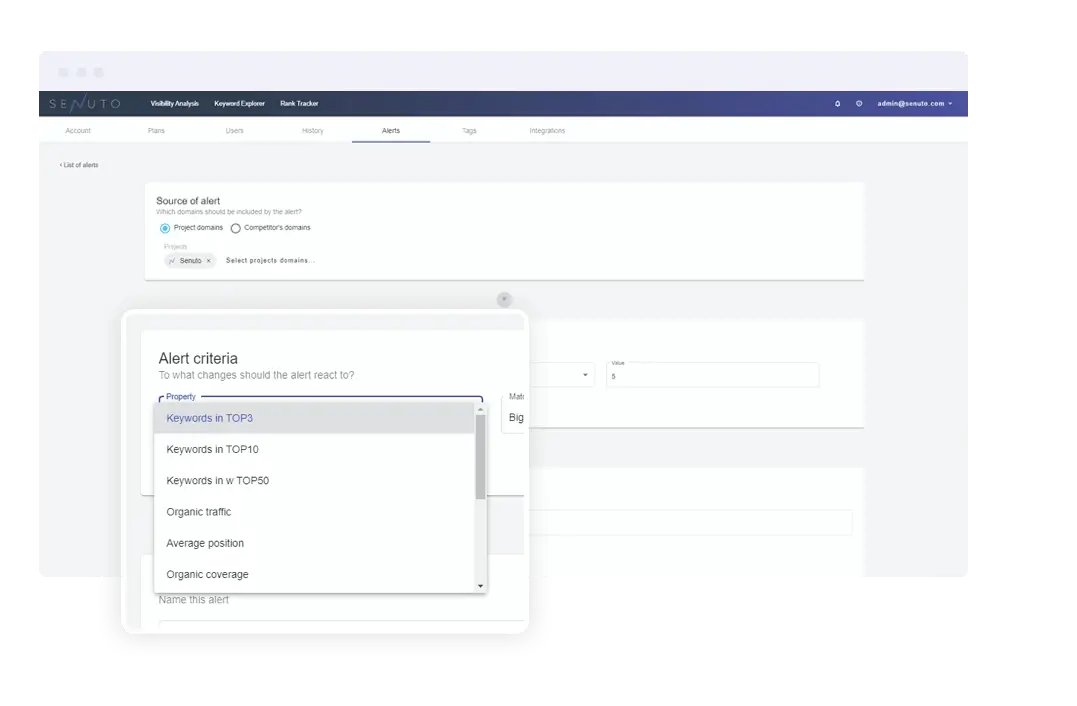 You can set up alerts to receive email notifications about each change in your project. Besides, we can send you a weekly update on your projects in the Rank Tracker.
The alerts on your Rank Tracker projects are fully customizable. Depending on your wishes, we can keep you informed about the fluctuations in:
the number of keywords for which you're ranking in TOP 3, TOP 10, and TOP 50;
organic traffic on the tracked website,
the average position of keywords added to the project,
Google Ads equivalent of all the keywords added to the project,
traffic from Google Ads (with Google Analytics integration),
the number of ads and your Google Ads budget (if you're running a Google Ads campaign and your account is connected to Senuto).
Slack notifications
Meanwhile, Slack lets you monitor the ebb and flow of:
the Google algorithm (SERP changes report),
the visibility of websites added to favorites,
your Rank Tracker projects.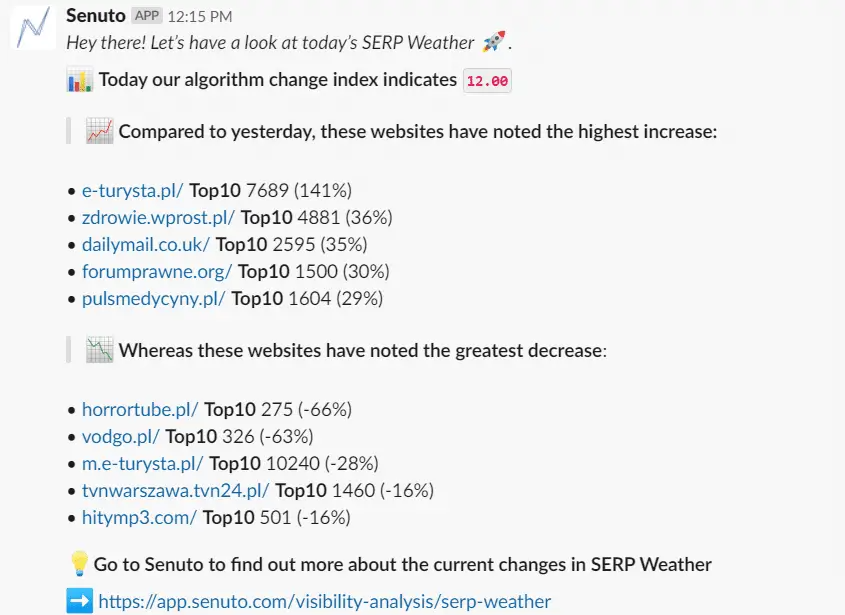 Learn how to integrate your account with Slack step by step.
You can decide how often you wish to receive the notifications. Choose out of 4 available options:
upon every change,
once a day,
once a week,
once a month.
Slack notifications will keep you up to date with all changes in your projects and the search results.
Automated SEO reports – how to expedite your reporting with Senuto? Wrap-up
All in all, while Senuto provides you with data for planning, tracking, and optimizing your SEO campaigns, we also help you report the results. In all these endeavors, our mission is to achieve maximum automation of all tasks worth automating.
We know how much report quality matters to you and we want you to fulfill your reporting obligations to the best of your ability. That is why apart from providing ready-made solutions automating your work such as the Rank Tracker, project sharing, or GDS information, we also keep you informed of all the changes in your Senuto projects. Make the most of it!