Reliable SEO specialists employ in their work various tools that help them in their everyday SEO struggle – from crawlers in audits (Screaming Frog, Sitebulb, Deepcrawl) through complex solutions with databases which help to carry out content marketing analyses like the ones offered by Senuto.
In addition, reliable SEO specialists automatize and facilitate their work as much as possible. To that end, they often use tools which aren't specifically designed for SEO purposes. Meet those silent heroes which save our precious time and improve our efficiency. Learn about 8 non-SEO tools that still make the SEO expert's life easier.
Redirect Audit
HTTP Status Code Checker is a simple tool to audit redirects. Enter your website with and without the www prefix as well as with the http and https prefixes. Redirect errors, i.e. any unnecessary chains within your website, will be spotted immediately.
Remember – only two situations are desirable: status 200 for the right page and 301 → 200 for other pages.
A good SEO auditor checks more random URLs, e.g. websitetested.pl/index.php or websitetested.pl/randompage. This allows to identify other, more rare errors in redirect configuration.

Take the example of conrad.pl – there's definitely something to work on in configuration.
You may additionally inspect your website by typing two commands in Google: site:conrad.pl -inurl:https and site:conrad.pl inurl:https. You'll see how it indexes at two levels.
If you want to learn more about redirects within your website, try the following Chrome add-ons out: Redirect Path and Link Redirect Trace. They let you keep track of redirects.
Link Clump
Link Clump is a simple Chrome add-on which allows to open multiple links selected at the same time. You can also add URLs to the clipboard instead of opening them.
Link Clump is also helpful when using Brand24. You'll open multiple entries simultaneously.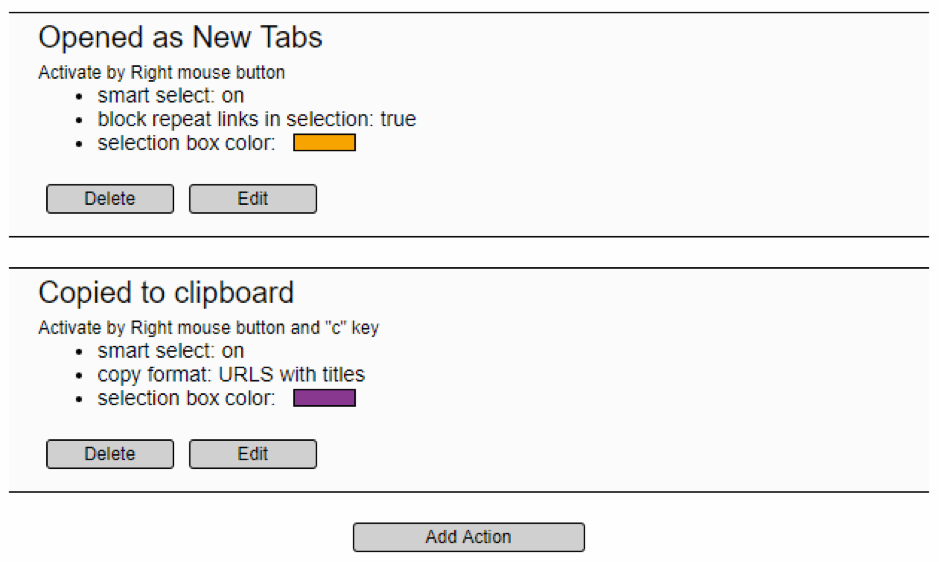 Open Multiple URLs
It's a free Chrome add-on for extracting URLs from text pasted and opening them all at once. In addition, this add-on allows to open tabs without loading the page. It can be used as an alternative to Link Clump, though with Multiple URLs you can also go past the block set for queries, e.g. on LinkedIn, sent too quickly.
Streak CRM for Gmail
If you get URLs by talking to influencers, you surely know how frustrating it is when they don't respond to your messages for a while. Streak CRM can be used for numerous purposes; personally, I find a special tracking pixel very useful, since it allows me to check if the addressee opened my email at all.
Google Sheets
https://docs.google.com/spreadsheets/u/0/
It definitely puts Excel to shame.
You can export parameters important to you straight from Google spreadsheet fields, e.g. =IMPORTXML(A1;"//h1″) will show you H1 of URL typed in A1.
The simple command =GOOGLETRANSLATE(B1;"pl";"en") will translate your keywords or fragments of text from B1 from Polish into English. Have a look at my DEMO: https://docs.google.com/spreadsheets/d/1X28FWaoA2o66Zym0j2hssbwhb6sASsBfvVQ9LKyFc1k/
Excel can be SEO-tweaked as well – install SEO Tools for Excel allowing for integration with i.a. Majestic. You may analyze links already in the spreadsheet.
Google Analytics
Applications of Google Analytics in SEO is a topic that has no end. You, however, should focus on the following:
Set an alert to be notified if Google/organic traffic drops below the pre-defined level
Set an alert to be notified of increased traffic on 404 pages (identify them using the TITLE tag)
Check if you have other hosts than the main one. If you do, you can have a problem with duplicate content – in this case, with content available in more than one domains.
Google Chrome
A normal web browser, but press F12 to start the console and watch the magic happen. You'll test there the mobile version of the website, run it on a simulated low connection and be able to use Lighthouse – the best available tool for testing page speed, among other things.
Hit F12 and browse through SEO parameters to draw conclusions about good practices employed at other websites, look there for an inspiration. Alternatively, reports on page speed can be generated in the new version of Page Speed Insights.
Lightshot
Lightshot is a simple app for both Mac and PC computers, allowing to quickly make and share screenshots. You can draw and comment there. Alternatively, give Chrome FireShot a try.
8 non-SEO tools – Summary
A majority of SEO specialists have their favorite tools they use most of the times. The tools I mentioned above will improve your efficiency and save your time that you can spend on sourcing new and precious URLs. Tell me what you use most often in the comments section down below!