The survey conducted among SEO specialists on the Polish market reveals that 78.3% of agency clients have decided to suspend their SEO or will do it shortly. When your profits are dwindling because of the coronavirus crisis, you need to double your efforts to find new clients. There are several ways to do it, and one of them is research in Senuto*. Today I will show you – in a few simple steps – how to find clients in Senuto.
The industries which are currently prospering
For starters, note that despite the global economic crisis, some businesses on the market are actually thriving. Those include:
e-commerce companies (they note an average 20% loss in demand, which is not a bad result when compared to the entire market),
publishers,
streaming and gaming sites (online entertainment),
online bookstores (including ebooks and audiobooks),
online pharmacies,
hosting and domain providers,
online grocery shopping services,
online courses and trainings,
providers of software and apps for online work,
courier companies and parcel locker services,
manufacturers of masks, protective clothing, and sanitizers.
The industries which are losing the most
The businesses which suffer in the age of coronavirus are popping up like mushrooms. Small enterprises employing a handful of people are forced to close their doors. Medium and large companies announce job cuts. The firms losing the most operate in businesses such as:
Tourism – travel agencies, hotels, guides,
Arts & Culture – theaters, cinemas, museums, galleries, concerts, stand-ups,
Events – expos, conferences, weddings, workshops, event planning,
Entertainment – amusement parks, clubs,
Healthcare & Sport – gyms, personal trainers, psychologists, dentists, physiotherapists, private outpatient clinics,
Beauty – hair & beauty studios, massage salons, aesthetic medicine,
Catering – restaurants, bars, pubs,
Brick-and-mortar stores,
Services – lawyers, photographers, accountancies,
Real estate.
The first wave of financial slowdowns will also affect other types of businesses (an example from our own backyard: SEO and marketing agencies). Every client is a different story, but the results of our survey conducted in late March 2020 suggest that the drain of clients at SEO agencies involves mostly the industries on the second list.
I lost clients – how to find new ones?
It's hard to watch the situation with idle hands. If your business is up and running, suffering only from the fallout of the pandemic, do what you can to accumulate the biggest amount of cash. It will flow to you from new clients. Let's see how to find those with Senuto.
Step 1 – spot the websites of potential clients
Look for new clients in the Visibility Ranking in Senuto. It's a tab showing which domains enjoy the best visibility in organic search results in every industry. But you're not looking for leaders in the TOP 3. Your target group are the companies which still need to make some effort to climb up the SERPs.

Focus on the industries which are now growing their profits – target them and you stand a good chance of a win.
The ranking may be generated for any website or a selected thematic category (there are 403 categories altogether). Additionally, if your specialization involves SEO on WordPress or SEO for eCommerce, you can generate a ranking for one of 62 technology groups.
Step 2 – analyze the visibility of the selected websites
Once you've selected your prospective clients in the Visibility Ranking, analyze their visibility in Google. It's a good idea to know the current standing of your chosen company before sending an offer.
With that in mind, feel invited to consult Visibility Analysis, where you can check all the critical parameters illustrating the situation of a given website in Google, including:
a chart on the website's visibility in Google,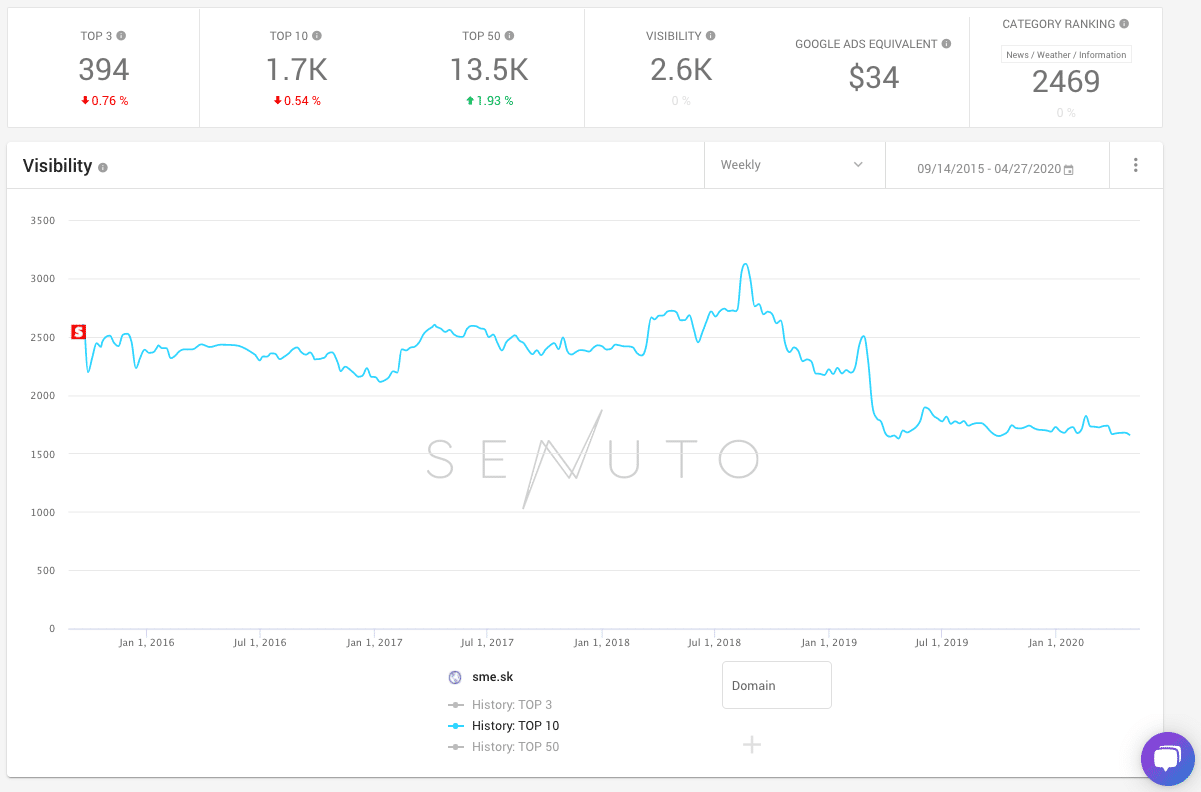 key competitors in Google,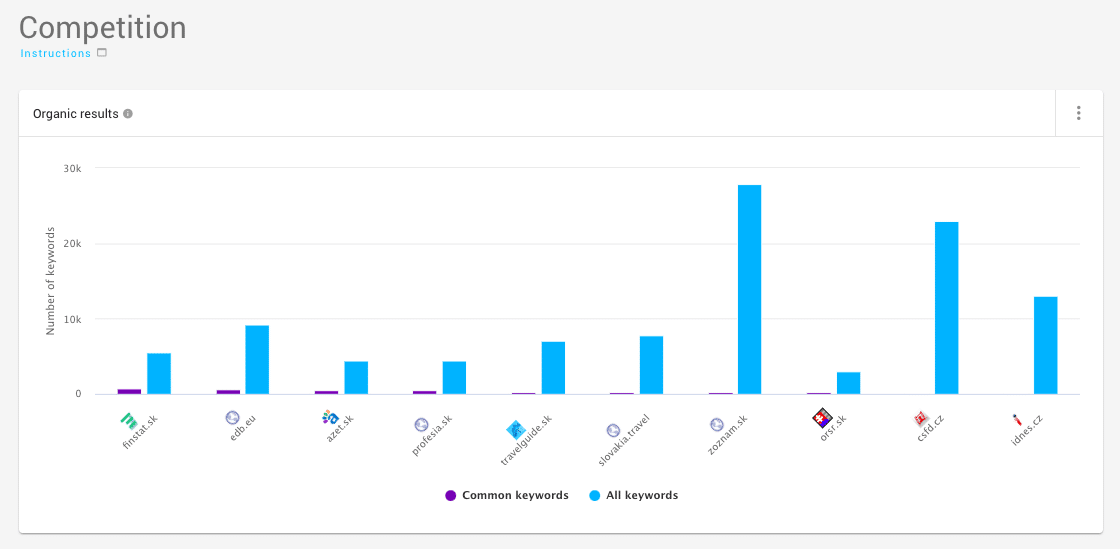 visibility comparison against the competition,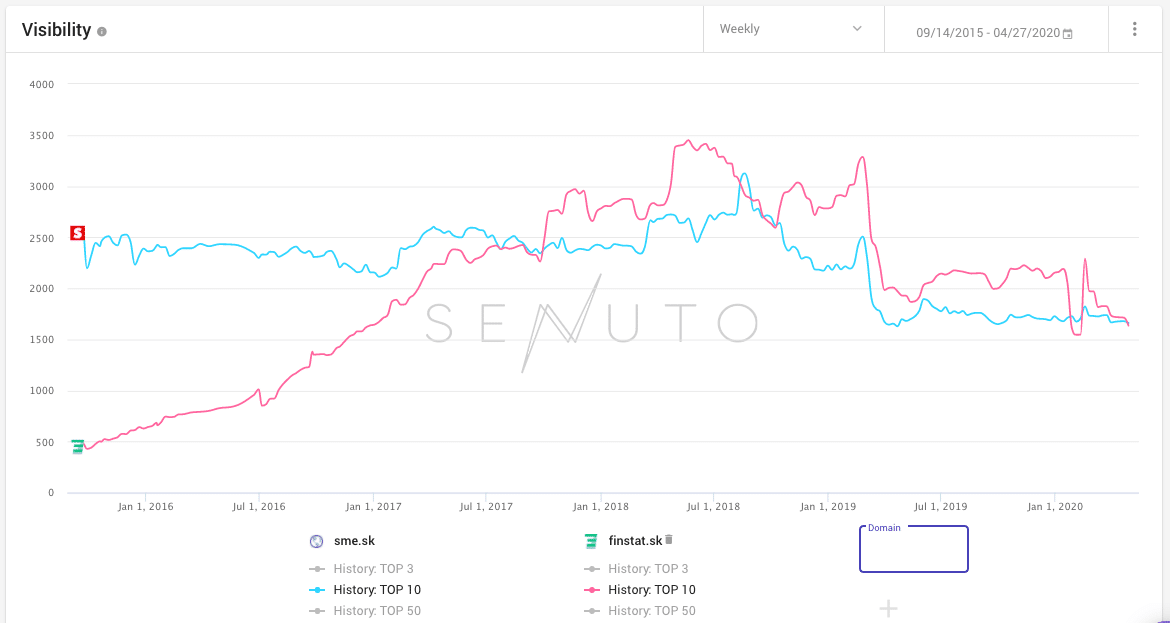 all keywords for which the website is visible in the organic search results,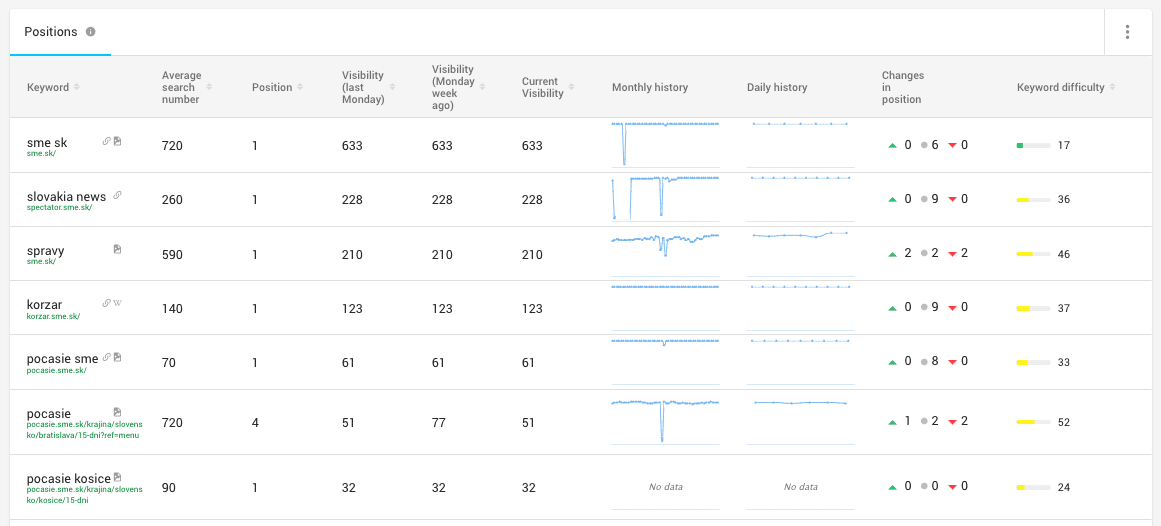 content gap between selected websites,

quick wins of the website,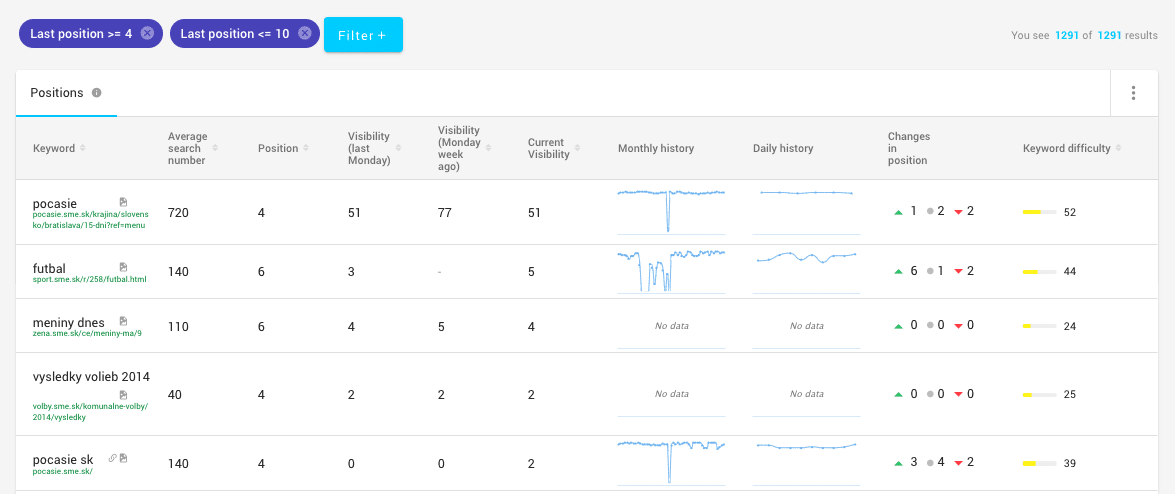 keywords for which the website recently dropped/spiked,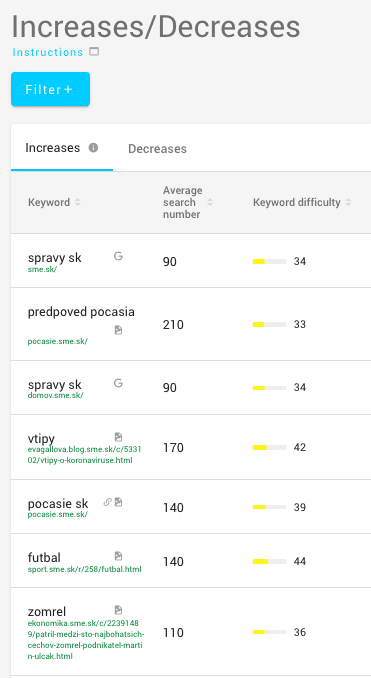 website sections (such as product categories) which are performing best/worst.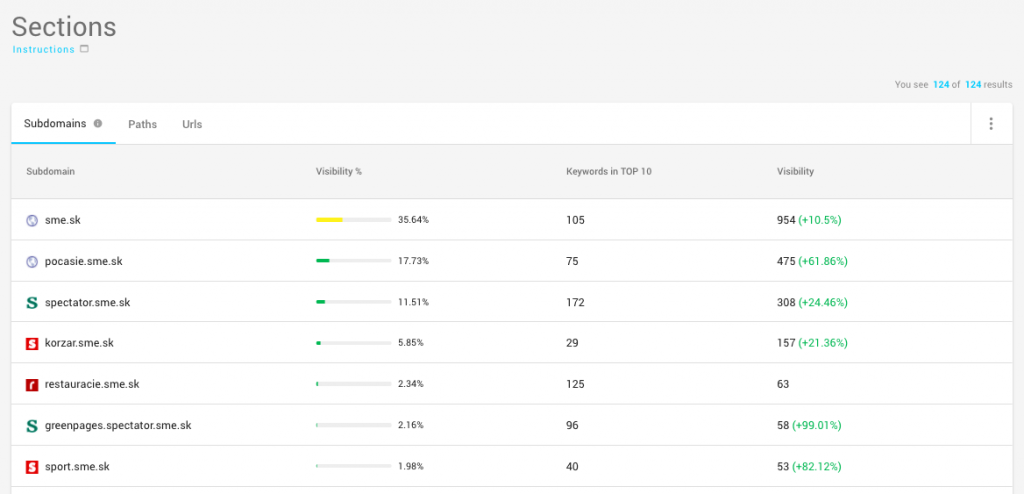 What exactly am I looking for?
Visibility against the competition
Compare the visibility of your prospective client's website against their competition. Even if you're unfamiliar with the sector, Senuto will show you their greatest rivals. To check it out, go to the Competition Report in Visibility Analysis.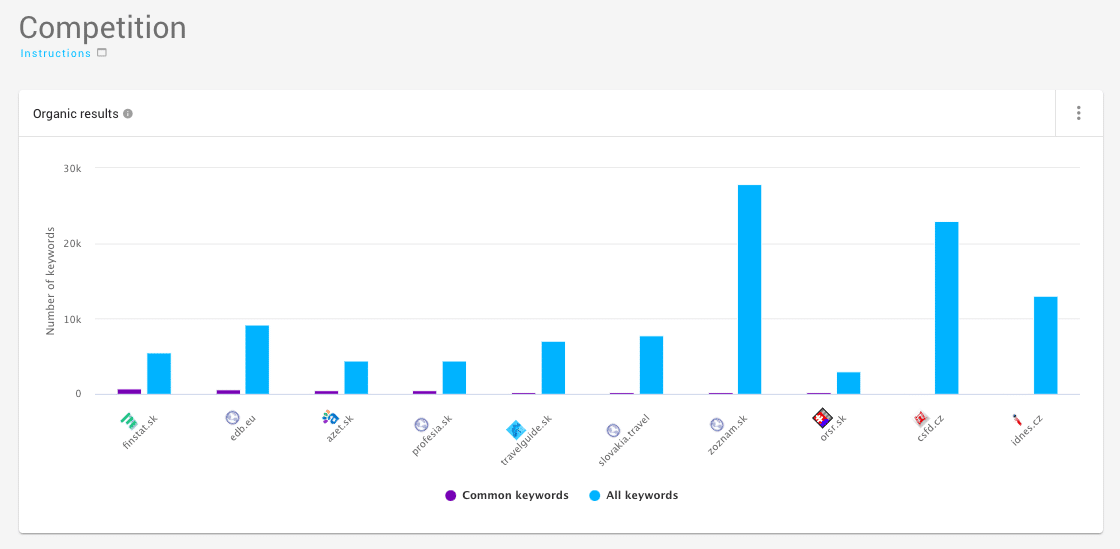 You can also use our tools for comparing sets of keywords for which particular domains show up in the search results. They will give you a list of keywords for which your prospective client's competition is visible, but their website is not. For detailed instructions on keyword comparison, go to our Knowledge Base.
Rankings for the most profitable keywords
Turn to the rankings for keywords which have the highest business importance for your prospective client. Surely, it's hard to know their priorities without as much as a conversation, but a quick look at their website should give you some general idea. Inspect carefully the offer tab – it's a treasure trove of knowledge.
Pay close attention to money keywords which can potentially bring the biggest profit. If you're targeting an e-commerce business, those will be mainly product keywords.
Quick fixes in the context of the entire website
As you draft your plan for acquiring a new client, look for some quick fixes in the context of the entire website. Quick fixes are the ways to optimize the visibility of a website in a short time.
To find them, search mainly for quick wins, or phrases close to TOP3 or TOP10, where even a subtle optimization will ensure a higher ranking. You can do it in the Positions report in Visibility Analysis.
Finally, check for issues with keyword cannibalization – solving them is usually very efficient. The problem can be identified with Cannibalization report in Visibility Analysis.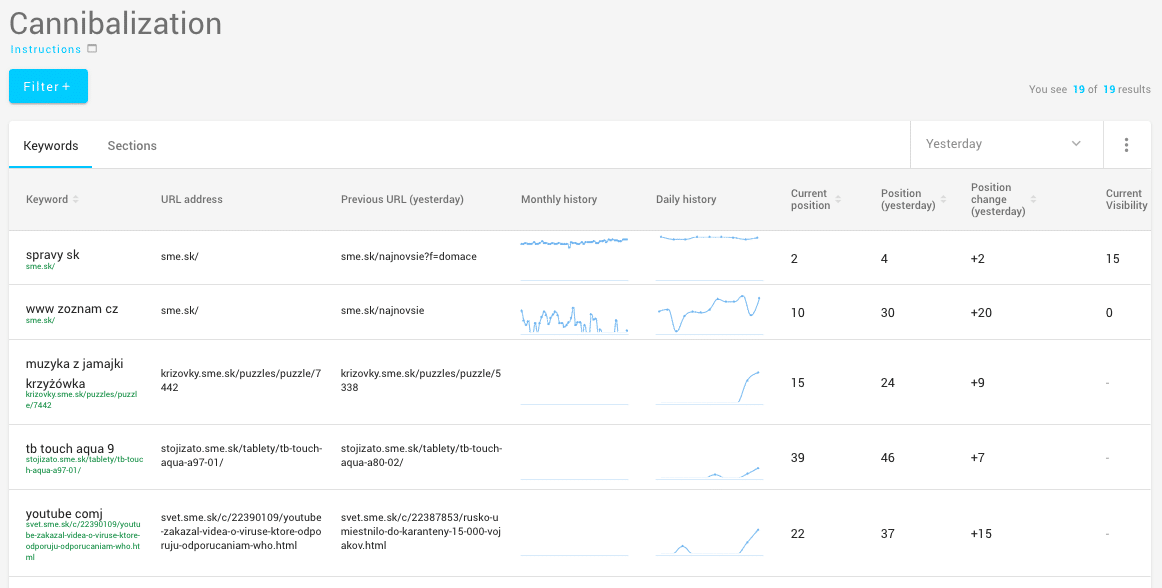 CPC of the phrases for which the website is almost in the TOP
While you're hunting for quick wins for your prospective client's website, take a look at their CPC. If it recently skyrocketed, SEO focused on these particular keywords may be extremely profitable. Even better – you won't have to wait long to see the results.
Estimate the potential of the organic traffic which can be tapped by the website
In the next step, estimate the website's potential, that is the total organic traffic it can attract from organic search results. However, keep in mind that your estimate may be tainted with an error of up to 30%, and does not constitute a reliable KPI. Highlight that in your communication with the client as well.
The inaccuracy is inevitable as you will make your determinations basing on average numbers and the visibility of the competition. Meanwhile, the competition may offer a slightly different range of products or a broader array of services.
You can go about estimating the maximum potential organic traffic in two ways:
Check the visibility of a few industry leaders – that's the faster one. To use it, go to Visibility Analysis.
Prepare a list of all keywords for the site and sum up their average monthly number of searches – that's the one for busy bees, as it takes a bit more time. To use it, consult Keyword Explorer in Senuto.
Equipped with this information, you will present the client with an introductory offer which addresses their weak points and gives a real chance for growth.
How to find clients for SEO? Wrap-up
The pandemic may hurt both SMEs and giants – everything depends on the sector. Those on the winning side, who are currently generating astronomical income, will have the budget for SEO and a fight for better results. All the more so as higher rankings for the most important keywords will earn them an even greater profit.